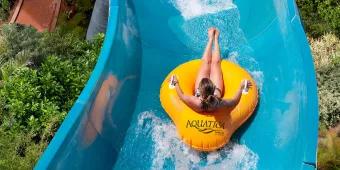 10 tips to read before visiting Aquatica!
All the handy tips and tricks you need to know before you visit Aquatica Orlando…
1. Arrive early
This is always one of our top tips because it's so important for visiting any of the Orlando parks. Make sure you check the opening hours in advance and arrive just before the park is due to open so that you can be one of the first through the gates. This is when the park will be at its quietest, giving you the chance to ride Aquatica's most popular attractions without a long wait. You'll also be able to reserve the perfect spot on the beach!
2. Book your tickets in advance
This is another one of our top tips because this is really important if you want to save money, and let's face it, who doesn't want that? By booking your Aquatica tickets in advance you can save money on the gate price. When you book your Aquatica tickets with us, you can also benefit from special offers like free parking (which is currently $25 per day at Aquatica) and access to 3 incredible SeaWorld parks for the price of 2.
3. Wear the right clothing
It might seem obvious, but we'd recommend wearing something you're comfortable in and for the women, ideally a swimsuit. A swimsuit is a much better choice compared to a bikini if you're planning on racing down the water slides!
Aquatica doesn't allow any loose-fitting items (like cover ups) on the body slides, so make sure you put these in a locker first. Swimwear with buckles, rivets or any sharp objects are also not permitted.
4. Save money with the Aquatica All-Day Dining Deal
This is a great money-saving tip that will definitely come in handy during your visit to Aquatica. The All-Day Dining Deal lets you enjoy unlimited visits to the park's Banana Beach restaurant throughout the day. Here, you can pick up food, drink and snacks whenever you feel hungry and you're entitled to one visit per hour.
Once you've purchased your All-Day Dining tickets, you won't have to worry about paying for any food or drink at the park. The menu includes a variety of tasty dishes like, pulled pork, mac and cheese, baked chicken, hot dogs, pizza and lots of delicious desserts. This great value deal can save you lots of money on what you would have spent during a day at the park.
5. Skip the line
If you want to make sure you fit in as much as possible during your visit to Aquatica, it might be worth considering a Quick Queue Unlimited Ticket. Like the name suggests, this gives you unlimited front-of-line access to the park's most popular attractions, including Ihu's Breakaway Falls, Taumata Racer and Omaka Rocka to name a few. This even includes one-time front-of-line access to Aquatica's two newest rides- KareKare Curl and Ray Rush! This ticket can save you lots of time and can be purchased when you arrive at the water park.
6. Don't overpack
Of course, it's important to bring the essentials and with lockers located throughout the park there's plenty of places to store your belongings, but we also think it's important to know what not to pack. You can't bring your own folding chairs or rubber rings, so don't make the mistake of carrying these with you. By bringing a small bag, you'll also save money on locker rental as the smaller sized lockers are cheaper.
7. Make a checklist
While it's important to not overpack, you don't want to forget the essentials. That's why we recommend making a checklist before you go. Sun cream, sunglasses, a hat, a refillable water bottle and towels (for relaxing on the beach!) are just a few of the things you might want to bring along with you. Don't worry if you forget, you can rent towels when you arrive but bringing your own will save you some money.
8. Ride the newest attractions first
Aquatica has so many incredible attractions and exhilarating water slides that we're sure you'll want to try them all. We'd recommend riding the most popular and newest attractions first though, as these are the rides that are likely to be busier. New rides like KareKare Curl and Ray Rush, as well as popular attractions like Ihu's Breakaway Falls are a few of the attractions we'd suggest braving first.
9. Check the height requirements
Aquatica is a great place to visit for a fun, family day out. If you are planning on visiting with children, we'd suggest checking the height requirements for the attractions in advance so that you're aware what attractions your party can ride. Knowing this information in advance will help ensure no one is disappointed on the day. You can find out all the height requirement details on the Aquatica website.
You can also get your children measured when you arrive, and they will receive a coloured wristband which indicates which rides they can go on.
10. Aquatica is an autism-friendly water park
It's good to know that Aquatica is now a Certified Autism Center. The park received this distinction earlier this year and is the first water park in the world to be officially accredited as an autism-friendly water park.
If anyone in your party has special requirements you can be reassured with the knowledge that the Aquatica team have completed a staff-wide autism sensitivity and awareness training and there are areas around the park where you can relax if you need to take a break, including a quiet room with adjustable lighting and comfortable seats.
Want to experience Aquatica's amazing attractions for yourself? Click here, to view our great value Aquatica tickets.
For more blog posts like this try…
Find out all the latest news from Orlando on our BLOG