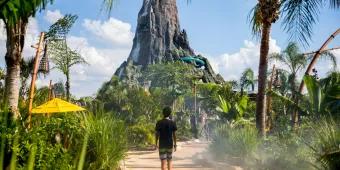 What to know before you go to Volcano Bay!
These are the top 10 tips for visiting Universal's Volcano Bay you NEED to read before your visit…
1. Arrive early
No matter what theme park or water park you're visiting, arriving early will always be one of our top tips. This is especially important at Universal's Volcano Bay if you want to secure a prime spot on the beach. You'll also be able to get on the rides quicker, and get some great photos in front of the volcano, as first thing in the morning is one of the park's quietest times.
2. Use TapuTapu
What's TapuTapu we hear you ask? This handy wristband device will make your visit to Universal's Volcano Bay hassle free and it's included free with your Universal tickets. You won't have to carry any cash with you because you can pay for everything in the park with just a tap of your band - perfect for when visiting a water park.
TapuTapu also allows you to trigger special interactive effects throughout the park. You can have fun shooting water cannons and revealing hidden messages by tapping your wristband when you see a TapTu Play symbol.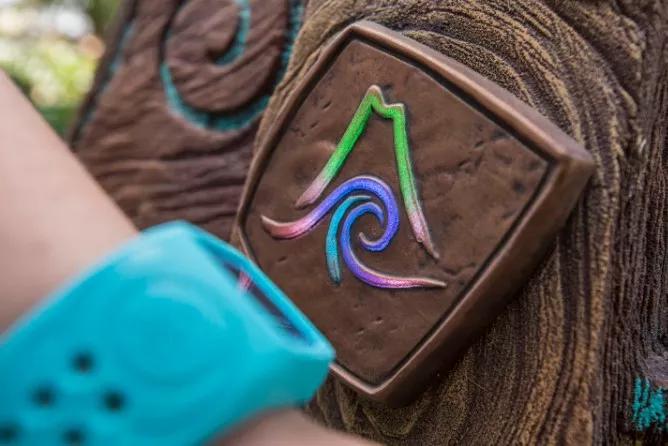 3. Skip the line
One of the best features of the TapuTapu wristband is that you can virtually wait in line for the park's top rides. Just head over to the attraction you want to ride and tap your wristband on the totem outside to reserve your place in the 'virtual line'. You can then carry on exploring the rest of the park until your wristband vibrates with a message that tells you it's time to ride. Nobody likes waiting around in queues and this means you don't have to!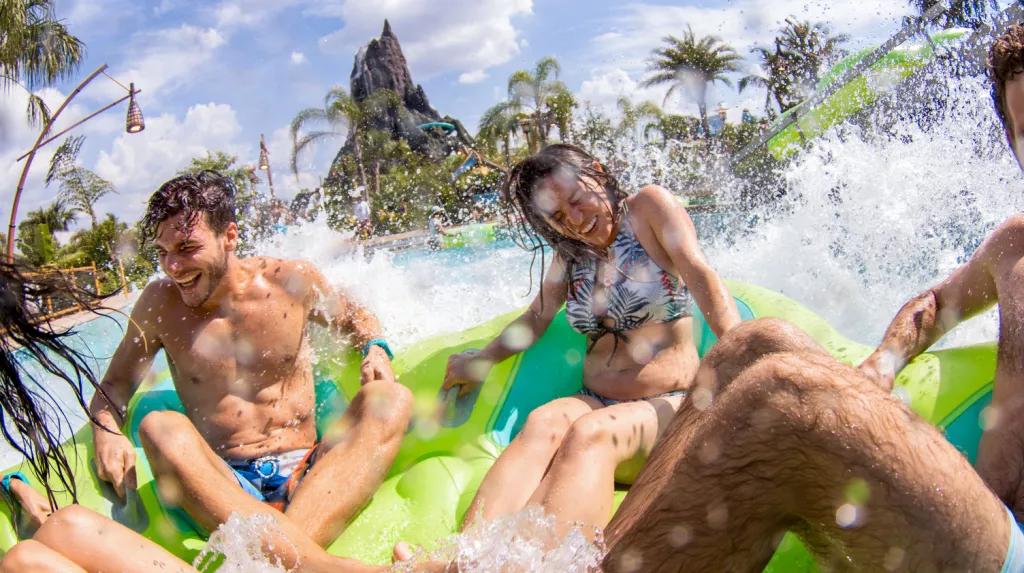 4. Wear flip flops!
There are lots of lockers at the park where you can store your belongings, but one thing we'd recommend keeping with you is a pair of flip flops! The floor can get very hot, so wear you flip flops and save yourself from hopping around the park!
5. Try the Waturi Fusion Ice Cream
One of our favourite snacks at the park is the incredible Waturi Fusion Ice Cream which you can get from Koka Poroka Ice Cream Kona. This impressive rainbow creation is made up of four flavours - banana, blue raspberry, orange and strawberry. Not only is this ice cream absolutely delicious, but it's also totally Instagram-worthy!
6. Ride the Krakatau Aqua Coaster first
As soon as you arrive at the park and have stored your belongings, we'd suggest making your way over to the Krakatau Aqua Coaster. This is Volcano Bay's star attraction and also one of the most popular. This incredible ride takes you right through the middle of the 200-foot-tall Krakatau Volcano, with plenty of dark twists and turns along the way. If it says "ride now" when you arrive then go straight on, but if not, make sure this is the very first ride you use your TapuTapu wristband for.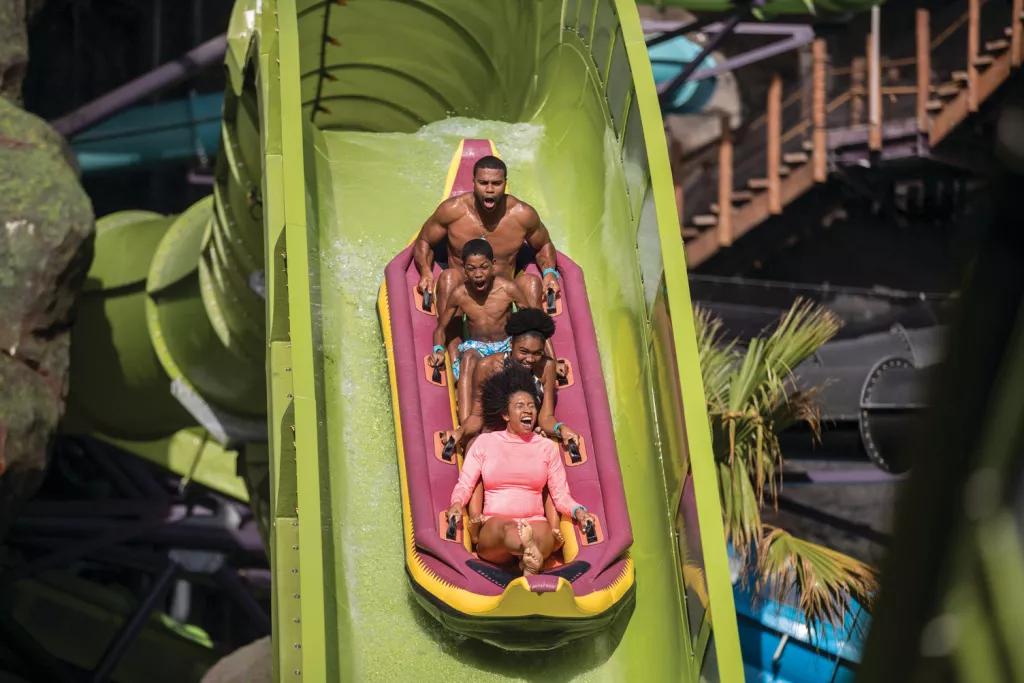 7. You can rent a cabana!
If you want to have a really relaxing day in the sunshine, you might want to consider renting a cabana for the day. These do come at an extra cost but are a great idea if you're visiting with a group, as you can share the cost between you. Each cabana has comfy seating, complimentary towel and locker service, a free fruit and snack basket and a concierge service.
8. Get the perfect action shot
There are lots of unique photo spots throughout the park, where you can have your photo taken. Tap your TapuTapu wristband and you can link the pictures to your account on the Universal Orlando Resort app. Our top tip for getting great pictures at a water park is to make sure you're wearing something colourful. That way, if you want your friends or family to take photos of you on the rides (and get that perfect action shot!) they'll be able to spot you clearly and know exactly when it's time to take the shot.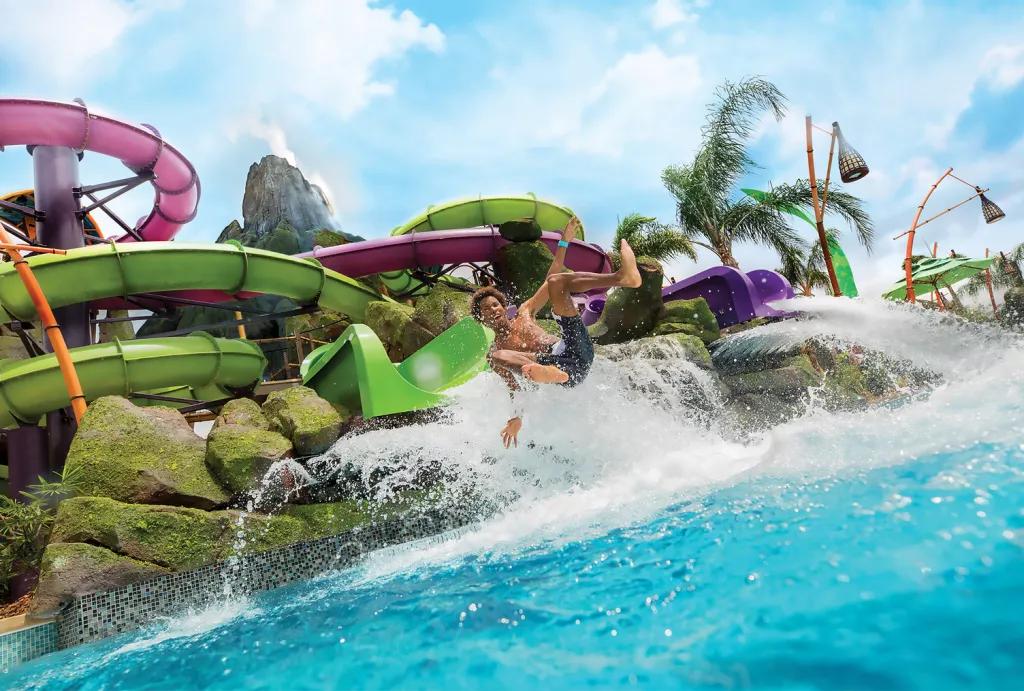 9. Look out for "Ride Now" signs
When exploring the park, keep a look out for any signs outside the attractions that might say "ride now". If they do, it means you can go straight on with no wait! If you arrive first thing in the morning or late in the afternoon, you're likely to see more of these signs.
10. Book your tickets in advance
If you're planning a visit to the Universal Orlando Resort and in particular Universal's Volcano Bay, you'll want to buy your tickets before you travel. Booking in advance means you'll save yourself both time and money, as you won't have to join the ticket queue when you arrive and tickets are always more expensive at the gate. Plus, if you book your Universal theme park tickets in advance, you can make the most of the 3 Park Explorer Ticket and get access to all three Universal Parks for the price of two!
Ready to start planning your Florida holiday? Take a look at our Universal Orlando Resort tickets or take your trip to the next level with a Universal Hotel and Ticket Package.