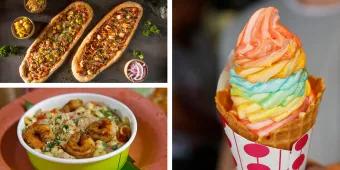 The tastiest snacks at Volcano Bay
Discover the mouth-watering flavours of the Pacific Isles at Universal's Volcano Bay…
1. Waturi Fusion Ice Cream
When you're spending the day in the sunshine, ice cream is a must! At Volcano Bay, the best way to cool down from the Floridian heat is with the Waturi Fusion Ice Cream. Not only is this delicious, it's also picture perfect and definitely deserves a place on your Instagram! This tasty rainbow treat is made up of colourful swirls of banana, blue raspberry, strawberry and orange ice cream flavours. If you've got a serious sweet tooth, this is a must try.
2. Coconut Crusted Fried Chicken
Volcano Bay has a whole range of flavoursome dishes to choose from, but this is one of our favourites. This crispy fried chicken has a sweet coconut crust and is served with a side of French fries, sweet plantains and a refreshing cucumber and mango basil slaw. If you want to sample the flavours of the South Pacific, make sure you give this a try.
3. Jerk Mahi Sandwich
If you love seafood, try the Jerk Mahi Sandwich. The succulent jerk seasoned mahi mahi is sandwiched between a sweet coconut bread bun and filled with crisp lettuce, tomatoes, cucumber mango basil slaw and drizzled with Sriracha mayo. You'll also get a serving of vegetable crisps on the side.
4. Longboard Pizza
These longboard pizzas are served in the shape of a surfboard to suit the island theme of Volcano Bay. There are several flavours to choose from, like the 'Hawaiian' which is topped with sweet caramelised pineapple, diced ham and spicy pickled jalapenos. We also love the 'Island BBQ Chicken' which is topped with diced chicken, mango BBQ sauce, red onions and gouda cheese. These tempting snacks are perfect for sharing.
5. Chocolate Lava Cake
Once you've had lunch and you're looking for something to satisfy your sweet tooth, head to Kohola Reef Restaurant & Social Club for dessert. The Chocolate Lava Cake is a must-try! It erupts in a similar way to the huge Krakatau volcano, but this one erupts with oozing molten chocolate. We guarantee you'll be going back for more once you've tried it.
6. Jerk Shrimp Mac & Cheese
For mac and cheese with a difference, try this mouth-watering seafood version. This incredible dish features Jamaican jerk-spiced, pan-seared shrimp, with pasta shells that have been tossed in a creamy, white cheddar cheese sauce. The portions are big, but once you've taken a bite, we're sure you won't want to share!
Ready to start planning your Orlando holiday? Click here, to view our great value Universal Orlando Resort tickets.
Liked this post? You may also like…