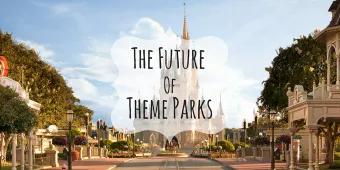 Future theme park trends!
From holograms to virtual reality, what's in store for our favourite theme parks? Based on the newest attractions that have recently opened in Orlando, we've got a few exciting predictions for the future of theme parks…
Virtual Reality:
This week, SeaWorld Orlando will unveil the brand new Kraken Unleashed Virtual Reality Experience. Riders will be able to put on virtual reality headsets which will make them feel as though they're racing through the depths of the ocean. The addition of virtual reality will enhance the experience, making the 65mph speeds and surprise drops even more terrifying than before. Virtual reality is a trend that's extremely popular at the moment, and we expect that this technology will be key in the future of theme parks. While Disney CEO Bog Iger has suggested that VR is not something he'd like to introduce to the Disney parks, we predict that it's only a matter of time before the likes of Universal introduce exciting virtual reality attractions.
Virtual Queuing Systems:
Universal's Volcano Bay, is the first park in Orlando to use a virtual queuing system throughout. A high-tech wristband (called the TapuTapu) allows guests to virtually wait in line with just a simple tap, giving them more time to explore the rest of the park while they wait. Universal also trialled the virtual queuing system back in April, when Race Through New York Starring Jimmy Fallon opened at Universal Studios Florida, and Disney have been testing it out too at both of their water parks.
We're sure you'd agree that one of the most frustrating things about visiting theme parks, is having to wait in long lines to get on the rides! It ruins the excitement and can take up hours of your time, and that's why we predict that virtual queuing will one day be the norm! Allowing guests to virtually wait in line would hugely improve the overall theme park experience, and give you time to ride your favourite rollercoaster over and over again! That's why we believe that this is something that will eventually spread to all of the main parks.
Multisensory Experiences:
One of the things we love most about theme park rides, is that you can become fully immersed into an entirely different world. By using incredible technology that appeals to all of the senses, you can really feel as though you're a part of the story. A trend that we've seen (or should we say smelt?) in new theme park rides lately, is the use of smells to enhance the experience.
If you've had the chance to ride the all-new Soarin' Around the World at Disney's Epcot, you might have noticed the sweet smell of roses, fresh grass and the salty scent of the ocean breeze, and of course, no one can forget the scent of vanilla and cinnamon wafting through the air along Main Street USA. It's not just Disney though, Universal's new Race Through New York Starring Jimmy Fallon ride features a pizza scented spray in a nod to the city's favourite snack. With the use of 4D special effects like wind, fog and water already hugely popular, we predict that scents will become the next big thing for theme park attractions!
Holograms:
One of the most popular rides by far at Universal Studios Florida, is Harry Potter and the escape from Gringotts. The amazing attraction takes you on a journey through the underground vaults of Gringotts bank, bringing you face to face with a huge fire-breathing dragon! The attraction uses cutting edge 3D and 4D technology as well as holograms!
If you've had the chance to try the ride yourself, you might remember the incredibly realistic hologram of Bill Weasley chatting away to a goblin in his office. It really does feel like he's standing just a few feet away from you! This is something we'd love to see more of at the Orlando theme parks. We've got our fingers crossed that in the future, hologram technology will bring even more of our favourite characters to life at the theme parks, or maybe even Walt Disney himself!
Mobile Technology:
Mobile technology is already a big thing for the Orlando theme parks, with the big parks using apps to help make their guests experience more convenient. Visitors can use the apps to check live waiting times for the park's busiest rides, use interactive maps to navigate their way around, and also use FastPass+ (on the My Disney Experience App), to reserve attractions, shows and character meet and greets. As the parks continue to grow, we're sure there will be more exciting features that guests will be able to access from their own devices.
Disney have recently introduced mobile ordering at Pandora- The World of Avatar. Using the app, you can pre-order your meals and collect them whenever you're ready from a designated counter. The food will be freshly prepared whenever you press the "I'm here" button. Disney have promised that more mobile order locations throughout the Walt Disney World Resort are on the way, so we're sure this will be something that spreads to the other Disney parks too.
Cash Free:
When visiting a theme park, it's ideal to bring as little as possible, although if you've been to Orlando before, you'll know that there's plenty of essentials you need to pack. One thing we love about Universal's new Volcano Bay, is that you can go cash free during your visit, as the TapuTapu lets you pay for things simply by tapping your wristband! This is a particularly great feature for water parks as it takes away the worry of having to keep your cash dry whilst splashing around on the water slides.
If you're staying at a Walt Disney World Resort hotel, you can also go cash free and make purchases by tapping your MagicBand. We think that this is something the parks will soon want to make available for everyone, regardless of whether they're staying in an on-site hotel. Our prediction is that in the future, you'll be able to go cash free and make purchases at all of the parks using your mobile phone.
Hand Gesture Technology:
In January, a LEGO NINJAGO-themed land opened at LEGOLAND Florida, inviting guests to "become the ninja". The star attraction- LEGO NINJAGO The Ride, uses revolutionary technology that lets you hurl scorching fireballs, shards of ice and lightning bolts at your LEGO enemies, using just your hands! The power is in your hands (literally!), giving you a unique opportunity to control your own ride experience. The state-of-the-art hand gesture technology used on this ride, is something we expect to see a lot more in the future of theme parks.
What do you think is the future of theme parks? Let us know your thoughts on our Facebook and Twitter pages? 
Can't wait to visit Orlando? Click here, to view our range of Orlando attraction tickets.
Liked this post? You may also like...