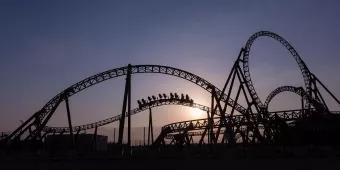 6 incredible attractions in Dubai!
MOTINGATE DUBAI is home to thrilling coasters, exhilarating attractions and the only Hunger Games-themed rides in the world! If you're planning a visit, here's 6 rides you must try…
1. Capitol Bullet Train
MOTIONGATE Dubai is the only place in the world, where you'll find rides inspired by the Hunger Games! So, if you're a fan, make sure you try out these incredible attractions during your visit. The Capitol Bullet Train is one of our favourite rides at MOTIONGATE Dubai, but be warned, it isn't for the faint-hearted. Thrill seekers will love this adrenaline-fuelled attraction that launches you from District 12 right into the Capitol at top speed! Brace yourself for two exhilarating inversions and a zero-g roll.
2. Madagascar Mad Pursuit
Don't assume that because it's Madagascar-themed, this is a children's ride, because this is one that both the kids and big kids will love. This exciting roller coaster is actually the fastest ride in the entire park, reaching speeds of more than 80kph! 
Prepare to catapult through the darkness into the crazy world of the circus, where you'll get to join your favourite characters in an epic chase as you try to escape from animal control officer Captain DuBois.
3. The Green Hornet: High Speed Chase
Like the name suggests, the Green Hornet coaster is all about speed. You'll have to race through a junkyard full of hazards and "dizzying leaps" on this exciting journey. This is one of the more family-friendly coasters, as it's not as fast as attractions like Madagascar Mad Pursuit. So, if you're visiting with little ones who want to experience their very first coaster, this is a fun place to start.
Look out for the impressive Black Beauty car in the queue area. This is the last remaining original vehicle from the 2011 Green Hornet movie.
4. Cloudy With a Chance of Meatballs- River Expedition
When you need to cool down from the Dubai heat, this is the perfect solution. Prepare to get seriously soaked as you set sail on an exciting river expedition to Swallow Falls. This is a totally unique place where food and animals combine to create extraordinary new species with their own ecosystem! As you venture deeper into the jungle, you'll be able to get up close and personal to the inhabitants of this incredible "foodimal" world. If you like water rides, you're going to love this, but be prepared to get very, very wet!
5. Dragon Gliders
Dragon Gliders is inspired by the smash hit movie 'How to Train Your Dragon'. This amazing roller coaster actually makes you feel as though you're soaring through the sky above the Island of Berk. You'll swoop through dark caves, the enchanting great hall and the spooky Forbidden Island. Look out for some familiar faces along the way including Hiccup and Toothless.
6. Zombieland Blast Off
Think you've got what it takes to face an army of zombies? You better prepare yourself because they're lurking around every corner! Make your way through the creepy ruins of an old, abandoned amusement park, before taking on the terrifying Zombieland Blast Off. All of the doors are barricaded shut, so if you want to escape, the only way is up. You'll ascend 58-metres into the air, before suddenly plummeting back down when you least expect it.
Want to be part of the action? Click here, to view our range of Dubai Parks & Resorts tickets.
Liked this post? You may also like…