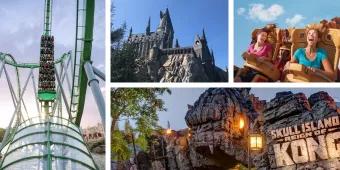 The best rides at the Universal theme parks!
We've put together a list of the best rides at the Universal Orlando Resort. Make sure you try them all on your visit…
From magical Wizarding adventures to action-packed 3D rides and epic coasters, there are so many amazing rides to try at the Universal theme parks. We've put together a list of our favourite rides at Universal Studios Florida and Universal's Islands of Adventure, to give you some inspiration for your Florida holiday.
1. The Incredible Hulk Coaster
This is by far the most terrifying roller coaster at the Universal Orlando Resort, but don't be put off because this is the kind of coaster you'll want to ride again and again! The Incredible Hulk Coaster features a total of 7 inversions and reaches speeds of 67mph, so if you're a serious thrill seeker you're going to love it. Make sure this is at the very top of your list!
2. Harry Potter and the Escape from Gringotts
There are two incredible Harry Potter rides at Universal Orlando Resort and if you're a fan you have to try them both. Harry Potter and the Escape from Gringotts takes you on an exciting adventure into the underground vaults of Gringotts Bank. You'll come face to face with goblins, a fire-breathing dragon and even Lord Voldemort and his evil sidekick Bellatrix Lestrange! We absolutely love this ride and think you will too.
3. Hollywood Rip Ride Rockit
If you're all about the big coasters, make sure you try Universal's Hollywood Rip Ride Rockit. This epic coaster is one of our favourites not only because of its high speed and exciting drops but also because of its unique music element. This ride lets you choose a song that will play through your individual speakers and get your heart racing as you speed around the track. You can choose from adrenaline inducing songs like "Pump It", "I Will Survive", "U Can't Touch This" and many more.
4. The Amazing Adventures of Spider-Man
This "amazing" ride has been a favourite with guests ever since it opened and once you try it for yourself, we're sure you'll feel the same. Put on your 3D glasses and prepare to enter the world of Spider-Man.
You'll swing through the streets, scale skyscrapers and battle baddies as you try to stop the villains of the Sinister Syndicate. The technology and graphics on this ride are incredible and every single moment feels real. Don't leave without trying it for yourself!
5. Harry Potter and the Forbidden Journey
This magical attraction is a must-try for any Harry Potter fan. You'll actually get to walk through the famous Hogwarts Castle before climbing aboard a flying bench and soaring through the corridors and out into the Hogwarts grounds. You'll see lots of familiar faces along the way as well as a few frightening creatures. This is the closest you can get to being a true Hogwarts student and you'll feel like you're stepping straight into the movie as soon as you walk through the Hogwarts gates.
6. Jurassic Park River Adventure
Get ready for a serious soaking as this ride has a terrifying 85-foot drop into the water below! You'll start by climbing aboard a raft for what seems like a relaxing boat journey, but it's not long before you take a wrong turn and end up in the restricted area of Jurassic Park. Look out for a towering T-Rex with razor-sharp teeth before you take the plunge in total darkness!
7. Revenge of the Mummy
Be warned… this one definitely isn't for the faint-hearted. Revenge of the Mummy will put your bravery to the test as you venture deep into the lair of the evil Mummy Imhotep. You'll have to face swarms of insects, warrior mummies and a blazing fire, and did we mention you'll be in complete darkness? The ride features real props from The Mummy movie, putting you right in the middle of the action.
8. The Simpsons Ride
If you're a fan of the Simpsons (who isn't?) you're going to love this attraction. The Simpsons Ride lets you step inside the wacky world of your favourite cartoon family as they pay a visit to Krustyland theme park. You'll join the gang on a wild rollercoaster adventure that sees you dodge a wrecking ball, plunge down a rushing waterfall and come face to face with a giant Maggie! There are amazing sights, sounds, smells and special effects throughout, so don't miss it.
9. Skull Island: Reign of Kong
Skull Island: Reign of Kong is an immersive ride that takes you to the depths of a mysterious land where few dare to venture. Skull Island is home to a host of horrifying creatures and they don't take well to intruders! You'll journey to the island on a huge expedition bus, but that won't protect you from what awaits. It's only a matter of time before the enormous Kong makes an appearance- the question is, is he a friend or foe?
10. Despicable Me Minion Mayhem
You might think this is a children's ride, but we promise this is one that both kids and big kids will love! Gru is looking for recruits for his latest scheme and you've been chosen. This means it's your turn to become a Minion! Get ready to launch into an unforgettable adventure through Gru's super villain laboratory alongside Margo, Edith and Agnes.
One of the best bits comes at the end of the ride when you'll get to join in a fun dance party with the Minions! Make sure you've got your camera handy, so you can snap a selfie.
Ready to start planning your Orlando holiday? Click here, to view our great value Universal Orlando Resort tickets and get access to 3 amazing parks for the price of 2!
For more blog posts like this try…
Find out all the latest news from Orlando on our BLOG