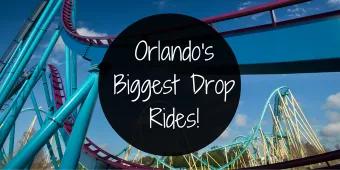 Are you brave enough?
Orlando has some of the best drop rides in the world, and if you're feeling brave, check out our pick of the 6 you really must try…
The Orlando theme parks are home to some of the most thrilling rides in the world. From exhilarating coasters, to big splashes and attractions that plunge you into total darkness, there's something for everyone. If you're looking for something seriously scary though, Orlando's white-knuckle drop rides are sure to get your heart racing. We've put together a list of our favourite drop rides in Orlando, but be warned, they are definitely not for the faint hearted! Daredevils read on…
1. The Twilight Zone Tower of Terror
By far one of the most iconic rides at Walt Disney World, the Twilight Zone Tower of Terror is famous for its terrifying drops. That's right- drops, you'll have to face more than just the one, with a random sequence of surprise drops inside the elevator of this 199-foot tall hotel. Did we mention, you'll be in complete darkness too? When you reach the 13th floor, the doors unexpectedly swing open, allowing your screams to echo across the park.  
Where? Disney's Hollywood Studios
2. Mako
If you're in search of the ultimate adrenaline rush, look no further. When SeaWorld Orlando's newest coaster opened back in June 2016, it became the tallest, fastest and longest ride in all of Orlando. If you're up for the challenge, you'll be sent racing around the track at speeds of up to 73mph, before tackling a staggering 200-foot drop! This amazing ride is designed to replicate the movements of a real Mako shark in the wild (the fastest shark species in the world). There are no shoulder restraints (just lap guards) and this gives you optimum upper body movement which makes you feel as though you're speeding through the ocean and makes the whole experience even scarier. This is one you won't want to miss!
Where? SeaWorld Orlando
3. Falcon's Fury
Falcon's Fury at Busch Gardens holds the record for being the tallest freestanding drop tower in North America, standing at an incredible 335-feet. Once you reach the highest point of the ride, you'll be tilted 90-degrees in mid-air, putting you in a face-down dive position. As the suspense builds, get ready for a 60mph plunge straight down to the bottom. This will definitely give you that stomach-churning free fall sensation that we know all thrill-seekers secretly love.
Where? Busch Gardens Tampa Bay
4. Hollywood Rip Ride Rockit
Universal's Hollywood Rip Ride Rockit is a unique attraction that puts you in charge of your own ride experience, by letting you select a dramatic up-tempo track to go with the even more dramatic drop. Choose from hits like 'Born to be Wild', 'Rock Star' and 'I Will Survive' before you start the nail-biting ascent to the top of the 167-foot-tall tower. You won't have much time to admire the views, as you'll be racing back down again at speeds of up to 65mph in no time! This is one of the most popular rides at the Universal Orlando Resort, so make sure you try it for yourself. 
Where? Universal Studios Florida
5. Dr. Doom's Fearfall
The Fantastic Four's arch-enemy Doctor Doom has created a terrifying device to extract every bit of fear from your body, so that he can use it to battle against the foursome. On Doctor Doom's Fearfall, there are two separate towers, each standing at an impressive 200-foot-tall and making it twice as scary. Once you're strapped into your seat, prepare to rocket 185-feet into the air before you plummet back down to earth faster than the force of gravity itself!
Where? Universal's Islands of Adventure
6. Splash Mountain
Prepare to get completely soaked on this fun-filled log flume adventure that includes 950,000 gallons of water! Splash Mountain is probably the most family-friendly drop ride from our selection, even though the ride's grand finale finishes with a 5-storey splash! Pass through rocky caves, swamps and meadows, spotting characters from Disney movie the 'Song of the South' and sing along to "Zip-a-Dee-Doo-Dah" along the way. If you want to experience this ride to the full, make sure you're sitting at the front!
Where? Disney's Magic Kingdom
Think you can handle Orlando's biggest drops? Click here, to view our great value theme park tickets.
Liked this post? You may also like…