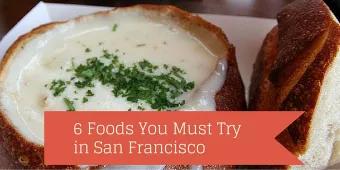 Because we love a good food round-up.
Make sure you add these delicious local delicacies to your next trip to San Francisco...
There is so much delicious food in San Francisco and so many amazing restaurants that you might feel a little overwhelmed when trying to decide where to eat. One thing's for sure though, you definitely don't want to miss these iconic San Francisco dishes...
Clam Chowder
Hot and creamy clam chowder served in a crusty sour dough loaf – it really doesn't get much better than that in San Fran, or in life! At Boudin Bakery you can enjoy a steaming hot bowl of chowder right on the pier and, if you're lucky, you might even spot an alligator on your visit. A sourdough alligator that is, of course! It's a great place to eat lunch before catching the ferry for the Alcatraz tour, which you'll need to book in advance as it often sells out.
Ghirardelli Chocolate
Ghirardelli's chocolate is a San Franciscan institution, having been produced in the city since 1852. If you're looking for somewhere to buy some sweet treats to take home with you, the chocolate shop can be found in - where else? - Ghirardelli Square in Fisherman's Wharf. The shop is known for giving out excellent free samples, so you can try the chocolate before you buy.
Carnitas Burritos
Carnitas burritos are a California thing in general, but you can't really visit San Francisco without having one. There are two big players in the burrito game in San Francisco, La Taqueria and Taqueria El Farolito. We certainly wouldn't want to choose between them, with La Taqueria winning the award of "best Burrito in America" but not including rice in their burritos and El Farolito being the champion among traditionalists who refuse to exclude the rice from their meal. Whichever you choose to try out, team it with a local brew to get the authentic experience. Which brings us on to…
Anchor Steam Beer
Not a food you should try, but a delicious local beer that you have to taste while you're in San Fran. California boasts a huge craft beer industry which dates back to the late 19th century. Anchor Steam beer was first brewed in 1896 and was originally fermented on rooftops in San Fran's cool climate. These days though, you can visit the brewery, where they still hand-make all their delicious beers.
China Town
If you've had a bit too much creamy, cheesy food, a trip to San Fran's China Town is surely in order. It's the largest china town outside of Asia and the oldest in North America, so you're guaranteed to find something delicious to try. Combine it with another Californian addiction – brunch- and spend a lazy morning enjoying Dim Sum. If you want to see more of China Town and the surrounding areas, you can enjoy a fun all-day GoCar GPS tour which takes you to China Town along the way.
Cheesecake
Finally, you might associate cheesecake with California thanks to the popularity of The Cheesecake Factory, but there are a range of different places to get some authentic American-style cheesecake in San Francisco. San Francisco Eater wesbite recommends Zanze's if you think you can manage a whole one! They're so light and fluffy that you need a very taut string to cut them, so they're in a whole other ball game to your traditional New York-style cakes. And there's always room for pudding after all the savoury treats we mentioned!
Now your culinary choices are sorted, why not check out the range of great attractions in San Francisco?
Liked this post? You may also like...