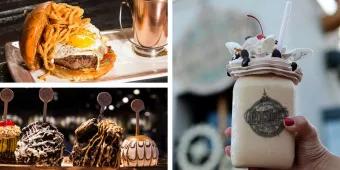 The Toothsome Chocolate Emporium has a huge menu filled with tempting treats. If you're planning a visit, here are the top treats you simply have to try.
The Toothsome Chocolate Emporium & Savory Feast Kitchen™ in Universal CityWalk Orlando has a huge menu filled with tempting treats. Whether you're a fan of sweet or savoury, a little piece of heaven can be found in all of the restaurant's dazzling array of dishes. From steak, burgers and seafood to macarons, milkshakes and cake, The Toothsome Chocolate Emporium caters to all guilty pleasures.
Family travel bloggers over at Modern Life Is Good detail what it's like inside this unique restaurant in their blog post: "The Toothsome Chocolate Emporium is a 19th-century Steampunk inspired restaurant. Everywhere you wander you will discover pipes and cogwheels running around the building plus large video screens showing chocolate being pumped around the building. Large chimneys and pipes are located outside the building as well. The theming is done very well and feels believable. The owner of The Toothsome Chocolate Emporium, Professor Doctor Penelope Tibeaux-Tinker Toothsome, greets guests as you dine. Her assistant Jacques, a robot, also wanders around the restaurant.
So, if you're planning a visit to this exceptional foodie wonderland (and we think you should!), here are some top treats that you simply have to try.
1. Red Velvet Milkshake
The Toothsome Chocolate Emporium milkshakes are famous across the whole of Universal Orlando and are simply a must-try! There's a whole range of Jacques' Specialty Milkshakes to choose from, and even though it's hard to pick just one, the Red Velvet shake has to be one of our favourites.
The shake is made of vanilla ice cream, raspberry sauce and whipped cream covered in rainbow sprinkles. The best bit? There's an entire Red Velvet Cupcake on top! We also love the Salted Dulce De Leche, Marshmallow Crisp and Heavenly Hazelnut varieties.
Angie from Da' Stylish Foodie visited The Toothsome Chocolate Emporium on her birthday and opted for a Red Velvet Milkshake. In her blog post, Angie describes how it is unlike any other birthday cake. "A birthday cake like no other. My husband and I shared it. An incredibly delicious shake at the bottom in a keepsake cup that is decorated and topped with a cupcake. Delicious."
2. Pork Belly Sliders
If you were thinking of going for a starter, main and dessert at The Toothsome Chocolate Emporium, you might want to think again. The portions are filling, and you'll want to save some room for a mouth-watering milkshake! So, if you're looking for something a bit smaller, there's a great selection of light bites available, including these fantastic pork belly sliders.
Served in miniature portions of three, the tender meat is sandwiched between a pretzel bun, filled with caramelised onions, mustard aioli, rocket and chocolate-dipped bacon. An absolute must-try.
Jennifer from Sugar Spice & Glitter details her visit to The Toothsome Chocolate Emporium over on her blog. Not only did Jennifer find the Pork Belly Sliders "ah-mazing", she was really impressed with the value for money. "The Toothsome Chocolate Emporium is really generous in how much food you get for the price tag.
"Take this appetiser for instance. At the time of our visit, this plate was $13. Most restaurants with less theming and a less amazing location would charge at least $20 for this plate, and Toothsome definitely could have gotten away with just plating up two sliders for this price – in fact, that's what I was expecting."
3. May Contain Nuts Sundae
Image credit: @sewindisney, Instagram

Prefer your dessert to include a sweet and nutty flavour? Then the May Contain Nuts Sundae is the perfect treat for your taste buds.
Suzy from Our Bucket List Lives has been lucky enough to try this heavenly dessert. She told us why she recommends it: "If you love peanuts you have to try the May Contain nuts Sundae! It is heaven in a peanut dessert, made with peanut butter ice cream, peanut brittle, Reese's Peanut Butter Cups, chocolate peanut butter pie, fresh whipped cream, peanut butter sauce, topped with Reese's Pieces.As a British person who can never find desserts with peanuts in, this was the ultimate for me. The only negative was I had to share it with my son!"
4. Tour de France Burger
Hungry? Well get ready for a feast, as this half-pound burger is guaranteed to fill you up! The juicy patty is served in a sweet, toasted brioche bun, with bibb lettuce, roasted tomatoes, avocado, crispy onions, French brie and an egg served sunny side up!
For some, having an egg inside a burger is a bit unusual, but once you try it, you won't go back. The burger is served with either homemade kettle chips or French fries on the side.
5. Coffee and Chocolate Stout Chicken Wings
If you like chicken wings and also have a bit of a sweet tooth, you're in for a treat! Admittedly the flavour combination here is a bit unusual, but trust us, it works. The stout glaze is made from the restaurant's very own stout, which adds to the unique flavour, and the sticky wings are topped with a sprinkling of sesame seeds. Yummy.
Jennifer also gave these delicious wings a try and she absolutely loved them. "They were that perfect blend of acidity-sweetness-umami and it was just a really fun appetiser to try and it pushed the limits of how I think of chocolate."
6. Treats from the Chocolate Bar
Did you know, the restaurant also has it's very own 'Chocolate Bar', a counter filled with artisan chocolates and sweet treats that you can take home?
In their blog post, Modern Life Is Good also explain what makes the counter so impressive. "Chocolate is certainly the theme of the shop, but it isn't any regular sweet shop. The luxury cakes, chocolates and macarons you will find in the counters are more impressive than at any upmarket confectioners. The price of goods certainly exceeds those in regular theme park shops."
You'll find macarons, pretzels, cookies, brownies, cupcakes, miniature chocolate cups and much more. You can also create your own box of delicious truffles. Flavours include cookies and cream, banana rum, peanut butter crunch and passion fruit, to name just a few. These make for a great souvenir - if you manage to get them home without eating them first that is!
Already dreaming of your next Orlando holiday? View our great value Florida park tickets including Universal Orlando Resort packages today.
For more blog posts like this try…
Find out all the latest news from Orlando in our BLOG