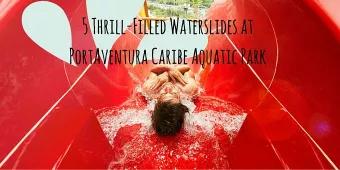 Prepare for a soaking!
When you're visiting PortAventura World, you can't miss the amazing Caribe Aquatic Park. Here's why...
1. El Tifón
One of the most intense waterslides at PortAventura Caribe Aquatic Park, El Tifón is modelled on the swirling power of a raging typhoon. Once you've climbed to the top of the tower, there's no turning back! Luckily, the ride's designers have provided guests with two handy ways to come crashing back down to Earth with a serious splash: two gigantic enclosed super slides. Whichever route you choose, you're guaranteed a scream-filled slide back down to the bottom from staggering heights of 15 metres through wild turbulence and exhilarating twists and turns. Best of all, if you feel like braving it again you can enjoy the second slide for a totally different ride experience on your next ride.
2. King Khajuna
Possibly the most terrifying waterslide you'll ride at PortAventura (if not the most terrifying waterslide you'll ride in your life!), King Khajuna is an absolute must-do for thrill-seekers in Barcelona. The slide consists of a dizzying 31-metre freefall which sends you swooshing down to earth at a 55-degree angle, enough to make you feel as if the slide isn't even there! The legend behind King Khajuna is that he (or she) who confronts and conquers the biggest wave becomes the King themselves. Challenge accepted!
3. El Torrente
Team up with 3 of your bravest pals and head to El Torrente for one of the most intrepid waterslide experiences of your life! You'll all pile into an inflatable boat for this ride which takes you along the sharp twists and turns of this turbulent water slide. There are also fast drops and super speeds to contain with as you barrel along the length of this insane rafting ride. Think you and your friends would be brave enough?
4. Barracudas
Again, on the Barracudas ride you'll be faced with the difficult choice of deciding between two amazing waterslides to bring you back down to solid ground. Choose the green slide and you'll be whipped around sharp turns and fast running rapids before heading into an enclosed tunnel area…just for fun! Opt for the blue slide and you'll be treated to bigger drops and a winding, curved slide which takes you around idyllic looking palm trees. Don't be fooled though, this is far from a gentle paradise!
5. Ciclón Tropical
Last but by no means least, make sure you head to PortAventura Caribe Aquatic Park's latest attraction, the Ciclón Tropical. Speed down the 100m slide with plenty of dips and drops as you race your family and friends riding down beside you. Perfect your technique as you aim to achieve the fastest slide in Port Aventura's history (or at least beat your dad).
Don't miss out this summer, buy your tickets for a combined thrill-filled experience at PortAventura theme park and the PortAventura Caribe Aquatic Park right here.
Liked this post? You may also like...