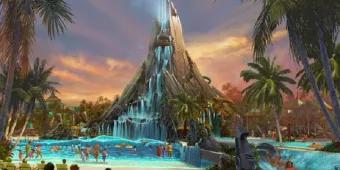 Discover the paradise of Volcano Bay...
You can't create a park as amazing as Universal's Volcano Bay without having a clear idea of the story behind it…
Amazing storytelling is at the heart of all of Universal's parks and attractions, and the brand-new Volcano Bay water theme park is no different. With the Polynesian theming, we expected a mystical, spiritual storyline and Universal have not let us down…
As in the park, the volcano Krakatau is at the heart of this story. Krakatau was originally a fiery God, dominating the land and struggling to control his adventurous and free-spirited daughter Tai Nui. When Tai Nui dares to fall in love with a local native, Kala, her father is furious and banishes Kala forever into the sky, where he comes the Moon.  
Overcome with grief, Tai Nui cries so much that her tears become the Sea. Krakatau, seeing how he has hurt his beloved daughter, becomes determined to reunite the two young lovers. Pulling the Earth towards the sky, he creates the volcano of Volcano Bay and this is how the Sky, Sea and Earth become united to form the paradise of Volcano Bay. Taking his remaining anger and jealousy, Krakatau buries it deep inside the volcano to form the fire spirit, Vol which becomes the beautiful lava that lights up the park at night.
Now, the Waturi people live at Volcano Bay, but it wasn't always so simple for them. They trawled the Earth, traversing the oceans to find a place to call home and a mystical fish named Kunuku to guide them to it. After many years, they found themselves in the South Pacific, searching until they came almost to the very edge of the world. Here, they discovered Kunuku playing in the waves and he lead them to Volcano Bay where, at long last, they knew they had found home.
It's a great story, right?! To see the creators themselves tell it, make sure you watch this video:
Guests at Volcano Bay can expect the same warm welcome the Waturi people had, as you're welcome to the park as one of the Waturi family, who have not forgotten what it was like before they found home. Here you'll be given your TapuTapu wearable so you can be as care-free as the islanders themselves, avoiding the queues and not having to carry money around!
Universal's Volcano Bay opens from the 25th May, 2017. Make sure you have your ticket at the ready!
Liked this post? You may also like…