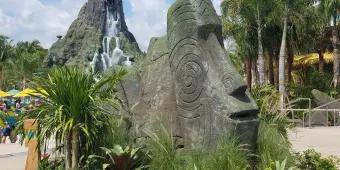 By ATD's Florida Experts, Susan and Simon Veness
When Volcano Bay opened at Universal Orlando, the creative team insisted it's not just another water park, and in many ways that's true. Because it's something different, you need a different strategy. And we're here to help.
There are 5 things Universal stated it has changed about the water park experience:  no waiting in line, no carrying rafts, no queuing in the sun, a compelling backstory that moves it from 'water park' to 'theme park', and more time to play "the Waturi way." We recently spent a day testing those claims and discovering how to avoid rookie mistakes.
First, let's take a look at those 5 claims:
No waiting in line. Volcano Bay's unique TapuTapu system of reserving a return time at the slides helps ensure guests don't stand on a stairway for hours. Instead, guests reserve a time at special stations and head off to enjoy other areas of the park until their TapuTapu wristband alerts them it's time to ride. While you won't queue endlessly, you may have a short wait. During our visit, the longest queue was just over 30 minutes. Most were 10-20 minutes. Only the major drop slide, Ko'okiri Body Plunge, was a walk-on.
No carrying rafts. This is mostly true. You don't have to pick up a raft at the bottom of the slide and lug it up to the top. However, at Taniwha Tubes, you do have to pick one up before the final flight of stairs. Not exactly an onerous task, but one to be aware of if it presents a physical challenge for you.
No queuing in the sun. Many of the slides have stairways that are mainly sheltered from the sun, with the exception of the final flight of stairs at some rides. Some queues are not sheltered at all, notably Krakatau Aqua Coaster and the twin Ohyah and Ohno body slides. But you're going to be wearing a high SPF, waterproof sun cream anyway, right? The wave pool isn't shaded (obviously), and even in winter Florida's sun can cause an uncomfortable burn. That said, it's a blissful difference to the typical full-exposure queues of the past.
A compelling backstory. This is entirely true. The theme at Volcano Bay is omnipresent, IF you know the story. If you don't know it before you enter the park, it's much less obvious, so you may want to read about it in our 1st June blog if you haven't already.
More time to play!  The Waturi, according to the backstory, are all about play, and this claim proved entirely true when it comes to experiencing more of the park's non-ride entertainment. Knowing when you'll get to ride allowed time to play in the wave pool, enjoy the two rivers, have some lunch, sunbathe, take a nap, or try out all the TapuTu Snap and TapTu Play features.
Now let's look at some of the observations we made that will make your day easier, with our Ten Strategies for Volcano Bay.
1) Get the Express Pass if you visit during a busy season. We know what you're going to say, and we agree completely. We don't want to spend one cent more than we already have for tickets when we're on holiday, but in this case it's going to pay off if you're mainly at the park for the slides. The TapuTapu system only allows you to reserve ONE ride at a time, and if the park is relatively busy and you don't arrive early, it is possible wait times won't allow for more than a small handful of reservations.
Our suggestion? If you do get the Express pass, the only wait time you'll have to reserve is Krakatau Aqua Coaster. Head there immediately and snag a reservation, then enjoy all of the other slides while you wait. Be aware the pass allows you to enter the queue at every ride once per slide, even if there are two slides at any given location (for example, you can do both Ohyah and Ohno). It doesn't allow you to enter an Express lane, as it does in Universal's theme parks.
If you don't purchase Express and wait times for Krakatau Aqua Coaster are long, consider waiting to schedule your return time until later in the day so that you can make reservations at other slides. This does run the risk that all return times for the coaster will be gone, but you won't have given up the chance to experience other rides. If you've reserved Krakatau at, say, 10am with a wait time of 240 minutes, you can't make any other reservations for 4 hours, and there are no Standby queues. Weigh that up when deciding what you'll do with your day.
Because crowd flow varies depending on season, time of day, and popularity of the ride, it's difficult to give a definitive answer on the order in which to schedule your return times. At this point, we recommend prioritising your choices ahead of time when it's busy, and if Krakatau Aqua Coaster is at the top of your list, be among the first to enter the park.
2) Dude, where's my car? There is no parking directly at Volcano Bay. Instead you'll be directed to a special section of Universal's multi-storey car park (unless you're staying onsite) and take the free shuttle over. This is where security screening and bag check takes place, so if you get caught trying to smuggle a few cheeky brews into the park, as the family in front of us did, you won't have far to go when you're asked to return them to your car.  But the distance to the park is also worth bearing in mind when you're preparing a bag for the day, as it is not easy to return to your car if you forget something.
3) There's an app for that. If you want to use the TapTu Pay feature on your band you must create an account with the Universal Orlando Resort App and link it to your credit or debit card. If you prefer not to have your card connected to an app on your phone, you can visit the concierge and have them create an account for you on their tablet. However, it's extremely time consuming if you have more than 2 people in your group.
4) Can't find a lounger or chair on Waturi Beach? You'll have better luck at the base of some slides, which have their own small beaches (notably, Ohyea and Ohno, Maku Puihi, and Kala & Tai Nui slides). Many of these beaches were nearly empty, and some of the chairs had umbrella shade.
5) Want pictures of the kiddies or your goofy friend at splash-down? If they wear a bright top (neon is good!) over their swim costume you'll see them on the stairway before they enter the loading area. Wait times are difficult to judge at most rides (some load much slower than others, and even 10-15 people in line may mean a 15-20 minute wait), so you'll want a clearer idea of when to start watching for their splash-down.
6) Stormy weather. If Florida graces you with one of its typical afternoon thunderstorms just before your TapuTapu indicates your ride time has arrived (or, as ours did, exactly when our bands went off), fear not. Your place in the 'virtual queue' will still be reserved. Wait times are based on minutes, not on actual clock-time, so you'll only wait the number of minutes you had left when the ride went into delay.
7) Gimme shelter. Runamukka Reef is largely unshaded and Tot Tiki Reef is not shaded, so plan for your little splashers accordingly. All-in-one UV 'sunsafe' swimwear is popular here, but don't forget the high-factor sun cream on little ears and feet!
8) Dealing with lockers. There are a few small foibles to avoid when using a locker. Be aware you cannot pay for the locker using the TapTu Pay feature on your wristband. You must use a credit/debit card. Also be aware the locker door is keyless and will pop open when you tap your band on the main terminal. If you've crammed a lot into the locker, as we do, anything loose at the front may fall out. Pack breakables such as phones or sunglasses toward the back.
9) The "real" No Waiting. This tip is obvious at every water park in Orlando, but we saw it over and over again, so we'll just put this here and you can do with it what you will: You CANNOT wait for youngsters in the splash-down pool. Those signs that state riders must be able to swim to the stairway are there for a reason (safety), and your young 'un will make the long walk back down the stairway if you don't get out of the pool after your ride. Prepare youngsters in advance about which slides they may not be able to experience to avoid disappointment. Other riders will thank you for not holding up the queue.
10) Relax! You're on holiday! Don't stress about the complexities. Go. Have fun. Do what you can, when you can. And remember: you're here to play "the Waturi way!"
Join us on Attraction Tickets Direct's discussion forum to talk about all things Volcano Bay! 
Liked this post? You may also like...