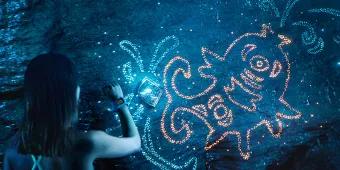 Say goodbye to theme park queues!
Create amazing special effects and avoid the queues with Universal's new TapuTapu wearable…
Since announcing plans for a ground-breaking new water theme park called Volcano Bay in 2015, Universal have kept us excited with details of thrilling attractions, luxurious relaxation experiences, and a 200-foot-tall volcano to name a few. The park is preparing to welcome guests for the first time on 25th May, which means there's not long to wait before us theme park addicts get the chance to have a glimpse. One of the best things about this amazing new park is the TapuTapu wearable and here's why…
The TapuTapu wearable is a small wristband that Universal will be introducing to the Volcano Bay park to eliminate queues for good! That's right, this is a park where you won't have to queue to get on your favourite attractions. The small, blue wristband allows you to virtually wait in line while you go off and explore the rest of the park, before alerting you when it's time to return. This means you'll have much more time to race down those water slides over and over again!
That's not all though, the high-tech TapuTapu wearable will let you trigger a series of interactive special effects throughout the park. Watch stars appear as you illuminate hidden messages in the cave of starlight and send bursts of water spurting into the air in the Tot Tiki Reef play area with just a simple tap.
Each guest will be given a TapuTapu wearable at no extra charge, when arriving at the park. Unlock surprises as you explore, by tapping the wearable whenever you see the special symbol. Here's a step by step guide to how it will work…
1. As soon as you arrive you'll be welcomed into the Waturi Family.
2. You'll then be given a complimentary TapuTapu wearble to use for the day. This is your key to unlock the surprises throughout the park.
3. While exploring the park, look out for totems and tap your TapuTapu wearable on the special symbols.
4. Choose which attraction you want to go on and tap your wearable to enter the virtual line experience. You can then discover the rest of the park's attractions while you wait, until your wristband alerts you that it's time to head back to the ride. 
5. Volcano Bay features several interactive "tap-to-play" experiences designed by Universal's award-winning creative team. Trigger special light and water effects with a simple tap of your TapuTapu wearable.
6. After a day of braving all of the thrilling water slides, hand the TapuTapu wearable back when you leave the park. 
Click here, to view our Volcano Bay tickets and be one of the first to experience this incredible new park.
For more blog posts like this try…