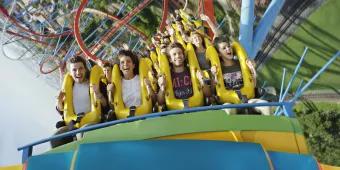 Tips and tricks for one of Spain's most famous theme parks.
Enjoy PortAventura and make the most out of your visit to the theme park. Heading to PortAventura this year? You'll want to read this.
Whether you're visiting PortAventura World for one day or seven, you'll want to ensure that you're making the most out of your time there. Complete your trip to Spain with our handy tips on how best to enjoy PortAventura World.
Book ahead
Of course we're going to recommend this, but honestly, there is one major benefit to buying your ticket in advance with us: you'll avoid the ticket queue. PortAventura is a large and popular attraction, and the morning queues during the school holidays are definitely not what you want to be doing during your well-deserved vacation. Stroll past all those unorganised holidaymakers and start your day as you mean to go on - well-prepared and care-free.
Additionally - make sure you buy the correct ticket for where you want to visit. PortAventura also includes Caribe Aquatic Park (the separate water park open during the warmer months) and Ferrari Land (newly opened in 2017), however you will need a separate ticket to get into either of these. Will sell combination tickets for all three or just one of these additional attractions, so book in advance to avoid higher prices at the gate.
Be strategic
Theme park planning doesn't start and end at the simple act of pre-booking your tickets. In fact, you can even structure your visit in a strategic and organised manner, by deciding which rides and areas to do first. If your focus is on the big rollercoasters, make sure you arrive early as these are often popular. Theme park experts will always tell you to start at the back of the park and work forwards too, i.e. going against the crowds. At PortAventura, this means heading straight for 'China', the themed land at the back of the park. Here, you'll be able to get straight into the lines for Dragon Khan and Shambhala, two of the more desired rides in the park.
Check kid's heights
With all the high-thrill rides at PortAventura, park attendants take safety very seriously. This includes enforcing their height restrictions. Measure your kids beforehand to determine which rides they can go on and to avoid any potential disappointments (and tears).
Don't worry about food
PortAventura doesn't allow any food and drinks into the park in accordance with their terms and conditions (you are allowed to bring in an empty water bottle to fill up once inside, however), and this may be a worry for some people. However, food and drink prices in PortAventura are actually incredibly reasonable, especially when compared to prices in other large theme parks. Several restaurants offer good value set menus, and there's loads of places to purchase snacks and drinks throughout the park. Gluten-free menus are available too.
Restaurants are themed towards the 'country' that they're placed in - think chilli and nachos in Mexico, burgers and ribs in the Far West, noodles and spring rolls in China, and sandwiches and pizza in Mediterrania. In other words, something for every possible eater.
Be mindful of the weather
Spain is a hot country, and you'll be doing a lot of physical activity during your visit to PortAventura. Make the day more enjoyable for you and your family and ensure you are wearing comfortable footwear and light, loose fitting clothing. Take enough sun-cream for your visit, bring along a hat to wear during the walks between rides, and don't forget your sunglasses too. You can even structure your day accordingly too - enter the theme park early in the morning (avoiding the larger crowds too), lunch and siesta by the pool during the hottest parts of the day, and then hit the rides again once the day has started to cool again. You ARE allowed to leave the park and re-enter again on the same day - we love that this option is included as it makes visiting less intense and much more enjoyable.
Use transport for getting around the park
Take the weight off your feet and hop on one of the complimentary transport options at PortAventura. A quaint train circumnavigates the park and is a lovely way to take in the beauty of the park. Equally relaxing is the boat which takes visitors between 'Mediterrania' and 'China'. Both these options offer a chance to refresh, chill out and enjoy the varied scenery of PortAventura.
Consider renting a locker
There are a lot of locker options at PortAventura, which is perfect if you want to enjoy the rides without worrying about holding onto your things. Most of the rides have lockers to store valuables for the duration of the ride, or you can rent one for the whole day for a bit extra instead.
If travelling as part of a large group or family, larger lockers are also available for you at an extra price. Great for keeping everyone's belongings in one place.
Research how to get there
PortAventura is conveniently located just over one hour from Barcelona and 15 minutes from Reus airport. Take Exit 35 off the AP-7 highway and you're there.
However, if you've decided to save money and opt out of renting a car for your holiday, you can also easily get to the park via public transport from Barcelona.
Train: The R16 train towards Tortosa Ulldecona departs regularly from Estacio de Franca, Passeig de Gracia, and Estacio de Sants. This goes directly to PortAventura - it has its own train station - where the park is a short walk away. Bus: There are loads of bus route options, depending on where you are staying in the area. You can catch Route 36, Route 104-106, Route 596, Route 670-672 and Route 686 which will all bring you to PortAventura. Check which Route your hotel or accommodation is nearest and plan your journey in more detail using the BusPlana service here.
If you're staying in the Costa Dorada area, there are public transport options for you as well. A speedy 10 minute train runs hourly from Tarragona, while an even quicker three minute train runs from Salou, again on an hourly basis. Train travel in Europe is much more affordable than in the UK too, so this is a great budget-friendly option to make best use of your holiday spending money.
ID your kids
Getting split up at a busy theme park is any parents worst nightmare and biggest worry. Thankfully, PortAventura have addressed this concern and offer waterproof (!) ID wristbands for your children which can be obtained from the Customer Service Office. If you do get split up, park attendants will be able to identify your child and notify you as soon as possible, meaning you don't need to worry about them getting lost. Just let your kids know to look for a member of staff if they can't find you at any point.
Check the show schedule
PortAventura offers a lot more than high energy rides and attractions. A big aspect of the park is the fantastic and varied shows that takes place at the various 'countries' around the theme park. These are a great option if you are visiting with smaller children or if you just fancy a break from all the excitement for a moment. Make sure you check the show schedule when you first arrive, so you can plan your day accordingly. This information is printed on the map of the park (also a handy thing to have) which can be obtained at the entrance of PortAventura.
Visit Ferrari Land earlier
PortAventura's fantastic newest addition is also its smallest, and many previous visitors advise doing this section first (if you have a ticket), as it closes earlier than the rest of the park. On the whole, the rides at Ferrari Land aren't as extreme as the main park, which means it's a great way to ease into a day of theme park excitement. Perfect if you haven't been to one for a while and need to start off slower!
Don't miss the evening fireworks and parade
Before you leave the park and head 'home' for the night, make sure to squeeze in some time for the spectacular evening fireworks show. Taking place over the lake with Mediterrania as a backdrop, this a great additional thing to do in PortAventura that the whole family will enjoy. Prior to the fireworks, there's also a character parade through this area of the park featuring all of PortAventura's famous friendly faces. The parade starts at 11:30pm and fireworks follow shortly afterwards at 11:40pm.
Ready to book your tickets to PortAventura World? Browse our best ticket combinations here.
Like this post? You may also like...