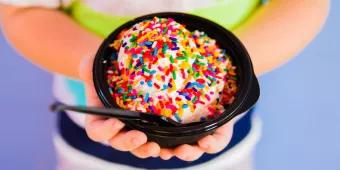 Get ready for a feast!
There are plenty of tasty treats at LEGOLAND Florida! Check out our guide for some foodie inspiration…
1. Granny's Apple Fries
These have to go at the top of our list because they are a famous LEGOLAND Florida snack. They also happen to be one of the park's most popular sweet treats. Sliced Granny Smith apples are baked and served warm under a dusting of cinnamon and sugar. You'll get a pot of delicious whipped cream on the side which is perfect for dipping. Make sure you give these a try when you visit to see what all the fuss is about.
2. Rescue Squad Sundae
This is the ultimate ice cream treat, with more than 2,376,000 possible combinations and we're not kidding! First choose between a chocolate chip cookie or a delicious brownie. Then choose 4 flavours of ice cream with vanilla, chocolate, strawberry, butter pecan, cookies & cream, coffee and mint chocolate chip all on the menu.
You'll also get 2 toppings and the options include mini marshmallows, gummy bears, rainbow sprinkles, cookie dough, cheesecake pieces and Oreo cookie pieces to name just a few. Next, pick 2 sauces from a choice of caramel, hot fudge, strawberry or chocolate. Finally, your mammoth sundae will be topped with whipped cream and served in a souvenir bowl.
This is a pretty big snack and one that's definitely enough to share. It's also one that both the kids and big kids are sure to love! You can get it at Firehouse Ice Cream which is designed to look exactly like a fire station.
3. Funnel Cake
Never heard of a funnel cake before? These tasty treats are a popular snack in North America and are often found at carnivals and sporting events, and of course at LEGOLAND Florida. Funnel cakes are made from batter, which is poured through a funnel to give it a unique spiral appearance. They are cooked until golden and crispy, before being coated with a layer of icing sugar. You can even choose to add chocolate, fruit or cookie crumble toppings. If you like doughnuts, you're going to love these!
4. Turkey Leg
Looking for something savoury? Turkey legs are a famous theme park snack and if you haven't tried one before, now's your chance. You'll find them at Dragon's Den, but make sure you come with an appetite, because these smoked turkey legs are huge! You can also get locally brewed craft beer here, so why not enjoy a hearty snack and a nice cold beer in the sun?
5. Fun Town Slushie
While a slushie may technically count as more of a drink than a snack, we had to include it on our list because these slushies are just so good! If you're visiting LEGOLAND Florida, these refreshing slushies are the perfect way to cool down from the heat. You can either choose one flavour or have a combination of two if you can't decide. The kids will love them!
It's a good idea to buy your slushie near the start of your visit, because once you're finished you can enjoy discounted refills throughout the day.
Want to experience the fun for yourself? Click here, to view our great value LEGOLAND Florida tickets.
For more blog posts like this try…
Find out all the latest news from Orlando on our BLOG