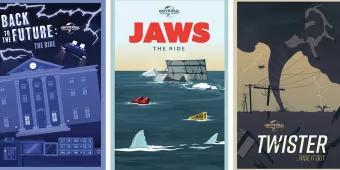 #throwback!
If you're a big fan of Universal, you might recognise some of the iconic rides behind these beautiful vintage attraction posters…
This week, Universal released these fabulous ride posters promoting some of their most iconic attractions from years gone by.
The first one was for Jaws, one of our personal favourites and we're sure one of yours too! This special effects water ride opened for the first time in June 1990 and scared the wits out of 'unsuspecting' ferry passangers until 2012, when it was closed to make way for the Wizarding World of Harry Potter expansion. 
If your eyebrows weren't signed off in the heat off this ride, are you even a Universal fan?!
Next up we've got Twister...Ride it Out, which only closed as recently as 2015 and has already gone down as a legendary ride. Another special effects ride, the attraction was hosted by the now late Bill Paxton and actress Helen Hunt. 
We love how the cow is the star of the show in the poster, much like in the film. Twister closed in 2015 to make way for the new Jimmy Fallon ride, which is set to open in April this year.
Finally we have another fan favourite: Back to the Future! The Back to the Future ride may have been closed to make way for the excellent Simpsons ride, but it still holds a firm place in many fans' hearts. 
Love these retro ride posters? Experience  all the new rides at Universal Orlando Resort yourself, with 3 parks for the price of 2 for a limited time only! To browse tickets, click here. 
Liked this post? You may also like...