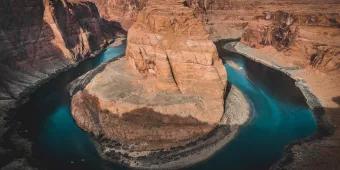 We look at what tickets our customers were buying....
We wanted to share our customers' top 20 American attractions; from historic buildings to natural wonders and everything in between in no particular order. Hopefully we'll inspire some wanderlust...
Florida
1. Walt Disney World Resort in Florida
Made up of 4 incredible theme parks, 2 water parks, 2 entertainment districts, and more than 25 hotels, you could spend a full two-week holiday at Walt Disney World and still feel like there was more to see. Florida is without a doubt one of the US's most visited states by UK visitors and it's easy to see why when you understand the abundance of theme park entertainment all in one place. It's Magic Kingdom Park at Walt Disney World that draws the most visitors though, with 17 million people dropping in each year.
Our top picks for Walt Disney World: 
Dine at Epcot's World Showcase - 'travel' across 9 countries and taste delicious traditionally-inspired cuisine.
Visit during a holiday - the Parks transform into a magical experience during the holiday seasons, complete with themed decor and unique shows.
Catch a parade - it wouldn't be a visit to Walt Disney World without seeing an iconic parade at Magic Kingdom Park
Learn to surf - head over to Disney's Typhoon Lagoon, one of the fantastic water parks, and take a surfing lesson!
Go shopping - head to Disney Springs for all your souvenir needs, the perfect way to remember your holiday.
2. Universal Orlando Resort
Home to a world of film and comic book favourites, Universal Orlando Resort is made up of 2 exciting theme parks, an entertainment district, and an immersive water theme park experience which will completely change your perception of the water park experience! This fun and lively theme park destination caters for everyone so it's no surprise that it's one of the USA's most visited attractions.
Things to do at Universal Orlando Resort
Rent a cabana - enjoy ultimate relaxation at Univeral's Volcano Bay, the iconic water park, with a rented cabana for you and your family
Become a wizard - visit Ollivanders in the Wizarding World of Harry Potter and let your wand choose you!
Take a character selfie - there's loads of characters around the various parks at Universal Orlando Resort. Snap a selfie and be the envy of your friends back home.
Try Butterbeer - did you know there are 6 kinds of Butterbeer treats in the Wizarding World? Satisfy your sweet tooth and enjoy them all.
See a Cinematic Celebration - this light and water display champions some of your favourite movies, to the tune of classic sounds.
 
3. SeaWorld Parks in Florida
If you're visiting the sunshine state of Florida, don't miss the SeaWorld Parks – SeaWorld Orlando, Busch Gardens Tampa Bay, Aquatica, and Discovery Cove. Here you'll find some of the biggest thrill rides, the most spectacular animal encounters and family-friendly fun in the whole state. 
 Don't miss...
Conquer Mako, Orlando's tallest roller-coaster, at SeaWorld Orlando
Face your fears on Falcon's Fury, North America's tallest free-standing drop  tower, located at Busch Gardens Tampa Bay
Put your feet up on Loggerhead Lane, Aquatica's ultimate lazy river
Have a bucket list experience at Discovery Cove and realise your dream of swimmining with dolphins 
 
4. Kennedy Space Center
The Kennedy Space Center Visitor Complex in Florida not only has the draw of being a type of cosmic heaven for space fans, it's also the place where history has been made again and again at this working NASA base. On a normal day, you'll come away from the center with your mind blown by space facts and exciting interactive exhibits that bring the race to the moon and the history of space travel to life. On a launch day, you'll experience all this PLUS the excitement of watching a seemingly impossible rocket launch into space – a money-can't-buy experience that you'll treasure for a lifetime.
San Francisco
5. Yosemite National Park
You can spend days exploring the magical Yosemite National park near San Francisco but, if you're short on time, we'd definitely recommend you at least spend a day on a tour leaving from San Francisco. Expect to find majestic water falls, stunning panoramic views and the world-famous El Capitan granite rock climbing face which is renowned world-wide in the climbing community for its difficulty.
 
6. Alcatraz Former Prison
A little different from the other attractions on this list, Alcatraz is a slightly 'darker' attraction you won't want to miss on a visit to San Francisco.  This infamous former federal prison, which was rumoured to be surrounded by shark-infested waters, was home to some of America's most notorious criminals before it was closed in 1963. Made even more infamous by some high-risk escape attempts, it is rumoured that no one ever successfully escaped the fortress…but will you?
 
7. The Golden Gate Bridge
The epic steel wonder of The Golden Gate Bridge is not only a reason to visit San Francisco, it's a reason to come to California full stop. The bridge is an Instagrammers dream, with nearly 2.5million people using the hashtag to show off their epic snaps of the San Francisco Bay area. We recommend taking in the bridge during a bike tour, where you can get a unique perspective of this man-made marvel.
New York
8. Broadway
More than 11 million people every year enjoy a show on one of Broadway's stages, which brings the famed 42nd street to life; From Les Mis to Aladdin to Kinky Boots, the stages of New York's theatre scene have seen it all. The great thing about going to a Broadway show is that there is always something for everyone – from family friendly-shows like The Lion King, to adults-only fun with the likes of Moulin Rouge and Chicago. We've got a wide range of New York theatre and Broadway tickets to take your pick from and create an unforgettable Big Apple experience. 
 
9. The Empire State Building
Relive iconic moments from your favourite American rom-coms with a visit to The Empire State Building. Whizz up more than 100 floors to enjoy a stunning view over the New York skyline from one of the most significant structures in the world.
 
10. The Rockefeller Center
In the 1930s The Rockefeller family commissioned the building of a new skyscraper which was set to dominate the New York skyline. Declared a New York City landmark in 1985, the Rockefeller Center boasts some of the greatest views in the city from it's viewing point at the top of the building: Top of the Rock. Don't miss it if you want to see the New York skyline including the iconic Empire State Building (who doesn't?).  
 
11. Grand Central Station
If you're not lucky enough to travel through this place every day for work, you'll want to pay this beautiful train station in New York a visit on your trip to the Big Apple. Whether you drop in for a photo, to take a seat at the oyster bar or to check out the secrets of the whispering gallery, we definitely recommend at least popping your head in to what is one of New York's most iconic landmarks.
 
12. Times Square
We're not sure if it's surprising to learn that Times Square in New York is the United States' most visited attraction, but it does welcome nearly 42 MILLION visitors each year (which you can probably guess if you've ever tried to navigate it yourself!) Why not hop on a New York City bus tour and make this famous square one of your stops? 
 
13. Central Park
The world's most famous park is also one of American's most visited attractions. And, with so much to see, that's not surprising. Take a stroll or, even better, hire a bike to make your way around the 843-acre park which is smack bang in the middle of Manhattan. There are more than 20 points of interest to explore including a zoo, the Metropolitan Museum of Art and even a seasonal ice rink, as well as all the natural beauty the park offers.
 
14. MoMA
Visit one of the world's greatest collections of modern art at the Museum of Modern Art in New York, which welcomes nearly 3 million guests each year. Discover 6 floors of galleries featuring paintings, sculpturesand performance art including works from Monet, Van Gogh, Warhol and Dalí. There's even a double Michelin starred restaurant to explore after your visit, where you can dine on the finest ingredients from French-American cuisine.
 
15. Niagara Falls
This stunning natural wonder can be found on both sides of the North American border and is also possible as part of a day trip from New York. It's a once in a lifetime experience to see the magnitude and power of what is actually 3 waterfalls that together make up one of th world's most visited tourist attractions.  
Rest of USA
16.  The Grand Canyon
You cannot visit Nevada, Arizona, or California without paying a visit to the natural wonder and one of the best American attractions,
The Grand Canyon
. Despite being on Earth for millions of years, we don't think you should leave it a second longer to plan a helicopter ride over Grand Canyon National Park.
Your ride will give you an epic view of the canyon, as well as the roaring Colorado River, Lake Mead, and the Hoover Dam. Many of our Grand Canyon attraction tickets offer entry along the south rim of the park, the most accessible area and home to the visitor centre. Embark on a scenic trek or take in the natural beauty of the area - this is a bucket list destination not to be missed! 
 
17. Las Vegas Strip
There are not many places we'd spend 11 hours on a plane for just to enjoy a wild weekendbut then…it's Vegas, baby! A weekend in Vegas is on plenty of peoples' bucket lists which is why Sin City one of the most visited US cities. Of course, there'll be gambling, maybe a few big nights out too, but we recommend seeing the Las Vegas strip from the dizzying heights of a helicopter to really round of your stay in style!
 
18. The Hollywood Sign
Is there a more iconic sign in the world than the epic Hollywood letters in the Hollywood hills? We'd argue there isn't and that's why we've included it in our list of top US attraction. There are loads of ways you can take in the sign but we recommend exploring the surrounding area as well on the Hollywood Sign Tour to really absorb the atmosphere.  
 
19. Disneyland California
The original Disney theme park may not be the biggest in the world, but Disneyland California definitely has a unique charm and magic thatdraws in million of visitors every year. This is the park that Walt Disney built, where his imagination brought to life an immersive world of Disney that has brought joy to millions of guests since it opened more than 60 years ago. Do not miss it if you're visiting California! 
 
20. The White House
The most famous house in the world has been home to some of the most famous faces in the world since it was built more than 200 years ago. The White House in Washington DC is visited by more than 70,000 – 100,000 people very single month, making it the second most-visited attraction in DC. You can include a visit to this legendary attraction as part of a tour of the city, with a hop-on hop-off bus tour being the best way to experience America's capital.
So, what are you waiting for? Browse our best American attraction tickets and deals now, and start planning the ultimate USA adventure!