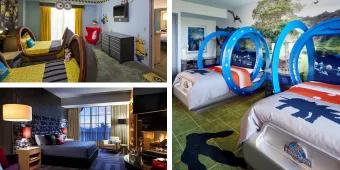 Jurassic World, Despicable me & much more!
Check out these amazing themed rooms at the Universal Orlando Resort Hotels…
Did you know that you can now book your Universal Orlando Resort Hotel stay with Attraction Tickets Direct? That's right, as well as booking Universal Orlando theme park tickets, you can book a stay at one of their incredible hotels and be right in the middle of the action.
Whether you're visiting with kids or you're a big kid yourself, staying in a themed hotel room is the perfect way to make your Orlando holiday even more special. The Universal Orlando Resort Hotels have some amazing themed rooms that seamlessly connect your theme park experience to your hotel stay, meaning you never have to leave the fun behind. Here are just a few of our favourites and we think you're going to love them too…
1. Jurassic World Kids' Suite
If you've got little explorers in your group, this is the perfect room choice. The Jurassic World Kids' Suite is themed on the blockbuster movie and has lots of incredible details that you'll recognise from the big screen.
The suite has two separate bedrooms- one for the grown ups and one for the kids. The rooms are connected by an adjoining door that's designed to look like the dinosaur enclosure in the movie. The adult's bedroom has a sleek, modern design, but once you step inside the kids' room, you'll feel like you're walking onto the island of Isla Nublar from Jurassic World. The floor is covered with huge dinosaur footprints and the walls have dinosaur-inspired artwork. The best bit though has to be the incredible gyrosphere beds! Staying in this suite will be a dream come true for any dinosaur fan.
Where? Loews Royal Pacific Resort
2. Despicable Me Kids' Suite
Everyone loves the Minions and staying in this fun, themed suite is guaranteed to put a smile on your face. This is another suite that has two adjoining rooms. The kids' room is the most fun, as it's designed to look like Gru's laboratory! You'll see hundreds of adorable (but mischievous!) Minions gazing up at you from the walls and you'll even get to sleep in a missile bed, just like Edith, Margo and Agnes.
The grown-ups can have some privacy in the spacious room next door, with complimentary Wi-Fi and a flat screen TV for when you want to sit back and relax after a long day of theme park fun. This is the perfect choice for families as there's plenty of room for everyone.
Where? Loews Portofino Bay Hotel
3. Graceland Suite
Calling all Elvis fans! If you adore the King, you're going to want to put a stay here right at the top of your must-do list. You'll be able to live like the king and experience a true taste of the luxury lifestyle in this amazing suite that's inspired by the legendary Elvis Presley.
There's a huge jacuzzi bathtub that boasts breath-taking views of the parks, a walk-in closet, personal gym and a baby grand piano. There's even an impressive glass fireplace that separates the bedroom from the bathroom. This suite offers something seriously special, that even with all the theme park fun on your doorstep, you'll have to force yourself to leave the room.
Where? Hard Rock Hotel
4. Future Rock Star Suite
This is another room that can be found at Universal's Hard Rock Hotel and it just had to make it onto our list of favourites. The Future Rock Star Suite is the perfect place for aspiring rockers to practice, because there's an actual stage in the room! That's right, little ones can stand in front of their adoring crowd and rock out. There's a starry sky above the bed (for all those dreams of super stardom), a TV channel that gives you guitar lessons and a celebrity height chart so that you can discover which star you match up to.
Although, one of our favourite things has to be the incredible memorabilia. You'll find real memorabilia from world-famous artists adorning the walls, so you can get even closer to your idols. Grown-ups are banished beyond the stage door as the kids' room is for "artists" only! While the luxurious adult rooms offer a super relaxing stay, we'd much rather be at the concert next door!
Where? Hard Rock Hotel 
Volcano Side Rooms
This room isn't exactly themed, but we just had to include it on our list because we love how the theming from the nearby Volcano Bay infiltrates the room. That's right, Universal's amazing water theme park Volcano Bay is right next door and these special rooms give you a picture perfect view of the 200-foot-tall Krakatau Volcano! By day, admire the spectacular volcano beneath the blue sky and at night watch in awe as the volcano erupts with bubbling red lava.
The bright, colourful rooms match the tropical theming of Volcano Bay perfectly and the convenience of being right on the park's doorstep means you can be one of the first to get on the amazing water slides. In fact, if you're staying at Universal's Cabana Bay Beach Resort, you'll be able to get into Volcano Bay even earlier with early park admission included.
Where? Universal's Cabana Bay Beach Resort
Ready to start planning your next holiday? Click here, to view our great value Universal Orlando Resort tickets.
Liked this post? You may also like…