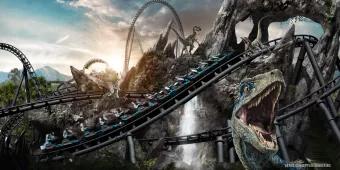 A new 'species' of roller coaster has arrived at Islands of Adventure....
Get ready for an exciting new attraction, coming very soon to Universal's Islands of Adventure at Universal Orlando Resort. 
Opening June 10, the Jurassic World VelociCoaster will be Florida's fastest and tallest launch coaster, catapulting guests more than 150 feet in the air at speeds of 70mph. 
The acclaimed creative team at Universal have worked together with the filmmakers to create a new species of rollercoaster, unlike anything you've ever seen before. It's the first attraction in the area to be based on the Jurassic World film franchise, rather than the classic Jurassic Park films and will feature a unique and original story as well as some of the famous faces you'll recognise from the films. Guests will join the likes of Chris Pratt, Bryce Dallas Howard, and BD Wong as they resume their roles in this hugely popular film and send you off on a high-speed chase alongside a Velociraptor pack!
To really understand the scale of this new attraction though, you have to check out the video below:
Yes, in that video you can see not one but TWO heart-stopping launches, sending guests barrelling over more than 4,700 feet of track, all with just a lap bar as restraint, so you will be getting plenty of air time. There's also a 36-degree barrel roll right over the Islands of Adventure lagoon and a 'zero gravity inverted stall that will leave riders upside down for more than 100 feet of track - a one-of-a-kind maneuver that no guest will have experienced before.   
If you love the steep drop of Hollywood's Rip Ride Rockit, then you'll love this new attraction, which takes things even further. The new coaster will have an 80-degree angle drop - the steepest ever at Universal. 
If now, more than ever, you can't wait to make your return to Universal Orlando Resort, click here to browse our range of Universal Orlando Resort tickets.