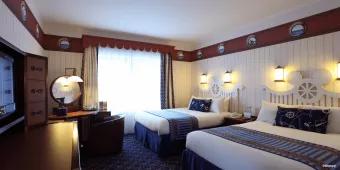 Get ready to set sail for a great night's sleep
You'll find a trove of maritime treasures at this nautical-themed, 4-star hotel
After the excitement of a day in Disneyland® Paris, there's no better feeling than returning to a beautiful, calm hotel, and Disney Newport Bay Club is just that. Combining seaside charm with a subtle touch of Disney, this hotel on the shores of Lake Disney will have you relaxed in no time, whether that's in the bar, in the pool, or in your bed.
To get you ready for your stay, here are 5 things you need to know about Disney Newport Bay Club! 
1. The theme of the hotel is 1920s New England 
No, Disney Newport Bay Club isn't themed after a city in South Wales! Instead, when you walk through its doors you'll be transported 100 years back in time to the coast of Rhode Island, USA. From compasses and globes to portholes and ships' wheels, this hotel is full of nautical nods, from the lobby to every room. 
Make sure to look up at the border in your room to spot a few Disney Characters through the portholes! 
2. You can meet Captain Mickey and Minnie
If you're a fan of an exclusive Character meet and greet then Disney Newport Bay Club is the hotel for you. While you can say hi to Mickey and Minnie elsewhere throughout Disneyland Paris, this is the only place you can meet them in their nautical-themed getup, right in the hotel lobby. 
Character appearances are always subject to availability, and timings may vary, so it's best to ask a cast member for the most up-to-date information during your stay when you check in!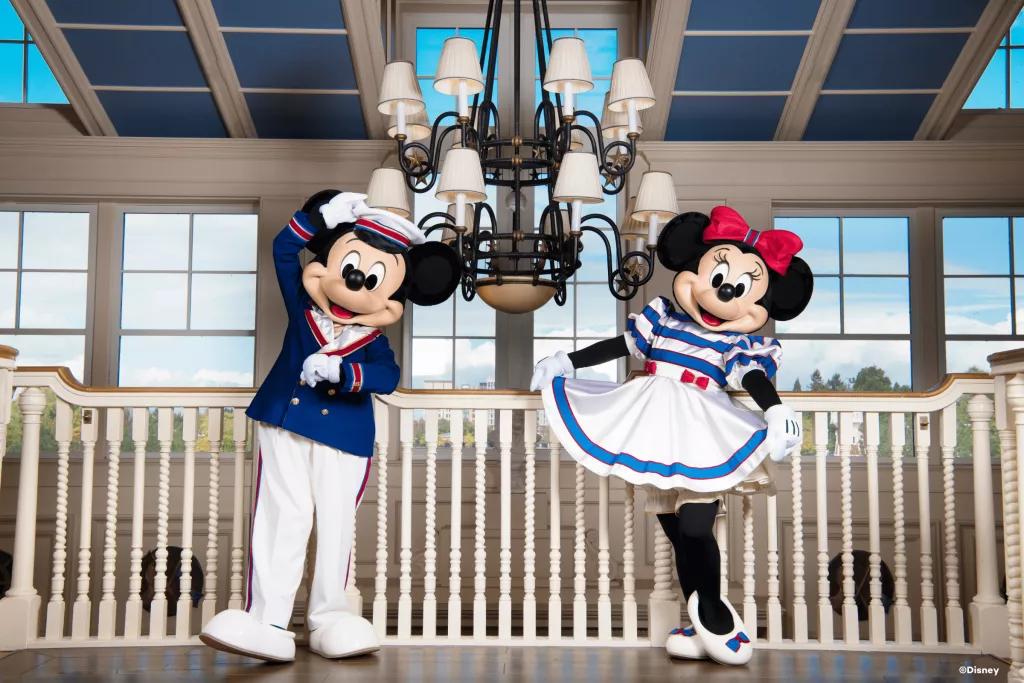 3. You might be able to see the Disney Dreams fireworks from your hotel room
If you stay in one of the Lake Side rooms at Disney Newport Bay Club there's a chance you might be able to see the fireworks in Disneyland® Park. There's no guarantee, as it will depend on where your room is, and certain weather may impact the visibility, but if you're having an early night back at the hotel it's always worth having a peek out the window to see if you can spot them! 
Of course, we'd always recommend watching Disney Dreams from within Disneyland Park as well, so you can experience the full effect of the projections, fountains and music!
4. There is an indoor and outdoor pool 
What better way to immerse yourself in the maritime theming of Disney Newport Bay Club than with a dip in the water? The hotel not only has an indoor pool complete with a ship's bow but also an outdoor pool and jacuzzi, and plenty of space to soak up the sun on a lounger. This might not be Orlando, but temperatures in July and August have been known to reach the late twenties and early thirties, making this the perfect hotel for a summer stay; being just a 15-minute walk away from the parks you can easily pop back to cool off with a splash in the pool.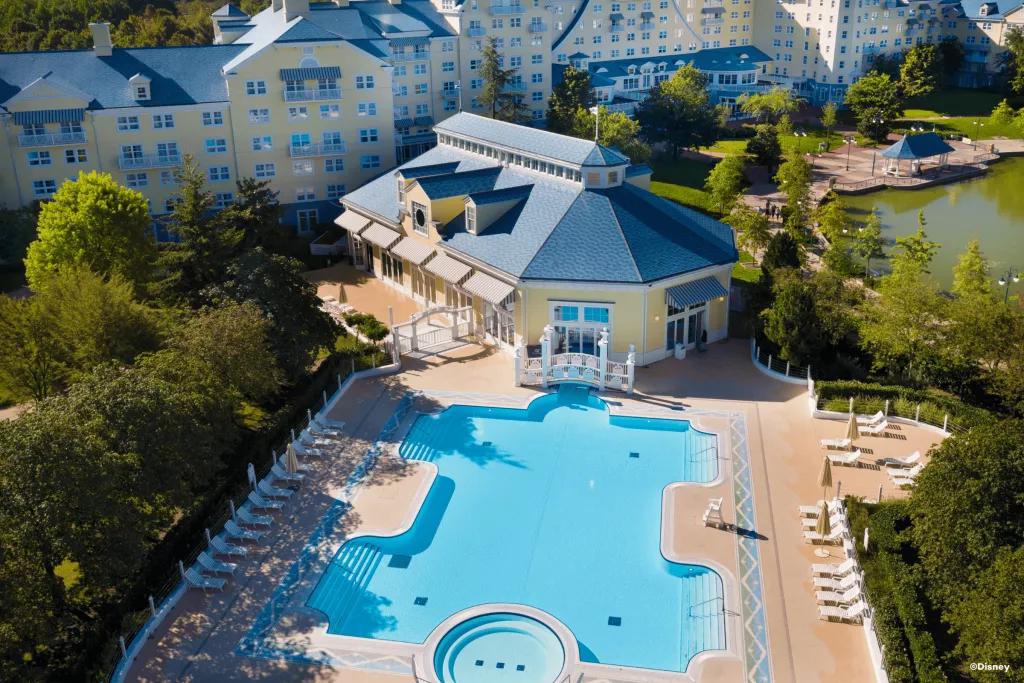 5. The hotel has a table service restaurant, buffet, and a bar
You definitely won't go hungry when staying at Disney Newport Bay Club thanks to the hotel's two restaurants. The Yacht Club is a table service restaurant serving up delicious New England-style seafood, while Cape Cod is an all-you-can-eat buffet featuring everything from fresh fish and seasonal vegetables to pizza and pasta. There's also the Captain's Quarters bar where you can enjoy a quick snack alongside a cocktail, mocktail or aperitif surrounded by sailing paraphernalia. 
The Yacht Club and Cape Cod are both included in the Disneyland Paris meal plans, making them an easy and cost-effective dining option when staying at Disney Newport Bay Club. 
So now you're ready for an unforgettable stay at Disneyland Paris in Disney Newport Bay Club. If you haven't already, book your trip today to receive up to €75 Disney Gift Card and 10 souvenir prints as part of your hotel and ticket package; book online or give our team of Disneyland Paris experts a call on 0800 223 0324.