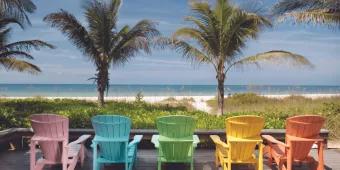 By AttractionTickets.com's Florida Experts, Susan and Simon Veness
Explore beyond the theme parks with these classic drives through the Sunshine State
It's probably true to say that many people wonder what else there is to see and do in Florida beyond Orlando's theme park honey-pot. After all, the Sunshine State is the size of England and Wales combined, hence it stands to reason that there's still a LOT to explore, and the best way to do it is by car, with one of our three essential road-trips from Central Florida (with the third to come in Part 2 next week).
Driving over here is usually a breeze, with lots of wide, open freeways and coastal roads and, in the absence of a decent rail network, the only real way to explore is behind the wheel.
Therefore, with no further ado, let us tempt you away from Orlando for a few days and discover some classic coastal territory and intriguing places to enjoy that you might not have thought of.
A1A Scenic & Historic Coastal Byway
The US is full of official scenic highways and by-ways, including the top designation of an All-American Road, such as the classic Route 66. Florida has two such All-American routes, and Scenic A1A along the Atlantic coast north of Daytona Beach is the newest. Designated in 2021, the full length of A1A actually runs for 339 miles, from Key West in the south to Fernandina Beach in the north-east, but the official 'Scenic' route is from Flagler Beach to Ponte Vedra, 72 miles of mostly two-lane highway that plays tag with the Atlantic Ocean for much of its length.
This is an easy drive from Orlando as it makes for a good day-trip in its own right, or you can make it last for two or three days with a couple of stops along the way.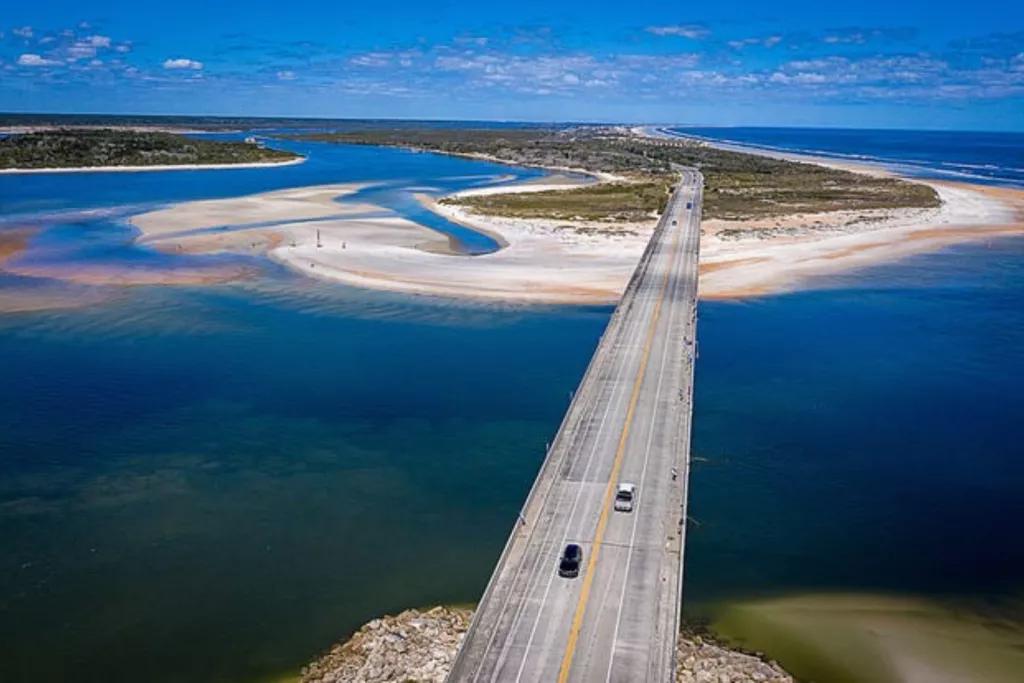 Start by taking Orlando's main motorway, I-4, east to I-95, which also runs up the east coast, and turn off at exit 284 for Flagler Beach, which takes you straight to A1A to start your coastal adventure, with numerous stopping points to enjoy the view. Sample the time-warp 1950s style of the town of Flagler Beach (and its truly gorgeous beach) and spend some time in Gamble Rogers Memorial Park to learn about a true American folk hero. Have lunch at High Tides right on the beach and kick back with a view of the ocean.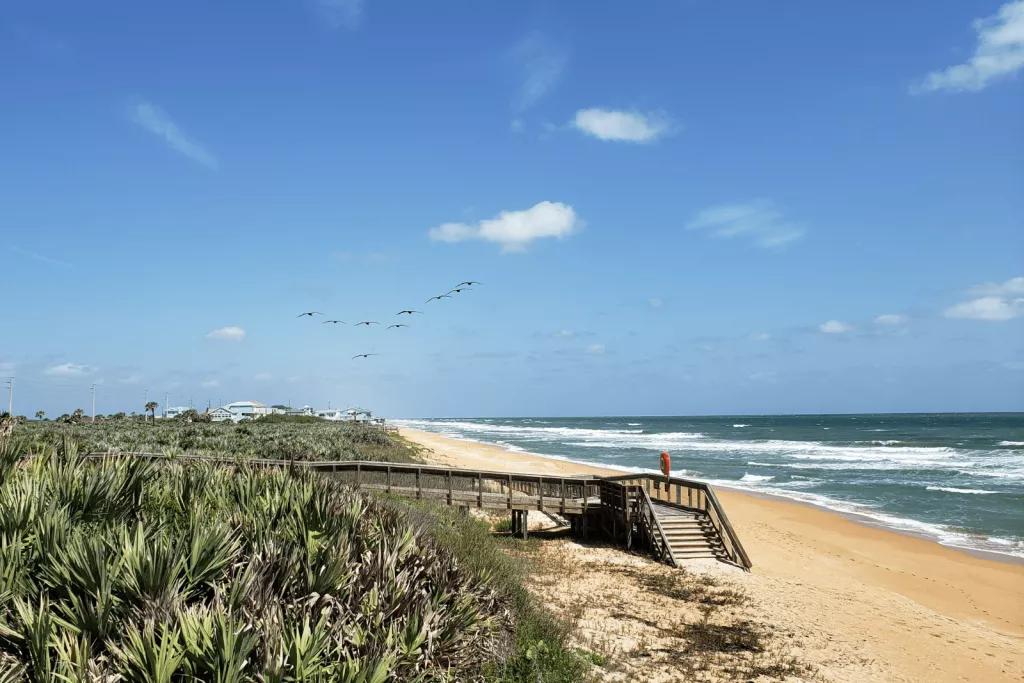 Next stop is Marineland, the world's first oceanarium in 1938 and still offering marine programmes today, including a swim-with-dolphins tour. Lovely Crescent Beach also makes a nice stop just before the main attraction of St Augustine. America's oldest city – founded by the Spanish in 1565 – is a treasure trove of heritage and historic sites, including the must-see fortress of Castillo de San Marcos, Fort Matanzas National Monument and the hokey-but-fun Fountain of Youth.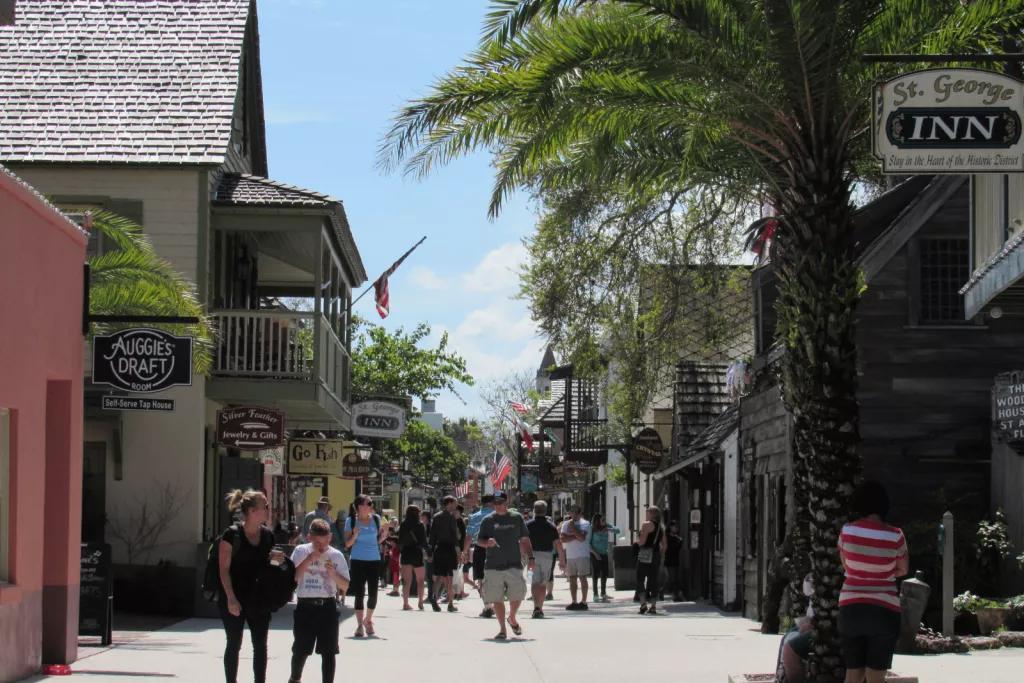 Continuing north brings you to the most scenic part of the drive, along the massive Guana Tolomato Matanzas National Estuarine Reserve, including the iconic statue of explorer Ponce de Leon and some of the most open, uncrowded and unspoiled beaches you will ever find.
Finally, you end in swanky Ponte Vedra, a golfer's paradise and full of upscale resorts and restaurants, as well as more blissful beaches. Be sure to check out Bird Island Park and Sawgrass Village shopping centre, while the Aqua Grill is a great place for dinner, with its scenic outdoor dining. For more details, see this story we wrote for Telegraph Travel in 2021.
The Gulf Coast
It's easy to be attracted by the shimmering waters of the Gulf of Mexico off Florida's west coast, as they provide some of the best sunsets you'll see anywhere. But, take the driving route from Clearwater Beach to Venice Beach and you will have travelled the 84 miles of what is the state's most quintessential beach territory. It's not quite a day-trip from Orlando, but, with a couple of overnights, it's an ideal 3-day journey.
Take I-4 all the way west to Tampa and pick up I-275 and then Highway 60 (by Tampa Airport) across the scenic Courtney Campbell Causeway to the magnificent beach outpost of Clearwater Beach, where the Clearwater Marine Aquarium is one of the coast's most compelling attractions with its many marine wildlife rescue stories.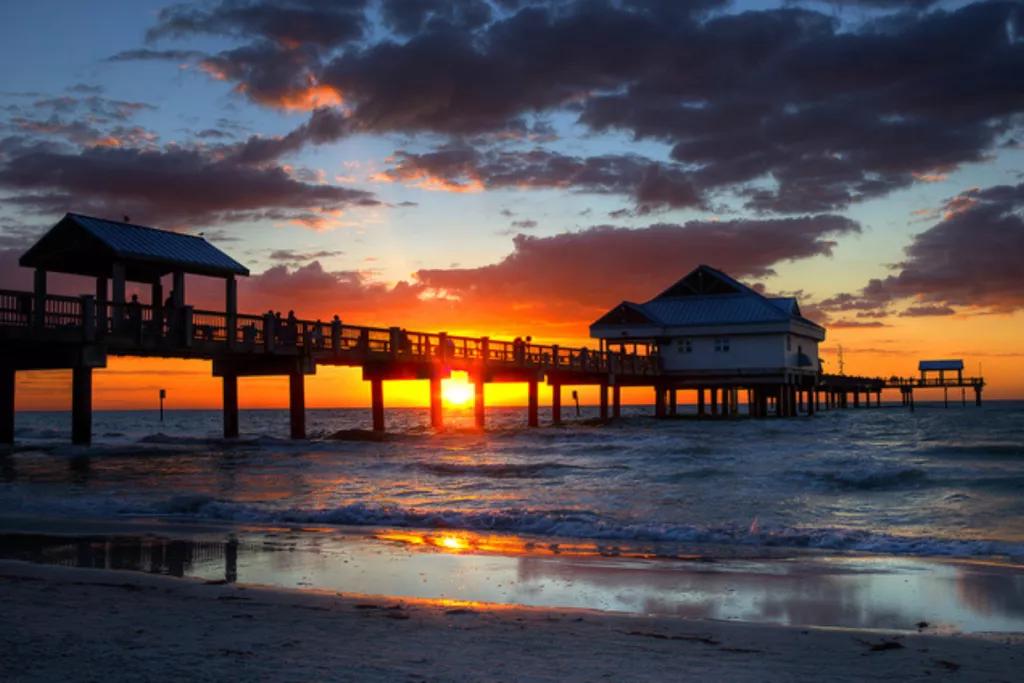 Take coast road 699 to laid-back Pass-A-Grille Beach, a distance of just 23 miles, and you have the most concentrated stretch of beach attractions along this part of the coast, packed with great restaurants, resorts, boating tours, and, of course, superb stretches of wide, inviting, white-sand beaches. Here you'll also find the historic and picturesque Fort De Soto Park, a collection of five inter-connected islands with even more scintillating beach frontage, amazing birdlife and a Spanish-American War era fort.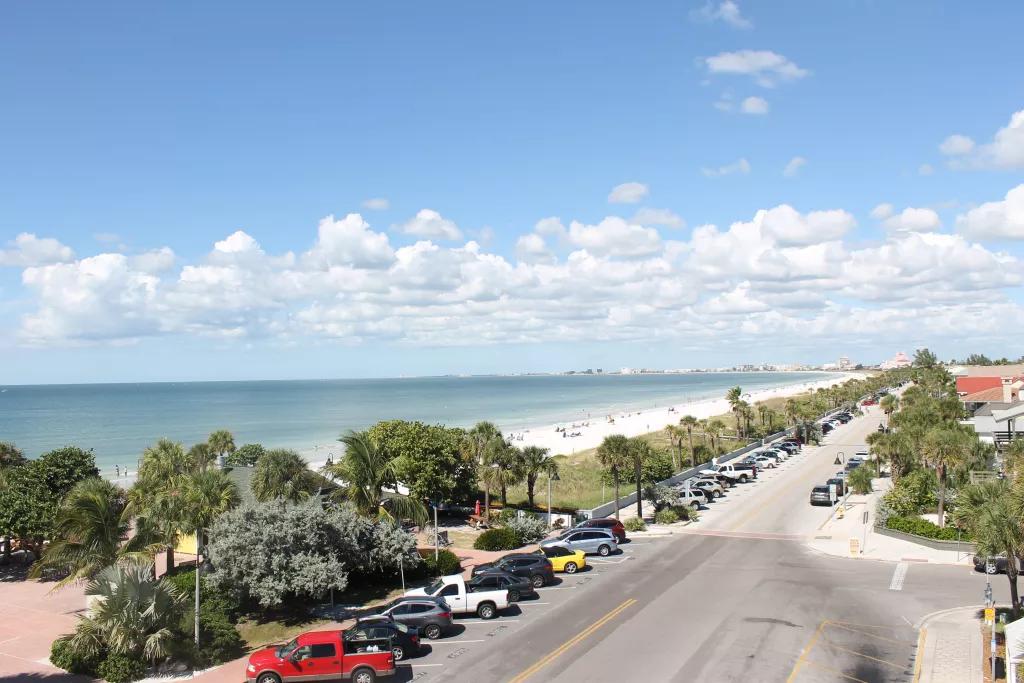 Return to I-75 and cross the breathtaking Sunshine Skyway Bridge, where you reach Bradenton. Make a sharp right turn off the motorway and pick up Highway 60 to head directly for Anna Maria Island, another treasure trove of beach-orientated delights, with seven pristine miles of coastline, plus attractive shops, restaurants and art galleries.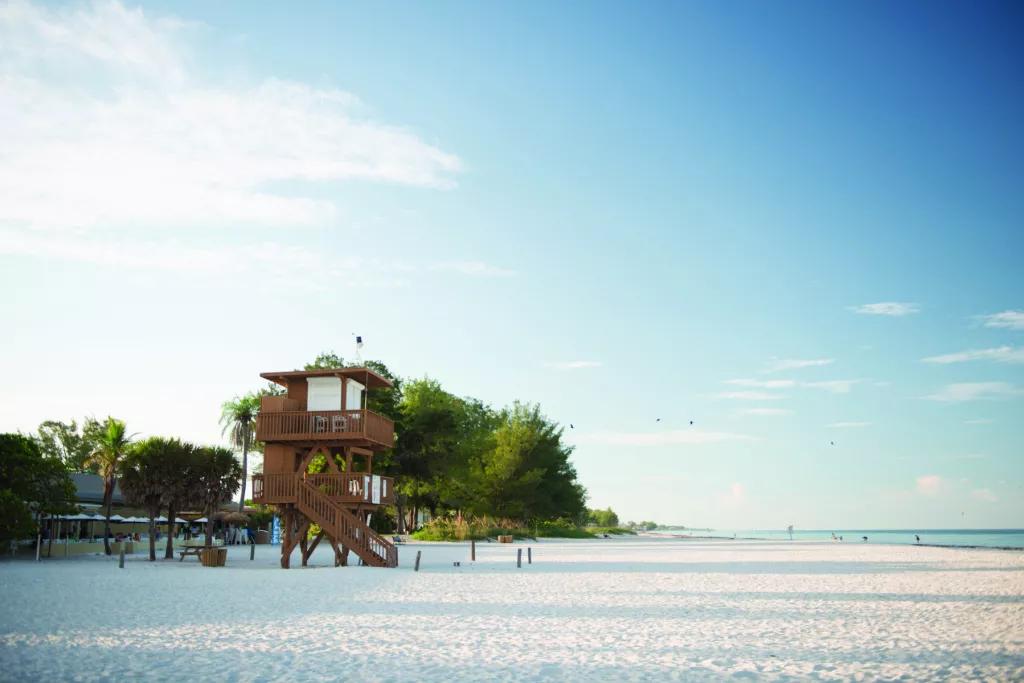 Continue south on Highway 789 for a truly dazzling stretch of barrier island delight, taking in beautiful Longboat Key and more ways to enjoy the sea, whether it's fishing, sight-seeing or jet-skiing, or kick back at a fine hotel like the Zota Beach Resort.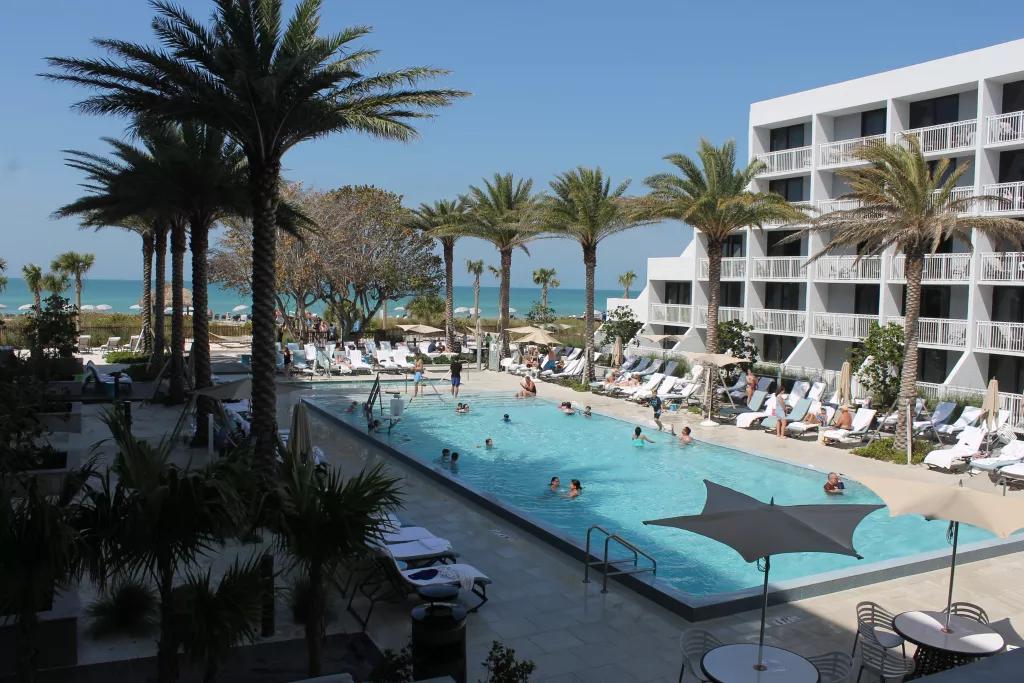 Lido Key, the next barrier island, is where things get ritzy again, with upscale shopping at St Armands Circle, the manicured acres of Lido Beach and fine dining aplenty. You should also look out for Mote Marine Laboratory and Aquarium, with its showcase for manatees, sharks, sea turtles and otters, and stop for lunch at Dry Dock Waterfront Grill, with extensive views over Sarasota Bay.
Sarasota is simply one of our favourite Florida cities, a chic destination in its own right and home to the unmissable Ringling Estate, the headquarters of the world famous Ringling Bros Circus, with the palatial Ca' d'Zan mansion, the mind-boggling Tibbals Learning Center (featuring the world's largest circus model), Historic Asolo Theater, Circus Museum and Art Museum, as befitting the world's richest couple in the 1920s.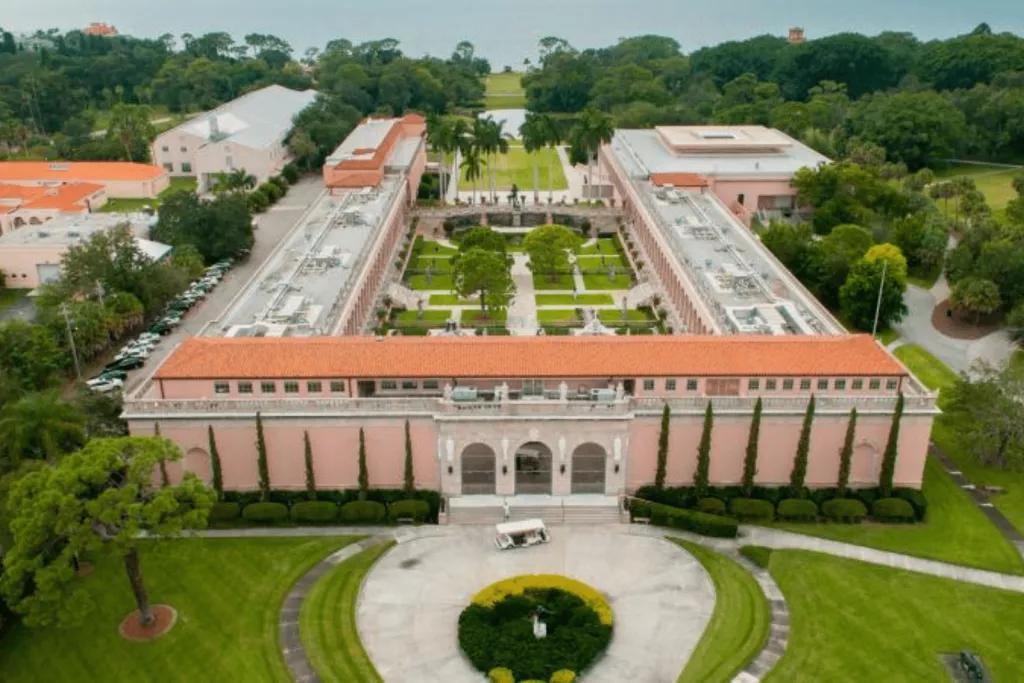 Keep going south on Highway 41 and make another right turn for Siesta Key, where the beach vibe gets turned all the way up to 11 at the perfectly-formed Siesta Beach, Here, the sand is like talcum-powder and the beach living is super-easy, thanks to a succession of superb resorts, like Sarasota Surf & Racquet Club.
You'll want to make a detour inland to explore the extensive Myakka River State Park, where the timeless scene of wild wetlands and pine forests is a rare gem, available for hiking and biking or by flat-bottomed boat tours. Marie Selby Botanical Gardens is another excellent stopping point for 19th century charm and floral delights.
Return to the coast road at Blackburn Point and continue to Nokomis, where you'll need to jog inland a touch to reach Venice Beach and the end of your journey. The "Shark Tooth Capital of the World," as it bills itself, is another notably beachy hangout where shark's teeth frequently wash up on the shore, and the vibe is distinctly bohemian. Enjoy an ice cream from Kilwins and finish with dinner at The Old Salty Dog, a signature locals' restaurant hereabouts with their famous Salty Dog hot-dog (but also lots of tempting seafood!).
PS: On the return journey to Orlando you can take I-75 and I-4 all the way back and it shouldn't take more than three-and-a-quarter hours.
Next week: Orlando to Miami and the All-American Road through the Florida Keys
Have you tried any of these scenic road-trips? Tell us your experiences on the friendly Attraction Tickets forums, our Community Facebook page, on Twitter or Instagram.