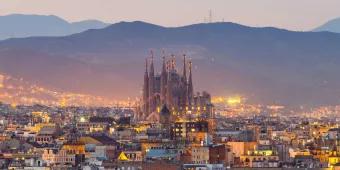 Sample the winter delights of Barcelona from Christmas Markets to a fun-filled relaxed atmosphere.
Though Barcelona is mostly known for beach days and suntans, there are plenty of reasons to visit in winter.
Whether for the lure of the city's architecture, exploring the many eateries or the beautiful Christmas decorations and festive markets, it's always magical in Barcelona.
Here are some reasons why you should book without delay. 
It's Budget-Friendly
Visiting Barcelona during winter will likely be kinder on your budget. There isn't really an off-season but January to March is usually considerably quieter with lower hotel prices, and many great offers on tours and activities. Search online to get fantastic deals on where to stay during the winter season.
Airline tickets are cheaper during winter with lots to choose from. Making sensational savings gives you the freedom to splurge on heavy shopping at the market and eating out. 
The Cosy Weather
Barcelona has a Mediterranean climate during this period, as it's a coastal city boasting milder temperatures. The coldest it gets is in January, but the weather doesn't drop below 10 degrees Celsius (50F). In December, it's also quite dry, with minimal rainfall, averaging around 1.25 inches (32 mm).
The sun shines an average of 6 hours a day with crisp weather and bright blue skies making it ideal for exploring the sights and taking Instagram-ready pictures. Evening strolls and a café con leche out in the square is a delightful way to spend your time.
The Christmas Decor and Festive Markets
Christmas in Barcelona has a lovely festive and local feel and isn't too busy. If you're looking for unique Christmas gift ideas, this is another excellent reason to visit in winter. Christmas is a beautiful time to be in Barcelona. Walk through different neighbourhoods to view the magical Christmas lights.
Another essential traditional Christmas activity is exploring the Christmas market by the Cathedral. You'll find a large collection of Caganers (ceramic figurines of a pooping man which is part of the Catalan nativity scene) as well as Caga Tió (similar to a piñata and a staple in most households because kids love it) for sale. These may appear bizarre, but it's all part of what makes festivities in Barcelona native and fun.
Less Crowded
Another amazing thing about Barcelona in wintertime is how less crowded it is. You can accomplish everything with ease; the queues are shorter, restaurants have tables available on the same day and you can walk around places like the Passeig de Gracià. This makes it a pleasant place to experience. 
There are fewer holidaymakers. Casually move around the streets and take snaps of your favourite buildings without waiting for that split second opportunity.
Explore Museums and Art Galleries
There are many museums, galleries,  pop-up art installations and exhibit spaces in Barcelona to explore. Visiting museums and art centres are a treat for a peaceful atmosphere to intimately absorb everything before you.  
Get your tickets online to easily access the Gaudi buildings, Sagrada Familia, La Pedrera, the Parc Güell, Casa Batlló, and much more. From science museums to the Chocolate Museum, there's something for everyone. 
A Great Time To Tickle Your Taste Buds
For food lovers and adventurers, winter in Barcelona is a perfect time to visit the city. There's always paella, but the real treasures are the seasonal vegetables specific to the colder months. Around October and November, you'll discover the wild mushrooms such as rovellons. 
Sample amazing roasted chestnuts, and succulent sweet potatoes sold in pop-up food stands throughout the city. Try calçots, a hybrid between a spring onion and leek, considered a local delicacy; cooked over a barbecue fire and served with the tomato-based creamy dipping sauce known as romesco.
Overall
Whether you're thinking of a family holiday, city break, or just want to enjoy the beautiful city of Barcelona, winter is an excellent time of the year to come along. With bags packed, flights booked, hotel reservations made and translation services on your phone such as The Word Point, winter in Barcelona promises to reward you with spectacular lasting memories.