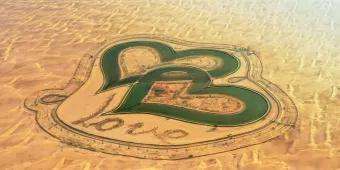 Drenched in opulence and glamour, Dubai doesn't have to be an expensive trip away.
Think there's nothing free to do in Dubai? Think again. The city actually has a range of cultural attractions and entertainment, which visitors can enjoy at no cost.
While many may associate the city of Dubai as a place to flash the cash and indulge in the finer things in life - you're not wrong - there are actually many things holidaymakers can enjoy in the city, for free!
It's never going to be a budget destination, we admit, however you can make your trip to Dubai more affordable and equally exciting, by taking advantage of the free attractions and entertainment options in the city.
Image: DubaiWikia
Love Lakes 
Shaped in the form of two interconnecting hearts, these lakes in the middle of the desert are an Instagrammers dream. It's only been open since November 2018, and has recently gained in popularity since the crown prince of Dubai posted about it on social media. 
The lakes are so huge (much like everything man-made in Dubai) that they can only really be appreciated in their intended glory from above. The trees on one side of the lake are also arranged in such a way that they spell the word 'love' when read from above. 
Nonetheless, it's still an incredibly romantic place and a perfect spot for couples, as it's pretty secluded with no major facilities nearby. We suggest bringing along a picnic basket and enjoying the views, and taking advantage of those photograph opportunities. The lake and the contrasting surrounding desert provide a truly spectacular view, especially at sunset. Reaching the lakes is relatively easy - it's near to the popular Al Quadra lakes area, which has a desert camping area and cycle track. 
Aquaventure
Yes, we know this one isn't technically free...however, there is a time that it can be! Let us explain. You can visit the biggest waterpark in the area for FREE on your birthday! Simply register online here to grab your free Aquaventure Day Pass, and get ready to enjoy some of the biggest water rides the country has to offer. Your companions will still have to purchase their tickets to the waterpark, which they can get from us here. 
Read more about Aquaventure's record breaking water slides!
Coffee Museum 
Coffee-lovers, this one's for you! Located in one of Dubai's heritage hubs in Al Fahidi, guests can learn about the importance of coffee within different cultures. See different coffee grinders, pots, roasters and related implements, and also sample freshly brewed Ethiopian coffee (for an extra fee). As well as a museum, there's also a reading room, children's corner and stylish cafe for you to relax in, as well. As far as free experiences go, this one is certainly worth it!
Desert Camping
Want to get away from the bustling city and explore the surrounding environment? An overnight camping trip in the desert is a unique and unforgettable experience, which can cost little to nothing to do. 
Choose to stay by the sea by camping at Al Dhafra Beach, enjoying fishing, snorkelling and kayaking too. The previously mentioned Al Qudra Lakes are a popular camping spot for those looking to escape the nearby city. It's surrounded by sand dunes, and you may even see wild camels in the morning if you're lucky. 
Or, head to the mountains and spend a night camping in the Hajar Mountains, perfect for hikers and those looking for a serene stay. Adventure-lovers will also love to go dune-bashing as part of an overnight stay at Fossil Rock, which is close enough to the city to quickly get back to civilization, but far away enough from Dubai to make it feel like you're in a whole other world. 
Ras al Khor Wildlife Sanctuary 
You may have already seen photos of those famous pink Dubai flamingos - but did you know that you can actually see them for free? The Ras al Khor Wildlife Sanctuary is home to thousands of birds, just metres away from the excitement of the city. Mudflats, mangroves and lagoons provide the perfect environment for many different species of birds, one of which are the pink flamingos. 
There are three bird hides located on the perimeter of the sanctuary which are free for the public to access during the day. Despite feeling like a world away from the city of Dubai, it's actually just a 15-minute taxi-ride from the nearest metro station. During winter, great spotted eagles and other raptors may be patrolling the skies too!
Dubai Old Town 
If you're just window shopping, it costs next to nothing to explore Dubai's old town - however we can't promise that the delights of the merchants won't tempt you! This well-preserved area of the city is home to traditional markets, authentic meals, and a range of other cultural experiences. Wonder around the Al Fahidi Historical Neighbourhood, where buildings have been lovingly restored to their original glory.
If you are willing to spend a little, there's numerous art galleries in the area too, displaying everything from calligraphy to modern art. For just one AED, you can also cross the famous Creek on a traditional Abra - a must-do for any visitor to Dubai. And then there's the Spice Souk, a colourful, vibrant area which is full of aromas from all sorts of spices. Be sure to purchase a packet of zaatar - the region's popular thyme-based herb mix, which is used to flavour breads and meats. Read our tips for navigating a souk in Dubai here. 
Palm Jumeirah Boardwalk
While it may set you back a pretty penny to stay in one of the glitzy hotels on the Palm Jumeirah, there is a way you can experience this magnificent man-made island for free. 
The Boardwalk hugs the coastline of Atlantis, The Palm and is built over the rocks of the palm's breakwater. It runs from the Rixos Hotel on the east side to One&Only The Palm on the west. It's a great way to get in some exercise during your holiday too, as it stretches for 11km. Marvel at the grand hotels and do a bit of window shopping too. Feeling peckish? There's plenty of food trucks and refreshment stands to top-up your energy levels. 
Four new extensions to the Boardwalk are also underway, each stretching for 1.6km off the centre trunk, and each one will have glass-encased cafes and restaurants so you can enjoy the sun and views over the Arabian Gulf.
Camel Racing 
Head to the Al Marmoom RaceTrack for a unique and exciting form of entertainment, found only in this part of the world - camel racing. The track is located just a stone's throw away from the city lights, in the Dubai desert sands, and showcases a modern version of this traditional sport. 
Sixty camels race against one another, on Dubai's largest camel racetrack. Trainers follow in 4x4s, encouraging their jockeys to be the first to cross the finish line. You'll want to bring binoculars, so you don't miss a thing in this exciting event. 
The races start pretty early to avoid the heat of the day, between 7am - 9am. However, it's definitely worth waking up for this free excursion. If you arrive early enough, you may even get the chance to pet the camels and take photos with them before they race. 
As you can see, there's loads of ways to enjoy Dubai for free, while adding a ton of excitement and culture to your unique holiday. 
Want to make your trip even more special? Click here to browse all our Dubai attraction tickets now.
Main image: Outlook India