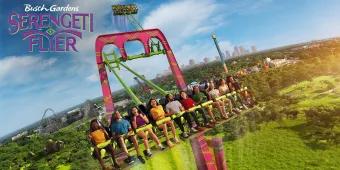 BREAKING NEWS
The new attraction will be the tallest and fastest of its kind in the world!
A brand-new attraction is coming to Busch Gardens Tampa Bay in spring 2023! Serengeti Flyer will be a screamin' swing ride with twin duelling arms that progressively sway back and forth. With every swing, the arms will get higher and higher and riders will experience multiple negative G-force moments as they head back down to earth!
At its peak, the ride will reach speeds of 68mph and get to heights of 135-foot - this makes it the fastest AND tallest ride of its kind in the world! It will tower over the 65-acre Serengeti Plain, giving guests a spectacular view of some of Busch Gardens' animal residents. 
Each arm will have two back-to-back rows of 10 seats, so up to 40 guests can ride at the same time. The height requirement will be just 48" so younger thrill seekers will get to experience this exciting new attraction too. 
Serengeti Flyer will be the first new attraction to open at Busch Gardens since Iron Gwazi made its debut in March 2022, which has since won the 2022 Golden Ticket Award for the Best New Roller Coaster. It will join the park's portfolio of 15 other rides, including Tigris, Cheetah Hunt and Falcon's Fury. 
Want to be one of the first to experience Serengeti Flyer when it opens in 2023? Book your Busch Gardens tickets today and benefit from all-day dining and free parking.