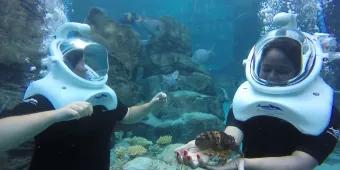 Thinking of trying out the SeaVenture experience at Discovery Cove?
Here we share a detailed idea of what the SeaVenture experience is like from first-hand experience and a few of our top tips for making the most of it…
When you arrive at Discovery Cove you're encouraged to collect a wetsuit for the duration of your day at the park. And, while the general swimming pools are kept at a toastier temperature for snorkelling, the SeaVenture area is slightly cooler, so we definitely recommend going for the shortie wetsuit over a rash vest. The wetsuit will keep you warm while you're under water so you can focus on enjoying the experience.
Your SeaVenture experience will start with a 20-30-minute safety briefing which explains how the dive helmets work, how to stay safe under water and how to communicate with your guide and others around you while you're underwater. There will also be the opportunity to ask questions and learn a few of the techniques real scuba divers learn, such as equalising your ear pressure and some basic hand signals!
If you're already feeling a little nervous about the prospect of walking underwater, the briefing might make you feel better, it might make it all feel very real, but don't worry…as soon as you're in the water you'll relax – there's really nothing to worry about!
Next, you'll be led over to the dive area, where you'll climb down a ladder until your shoulders are submerged in the water, which is where you'll be given your dive helmet. The dive helmets are incredible and will make you feel like you're an extra in an ocean-exploration film! They work with their own air supply so there's nothing covering your mouth or eyes directly – all you need is this 'bubble' over your head to enjoy the incredible marine and sea life.
Once you reach the bottom of the ladder (equalising your ears as you go down of course), you'll be 12-foot deep. That might sound like a lot, but it's actually the same depth that scuba divers begin their training at and, once you get your bearings, you'll see that the surface is never too far away! Inside your helmet you'll hear nothing but the gentle whoosh of your air supply and the tinkling sound of water lapping around your helmet – probably one of the most peaceful moments you'll have in Orlando!
Your guide will now lead you around the reef area with the help of a rope that divers can hold on to attached to the enclosure walls. You'll feel as if you're really walking on the floor of the ocean as you take in more than 10,000 sea creatures, including 125 species of fish, rays and even sharks! The reef is also inhabited by beautiful tropical flora and fauna to really transport you to the underwater world of the coral reef.
Your guide will give you the chance to hold some of the sea creatures, as well as the opportunity to take some photos with the beautiful tropical fish streaming around you. The full walk lasts about 20 minutes, during which time you'll feel like you're a real scuba expert!
This video gives you an idea of what this magical experience is like, as well an overview of Discovery Cove:
Excited about the prospect of submerging yourself in an underwater adventure? We are currently offer 40% off SeaVenture experiences, when you purchase a Discovery Cove package!
Liked this post? You may also like...