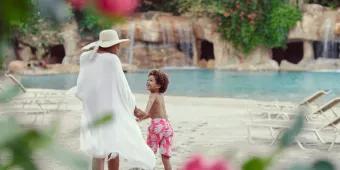 Fin-tastic fun for the whole family!
There's so much to do at Discovery Cove for guests of all ages, including your little ones.
The animal encounters at Discovery Cove are the biggest reason for many people to visit the park, so they can have unforgettable experiences with incredible creatures like dolphins, sharks and rays. Unfortunately though, some of these encounters do have age limits, with the Dolphin Swim and Ray Feeding suitable for ages 6 and over, and the Shark Swim suitable for ages 10 and over. 
But that doesn't mean there isn't plenty to do in the park for younger children! There are animals to discover, beaches to play on and waterways to splash in for guests of all ages. 
Here are just some of the experiences the whole family can enjoy, for a day that you'll never forget. 
The Grand Reef 
Guests of all ages can go for a swim in the Grand Reef, where you will be joined by thousands of tropical fish. This coral reef habitat is full of hidden wonders to make it really feel as if you're swimming in tropical seas. The deeper water is perfect for older explorers to try out snorkelling, and life vests are available for younger swimmers. 
Explorer's Aviary 
Discovery Cove isn't just about the aquatic animals! You can encounter some feathered friends at the Explorer's Aviary, a hidden paradise where tropical birds fly free above your heads. You can even get up close and personal with the opportunity to offer them some fruit straight out of your hand. But who knows where else they might land!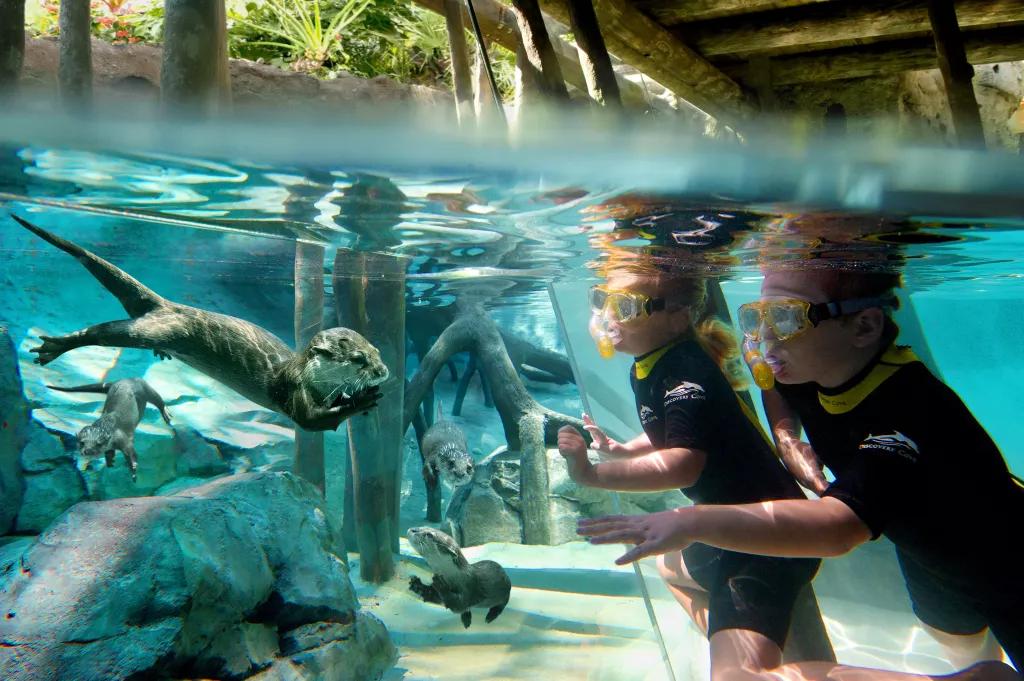 Freshwater Oasis and Conservation Kiosk
The shallower waters of Freshwater Oasis are perfect for younger guests, where you'll get the chance to come face-to-face with some of the smaller animals at Discovery Cove. Here you can marvel at the marmosets as they climb through the treetops of Marmoset Island, or you can swim side by side with Asian small-clawed otters! There are multiple enrichment sessions throughout the day that will make sure you get the best view of these cute creatures. 
The Conservation Kiosk is another must-do for any young animal lovers! From sloths to owls, there are all kinds of animals to see at the kiosk, and you can learn all about the conservation efforts of Discovery Cove and SeaWorld too. 
Serenity Bay
Serenity Bay really is the ideal place for everyone in the family - parents can relax in deck chairs and soak up the sun while the kids play in the sand and splash in the beautiful 30°C (85°F) water. And if you get there early enough, you might even get to see Discovery Cove's flamboyance of flamingos as they make their way to the Laguna Grill courtyard! 
Ready to experience the wonders of Discovery Cove? Your tickets will include access to all of the above, plus food, drinks and snacks throughout the day, use of towels, lockers and wetsuits, PLUS 14 days admission to SeaWorld and Aquatica!