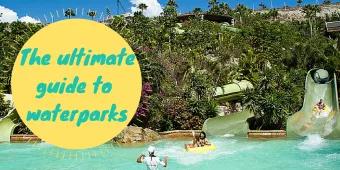 Tips for Visiting a Water Park
Make the most of your visit to a water park with this handy guide, which includes tips from expert bloggers.
Water parks are often found in popular holiday resorts and can offer a fun packed day out for all the family, as well as with friends. Catering for both keen thrill seekers, with exhilarating and impressive water slides, and those who prefer relaxing on a sunbed with the variety of pools, there really is something for everyone when visiting a water park in Dubai, or elsewhere in the world.
However, you'll want to make sure that you're fully prepared, as you'll more than likely be spending your entire day at the water park. So, in order to help, we got in touch with some expert bloggers who have provided some tips to enable you to make the most of your water park experience.
What to pack
There's nothing worse than realising you've forgotten something important when you arrive at your destination, especially if it's an item you can't repurchase, so it's advised that you create a checklist before you pack to ensure that you've got everything you need. Here are a few suggestions as to what you should take along with you when visiting a water park.
Helen at Wicked Faerie stresses the importance of taking along sun cream, which will protect you from any harmful rays and prevent painful sunburn that may ruin the rest of your holiday.
"Keep topping up with waterproof sun cream more often than you think you need to."
She also suggests that choosing the correct footwear is important, so that you're comfortable for the duration of the day.
"Wear water shoes - the lightweight neoprene kind (flip-flops fall off in the water and sandals feel too clunky to swim in), as the areas between the pools and slides are concrete, which would otherwise be rough and extremely hot underfoot."
As you'll be having so much fun, you'll also want to make sure that you capture memories of your day by taking plenty of photographs. However, if you're taking along expensive technology you'll want to follow this advice from Meiling at Universal Scribbles.
"Invest in a good waterproof bag to carry your mobile phone. If you're planning to take photos or videos whilst you're having fun at the park, consider investing in a disposable waterproof camera that you can wear as a headgear, which is especially fantastic when you go down the slides."
Marcus at Waterslide Database expresses that planning ahead always plays a crucial part in spending a day at a water park, and reminds us of an item that you won't want to forget.
"Be sure to bring your own towel to dry off with, since many water parks will not provide you with one."
While it's important that you pack everything you need, you won't want to overpack, as you'll have to carry it all with you and fit it into a locker in the changing rooms. Becky at English Mum agrees, and has a great tip for using your towel for more than one purpose.
"Pack light, you really won't need much, but take something like towels with you so you can keep some seats or loungers to use as a central meeting point.  It's handy if you're with older children who want to go off on their own. They'll always know where to meet up again."
When to tackle the rides and slides
Unfortunately, as with any theme park, there can often be long queues for rides, but there are many ways that you can avoid wasting all your time in line. Becky has a great suggestion for those with younger members in a party, and advises that you think about what time of day you visit.
"If you're travelling with small children they tend to be up early so get going ASAP, as the early morning after opening and the late afternoon tend to get busy.  Lunchtime is very hot and a good time to take a break and keep out of the sun for a while anyway."
Meiling at Universal Scribbles recommends planning when you eat in order to make sure that no one is left feeling ill during your visit to the water park.
"Plan your meal breaks between slides so you can snack and recharge. Go on the gentler slides after your meals and allow at least half an hour after you eat before going on the hard-core slides."
Marcus at Waterslide Database also highlights the importance of drinking water while at the water park, as you will more than likely be out in the sun for long periods of time, while also exerting lots of energy.
"Remember to stay hydrated throughout the day, and take breaks now and then to drink and eat in between playing."
How to save time
Many water parks understand the frustration that queuing can cause, so it's worth checking if they have any services which can help. Jon at Splash King has attended water parks all over the world, including Siam Park in Tenerife, and the first thing he looks for when arriving is a queue jump ticket for the slides.
"The worst part of going to a water park is queuing up (although it does help with getting a tan!), and undoubtedly the best part is flying down the slides; so why would you not spend a little extra to ensure you get as many slides as possible? I'm always looking for the best slides/price ratio and my reviews are massively influenced by it. I've never bought a queue jump ticket that hasn't been worth the price and walking past that huge queue is certainly satisfying."
Who to visit with
Visiting a water park is all about having fun, and what better way to do that than to spend time with the ones you love. Many people have preconceptions that water parks are just for younger children, or that they're only suitable for braver adults, but this is not the case and Jon agrees.
"My second tip would be to take friends and family with you - it's always more fun when you go together. Kids love splashing around in the water, and it's amazing how parents turn into big kids when they see a slide. Flying down slides together and watching parents making a fool of themselves is a lot more enjoyable than being glued to a sun lounger on a beach. Even as an adult, I often visit water parks with my friends and I've yet to spend a day out with them where I've not laughed and enjoyed myself all day long."
-          Jon, Splash King
Image credit: Alberto Varela, Pete, VisitCentralFL (Flickr.com) Universal Scribbles, Waterslide Database, Becky at English Mum.