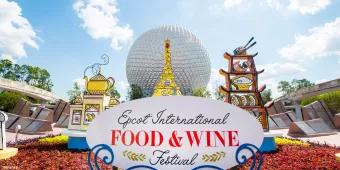 Everyone's favourite foodie festival is returning for another year
Everything you need to know about the 2023 International Food and Wine Festival at Walt Disney World Resort in Florida.
It's time for a unique taste experience as the EPCOT International Food & Wine Festival has returned for the summer and beyond. 
One of the highlights of the Disney Parks' seasonal events calendar, this popular festival at Walt Disney World Resort in Florida will be tempting guests with a deluge of world-inspired treats, and the chance to experience a range of unique, mouth-watering dishes and drinks. We can't wait to sink our teeth into this one! 
When is the International Food & Wine Festival? 
The EPCOT International Food & Wine Festival is taking place from July 27th to November 18th 2023. 
It's one of the many seasonal celebrations at EPCOT that happen throughout the year, celebrating a range of interests and hobbies. Head to Walt Disney World Resort at a different time of the year, and you may also experience either the EPCOT International Festival of the Holidays, the EPCOT International Flower & Garden Festival, or the EPCOT International Festival of the Arts. 
What is the EPCOT International Food & Wine Festival? 
There's so much to discover at the EPCOT International Food & Wine Festival, from tantalising dishes to impressive live entertainment. Let's take a closer look at what awaits you during your visit: 
Global Marketplaces
You don't need to travel the world to experience a taste of some of the most iconic global dishes, as the EPCOT International Food & Wine Festival is known for showcasing a delicious range of worldwide cuisines, housed in the Global Marketplaces. 
Guests can expect a taste experience across six continents, including returning favourites from countries such as Canada, Greece and China, as well as four brand-new booths coming to the festival from September 22nd; Wine & Wedge, Char & Chop, Bubbles & Brine, and Swirled Showcase (you can find out more about these additions from our Florida Experts). The Global Marketplace menus have now been released, with some of our previous favourites being joined by some delicious new offerings. Our top picks include: 
Pão de Queijo: Brazilian cheese bread from Brazil 
Warm Chocolate Pudding Cake with Irish Cream Liqueur Custard from Ireland
The IMPOSSIBLE Burger Slider with wasabi cream and spicy Asian slaw on a sesame seed bun (Plant-based) 
Boursin Fig & Balsamic Soufflé with fig tapenade from Wine & Wedge (NEW!) 
Spiced Chocolate Tart with BBQ potato chip crust, salted whisky-caramel, and smoked sea salt from Flavours from Fire (NEW!) 
This is your chance to immerse yourself in a plethora of cultures, as innovative chefs will showcase their cooking skills with culinary demonstrations and other special events. Sip on fine wine, craft beer, spirits, and other beverages too as you browse the many food booths and festival merchandise.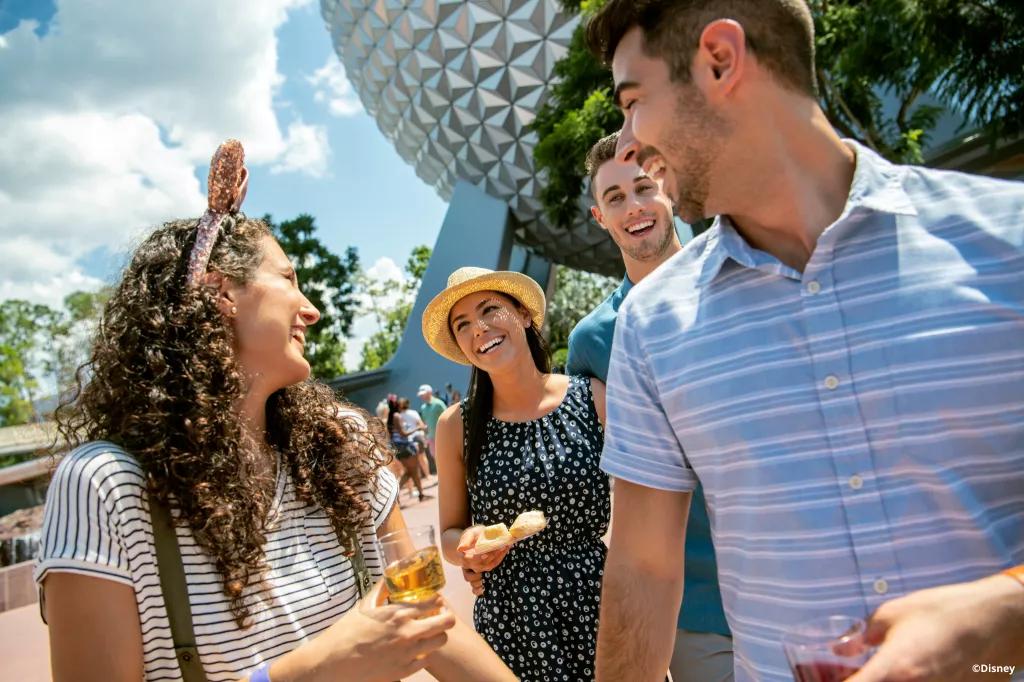 Live Entertainment
Throughout the festival, you can spice up your day at EPCOT with a live concert! The Eat to the Beat concert series is back at the America Gardens Theatre, with performances on select dates at 5:30pm, 6:45pm and 8pm. Some incredible names have been announced, with highlights including: 
FOR KING + COUNTRY - July 30 - 31 
Tiffany - August 6 - 7 
Joey Fatone and Friends - August 18 - 21 
Foreigners Journey - September 5 - 7 
Boyz II Men - September 29 - October 2
Billy Ocean - October 22 - 23 
Hanson - October 27 - 30 
Sheila E - November 5 - 6
If you want to guarantee a seat at an Eat to the Beat concert, you can book a dining package at Akershus Royal Banquest, Biergarten Restaurant, Coral Reef Restaurant, Garden Grill Restaurant, Le Cellier Steakhouse, Regal Eagle Smokehouse: Craft Drafts & Barbecue, Rose & Crown Dining Room or Spice Road Table. 
Family Fun
The EPCOT International Food & Wine Festival is a fantastic, family-friendly event, with a range of kid-friendly activities for your little ones to enjoy. 
Embark on a Ratatouille-inspired adventure, with Remy's Ratatouille Hide and Squeak Scavenger Hunt. Simply purchase your map and stickers from select Festival merchandise locations and get searching for the famous rat throughout World Showcase and the Global Marketplaces. Once you've matched all the ingredient stickers to your map, take it to Disney Traders and choose a fantastic surprise! 
There's also Emile's Fromage Montage, where your whole family can sample a variety of cheeses in inventive ways. Collect a stamp for each of your cheese purchases, listed in your Festival Passport, and receive a prize from Shimmering Sips when you've got five! 
Want to experience the EPCOT International Food & Wine Festival this summer? Make sure you book your Disney Park Pass reservations as soon as possible after booking your tickets to be able to visit EPCOT on your preferred days.