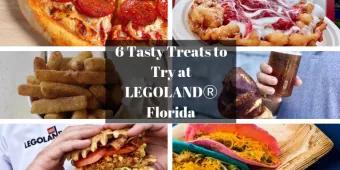 We want them all!
It's not just about the rides and attractions at LEGOLANDⓇ Florida - take a look at these tasty treats to try at the park.
While LEGOLANDⓇ Florida offers no shortage of fantastic rides and exciting attractions, there is also a great variety of food options to sink your teeth into in between all that fun. The food at LEGOLANDⓇ is unique, colourful and incredibly tasty. Let's take a look at a selection of the treats you could soon be enjoying. 
Smoked Turkey Legs
There was a time when a smoke turkey leg was considered a common, delicious snack, and thankfully at LEGOLANDⓇ Florida, this attitude hasn't changed much. Make a mess and dive into a mouth-watering bit of meat at Dragons Den, located outside the iconic rollercoaster in LEGOⓇ Kingdoms. The restaurant also serve bratwurst sausages and honey-battered mini corn-dogs - if that doesn't get your saliva glands going, nothing will. Wash all that meaty goodness down with a refreshing glass of locally brewed craft beer. Can you believe all this is offered inside a theme park?!
Granny's Apple Fries
Have you really been to LEGOLANDⓇ Florida if you haven't experienced the sweet, cinnamon-ny goodness of Granny's Apple Fries? These are a LEGOLANDⓇ institution, invented right here at the park, and thankfully, they're healthy too...sort of. Indulge in warm apple slices, which have been dusted with cinnamon and sugar and served with a sweet whipped cream dipping sauce. We'll have two please!
Funnel Cake
There's nothing better than a quick break for funnel cake, arguably a classic American sweet-treat. At the Funnel Cake Factory in LEGOLANDⓇ Florida, you can customise your very own funnel cake to include a variety of toppings and sauces. What will you create - something chocolatey, or more fruit-based with a sprinkling or powdered sugar? Add a scoop of soft-serve ice cream and your delicious snack is perfectly complete.
Cinnamon Waffle and Chicken BLT
Yes, you read that right - but stay with us, it really is delicious. Americans love mixing their sweet and savory flavour (bacon and syrup, anyone) and luckily, they seem to know exactly what they're doing when it comes to creating mind-blowing, unique dishes. This Cinnamon Waffle and Chicken BLT at LEGOLANDⓇ Florida makes an exquisite lunch option. At Kick'n Chicken Co. (the restaurant where this creation is served) they also offer a range of salads, wraps and tenders, and even a veggie option of chicken-less chicken. Sounds tasty!
Fruity Dessert Pizza
An all you can eat dining option is always a great idea when at a theme park - you're using so much energy going on all those rides, after all! At Fun Town Pizza & Pasta Buffet, you can eat as much or as little as you like, choosing from pizza, pasta, and fresh salad options, and drinks are included as well. What's more, they also serve incredibly tasty-sounding cinnamon and fruity dessert pizzas too. Pizza + dessert = heaven.
Unikitty and Benny themed Tacos
Everyday is Taco Tuesday at the THE LEGOⓇMOVIE WORLD - if you know, you know - so it's no surprise that they're serving up the yummiest tacos that a theme park has to offer. Offering a unique twist on California street-style tacos, Taco Everyday offer park guests to try one of their signature Unikitty and Benny themed tacos. Everyday is awesome in this land! 
Ready to book your food-filled visit to LEGOLANDⓇ Florida? Buy your tickets here now, and take advantage of our exclusive adults at kids prices offer (for a limited time only)

Like this post? You may also like…