By AttractionTickets.com's Florida Experts, Susan and Simon Veness
Universal Studios Florida unveils its fun new Minion Land this summer, but has previewed the occasion with all the food and beverage options on offer.
When Universal Orlando Resort announced the closure of the long-running and popular Shrek 4-D attraction in 2021, it was hard to imagine what would follow in its footsteps.
The fact is, we should have been expecting Minion-steps, and a LOT more besides. As we now know, there will not be just a new attraction, but a whole new land - the Minion Land.
So far, Universal is only repeating the mantra that the new land, and its headline attraction, the walk/ride-through shoot-'em-up Villain-Con Minion Blast, will be open "this summer."
But we have a good idea of what things will taste like thanks to a soft opening of all the non-ride elements last weekend, which allowed us to evaluate the food, snacks and the merchandise of this wildly colourful new area featuring those comical yellow banana-loving henchmen of arch-villain Gru.
With the help of photos from our friends at Attractions Magazine, here's what we now know about the four food and beverage options and the all-new character showcase that is part of Illumination Lane at the heart of Minion Land.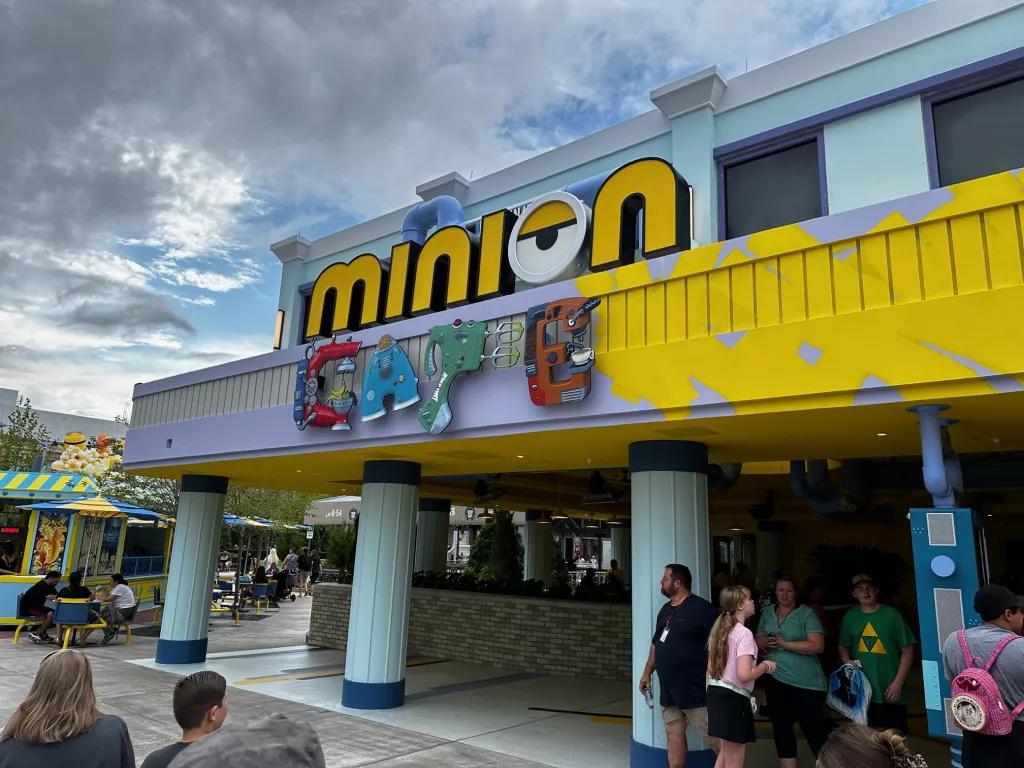 Minion Cafe: This is the Big Deal of all the new arrivals, a hugely fun and entertaining venue that replaces the previous Monsters Cafe and kicks things up several notches.
Still a counter-service offering, it operates under an app-based ordering system that allows you to pre-select and pay for your food on your mobile device and then wait for it to be delivered to your pre-assigned table in the main dining room.
The 20-plus item menu features full meals, kids meals, desserts and drinks, including a range of protein bowls (called 'Despica-Bowls') and sandwiches.
Some items are pretty straightforward, despite the funny names, such as the Steak & "Cheese-Ray" Sandwich (just a pile of shaved steak piled with a cheese sauce), but others are more imaginative and harder to describe, notably Otto's Noodle Bowl, which features slow-roasted porchetta with Udon noodles, roasted corn, shrimp dumpling and Tonkotsu broth. Quite a mouthful, but generally declared "quite delicious"!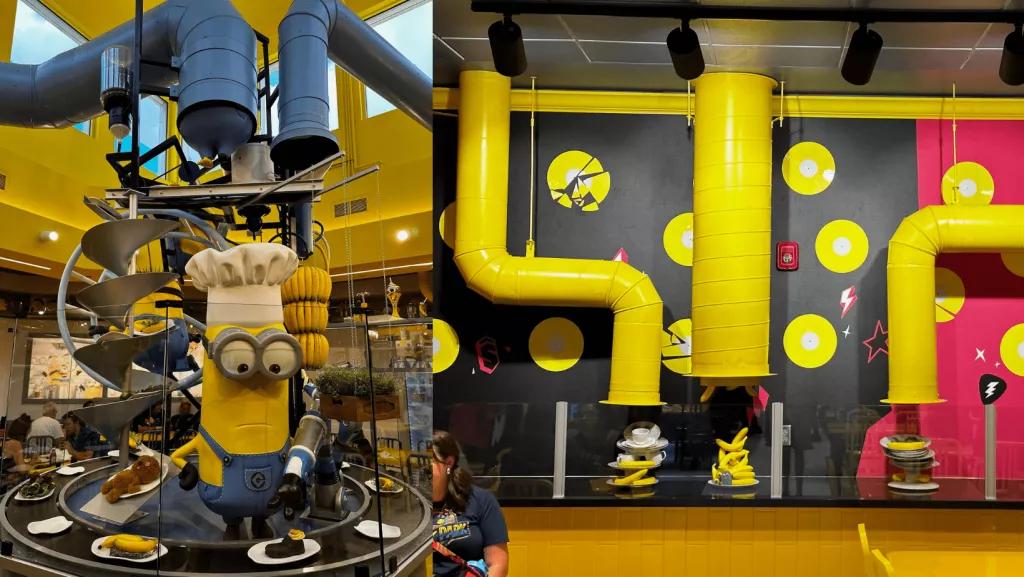 Adult main courses range from $15-$20, with desserts $6-$9, while kids meals are all $9 and drinks vary from specialist non-alcoholic ($3.50-$7) to alcoholic (wine and beer, $9-$11.25).
The two non-alcoholic cocktails, PX-41 Punch - a mix of lemonade and fruit flavours - and The Antidote (like a liquid banana cream pie) are both well worth sampling.
The decor is as zany and fun as you would expect from the Illumination Films characters, with outrageously funny touches such as a 'Break Room' that highlights a vending machine which mostly deals in bananas, but also offers the infamous Fart Gun ordered by Gru from Dr Nefario.
There is also a cute Minion-themed foosball table that suggests the locals enjoy a good game of table football, in addition to a water dispenser that is full of - wait for it - goldfish! The kitchen area features typical chaos and mayhem, and don't miss the hilarious Minion bulletin board, complete with 'Shared Refrigerator Etiquette' and 'Microwave Rules.' Recipes for typical Minion-shaped disaster.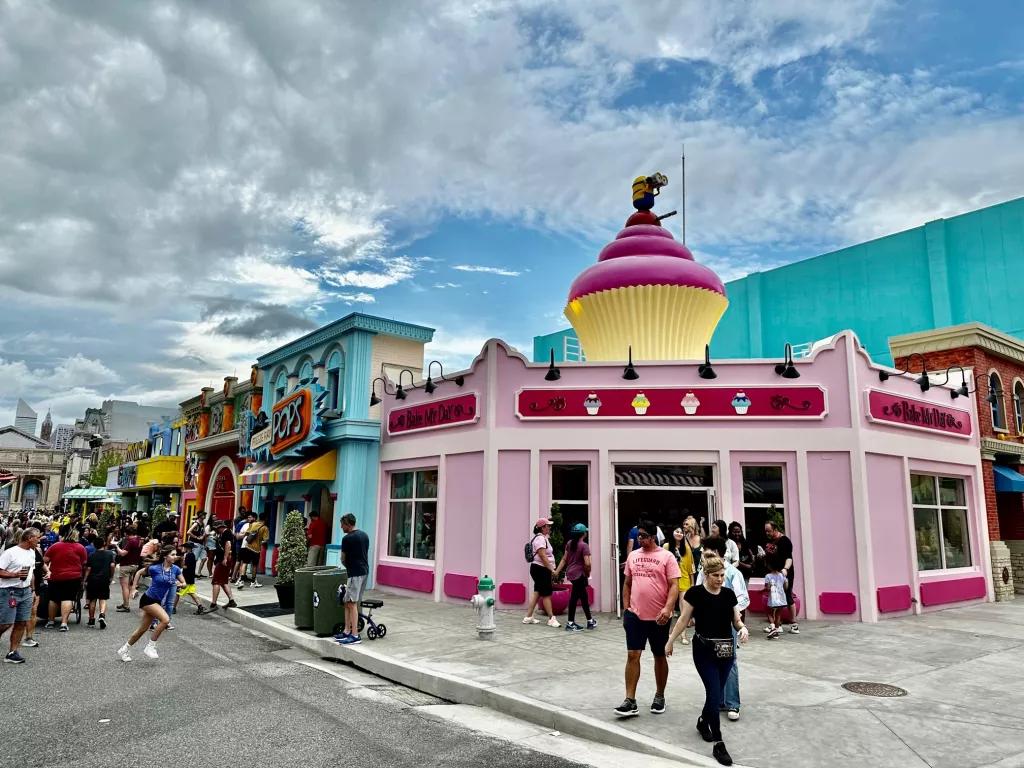 Bake My Day: The land's offbeat "bakery" does, indeed, serve various pastries and baked goods, but also acts as a gift shop, with an extensive array of Minion plushes, apparel and souvenirs, notably drinkware, lanyards and keychains, many of them in bright pink!
A mouth-watering menu serves up cupcakes, cookies, cupcake bites, macarons, s'mores, cotton candy, marshmallow bites and candy-coated popcorn. A bit on the sugar overload side of things, but then you ARE on holiday after all. 
Located as one of the first things you see in Minion Land, on the right after coming through the gates (previously a film and camera shop), the Bakery - topped by a gigantic cup-cake - sets the scene for the rest of the Land and is a testament to the films' production team, who collaborated with Universal's designers to get the perfect look for this hilarious area.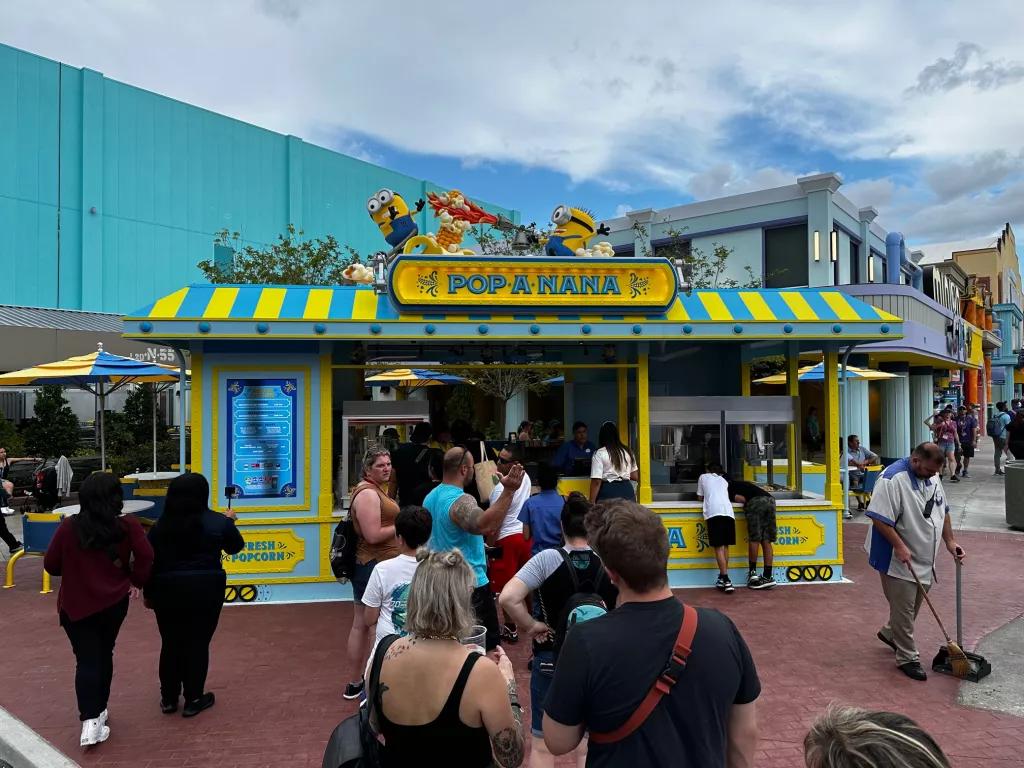 Pop-a-Nana: Popcorn will never be the same after you sample the banana-flavoured version in its own purpose-designed kiosk just past the Minion Cafe.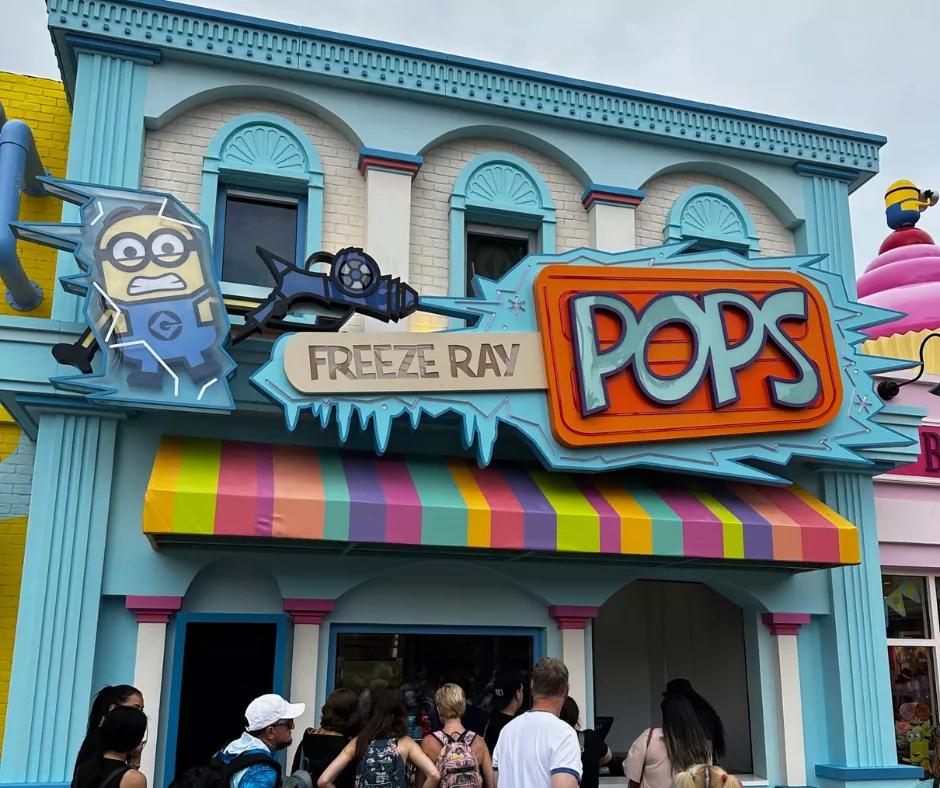 Freeze Ray Pops: It's Florida, so it's hot, and that means lots of ice lollies and popsicles. The Freeze Ray Pops outlet is designed to meet that demand for a cool snack, packed with typical Minions fun, of course. There are speciality popsicles for Gru and the Minions (a Nutella-flavoured version and Blue Banana respectively, at $9 each) and regular ones in eight different flavours, from Cookies & Cream to Cheesecake, for $6 each.
Illumination Theater: Taking the place of the former Shrek & Donkey character meet-and-greet is this more elaborate setting for various characters from the Illumination Films stable to put in an appearance. The current "stars" of the show include Gru and the girls from Despicable Me as well as Rosita, Gunter and Johnny from Sing. It is entertaining enough just to stop and watch, with bags of movie humour, and this should make for a compelling attraction with children (and even if you don't!).
Evil Stuff: Situated right opposite the existing Minion gift shop, Silly Stuff, this new outlet is located at the exit to the forthcoming Villain-Con Minion Blast attraction (as required seemingly by Florida law!) and offers Villain-Con-themed T-shirts, cups, bags, magnets and more.
All in all, it sets the scene beautifully for the main event later "this summer," when we expect the Villain-Con attraction to be the must-see experience in town, along with SeaWorld's new roller-coaster, Pipeline: The Surf Coaster, which opened in May.
PS: If you're in Orlando at the moment and heading to Universal Studios, just be aware all the Minion Land elements, and especially Minion Cafe, are in what they like to call a "soft opening" period, which basically means a test phase when they might - or might not - be open.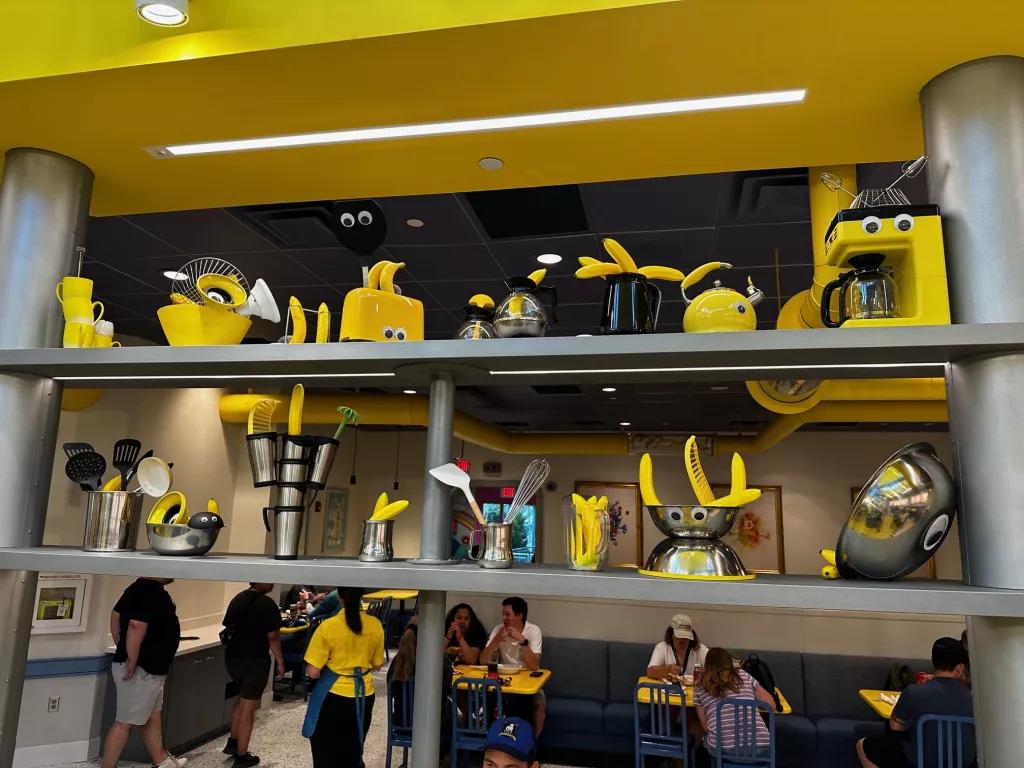 What are you most looking forward to with Universal's new Minion Land? Tell us on the friendly Attraction Tickets forums, our Community Facebook page, on Twitter or Instagram.
IMAGE CREDITS: ATTRACTIONS MAGAZINE