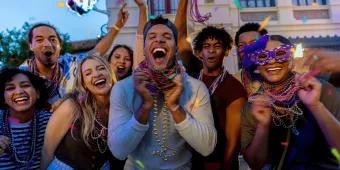 By AttractionTickets.com's Florida Experts, Susan and Simon Veness
The special event that adds real New Orleans sizzle to Universal Studios
Everyone loves a party, right? How about a party that's free and includes the chance to grab loads of souvenirs? Well, welcome to Universal's Mardi Gras Celebration (or, as we call it, Party Gras!).
As Kool & The Gang so sagely put it in 1980:
There's a party goin' on right here
A celebration to last throughout the years
So bring your good times and your laughter too
We gonna celebrate your party with you
If there's one seasonal event that really rocks our boat, it is this true taste of New Orleans, transported to Orlando and given a twist of theme park proportions. And the best thing about it isn't even that you can enjoy all the sights and sounds of the typical Mardi Gras experience without having to wade through the drunks on Bourbon Street! No, it's that Universal really goes all out to provide an authentic sampling of this popular Fat Tuesday tradition, which usually lasts for a few weeks in Louisiana but here in Central Florida keeps going for fully two and a half months.
We should point out that we are, in fact, big fans of New Orleans. It is a mesmerising city, with several hundred years of captivating traditions in music, food and, well, parties. But Universal has managed to capture that Mardi Gras spirit and excitement, and it unleashes it every day to the benefit of regular parkgoers. Yes, there is no fee involved with catching that party style. All the extra pizzazz is laid on daily purely for all park guests, and you can then revel in the extra tastes of the celebration as the mood takes you.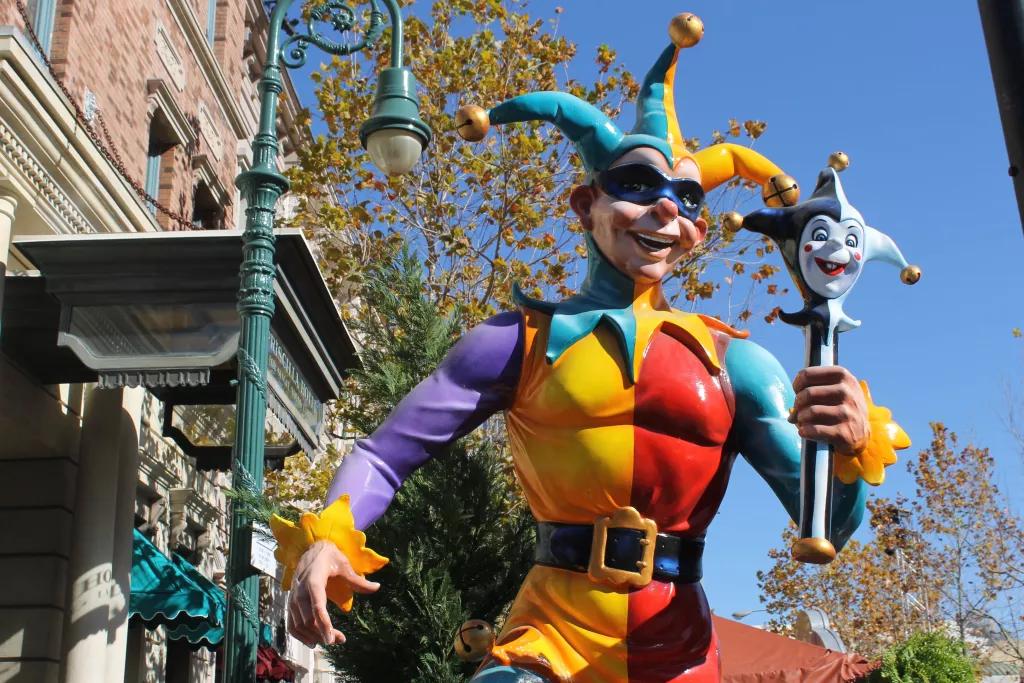 Regular Orlando goers will probably already know something of this seasonal extravaganza, which AttractionTickets.com's content team have already flagged up in their blog of January 18. However, we thought it was worth highlighting a few of the event's features that really capture our imagination each year and make it a thoroughly worthwhile day out.
You can sum them up in three words: Beads! Beignets! Bands!
Beads: Just to start with, Universal tosses out in the region of 1.6 MILLION strings of brightly-coloured beads each year thanks to the daily parade, making this one of the best ways to snag some cool souvenirs without having to pay for them.
The idea of throwing beads to spectators of the many New Orleans parades dates back to the 1880s, when glass beads were the trinket to have. Today's strands of beads may not be glass, but they fully live up to the Mardi Gras colours of green, purple and gold, and you are free to catch as many as you can from the parade floats. (Pro Tip: the bead throwers on the floats tend to target the most excited spectators, so don't be afraid to put on your most animated, energetic style to attract their attention).
Even better, for the first time this year there is the chance for regular guests to BE those bead-throwers in Universal's new Float Ride & Dine Experience. This features a chance to actually ride aboard one of the huge floats and be at the epi-centre of the bead-throwing frenzy. Having done this in the past, we can attest to the fact it is HUGE fun and is an experience you'll never forget. The Ride & Dine programme is pre-bookable online (at $64.99/person) and combines a three-course meal at a choice of four Universal restaurants with a reserved spot on a parade float.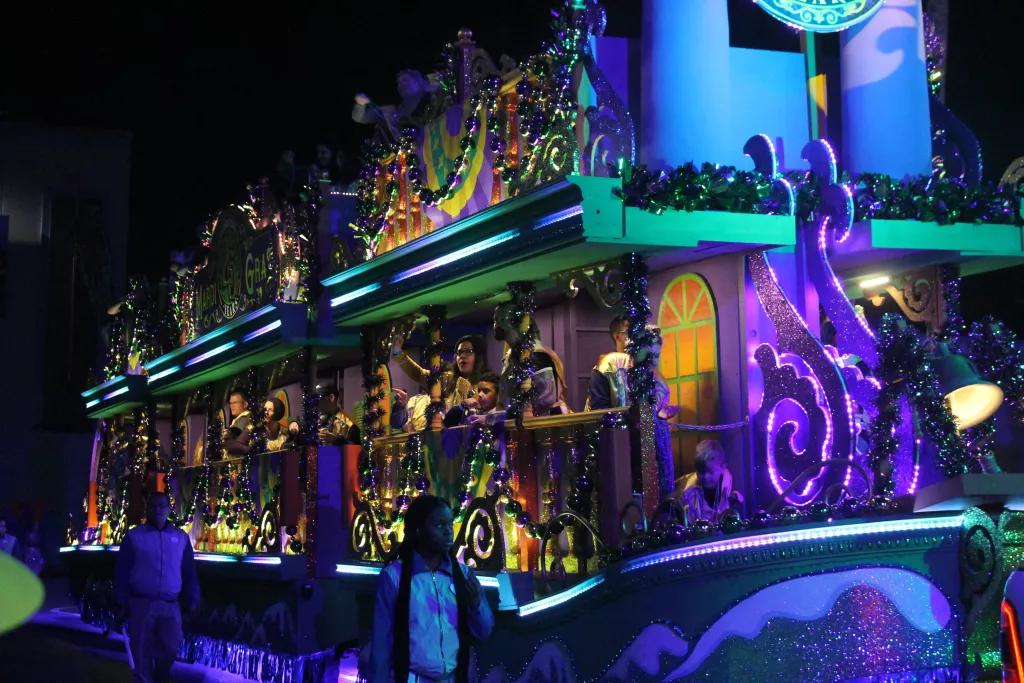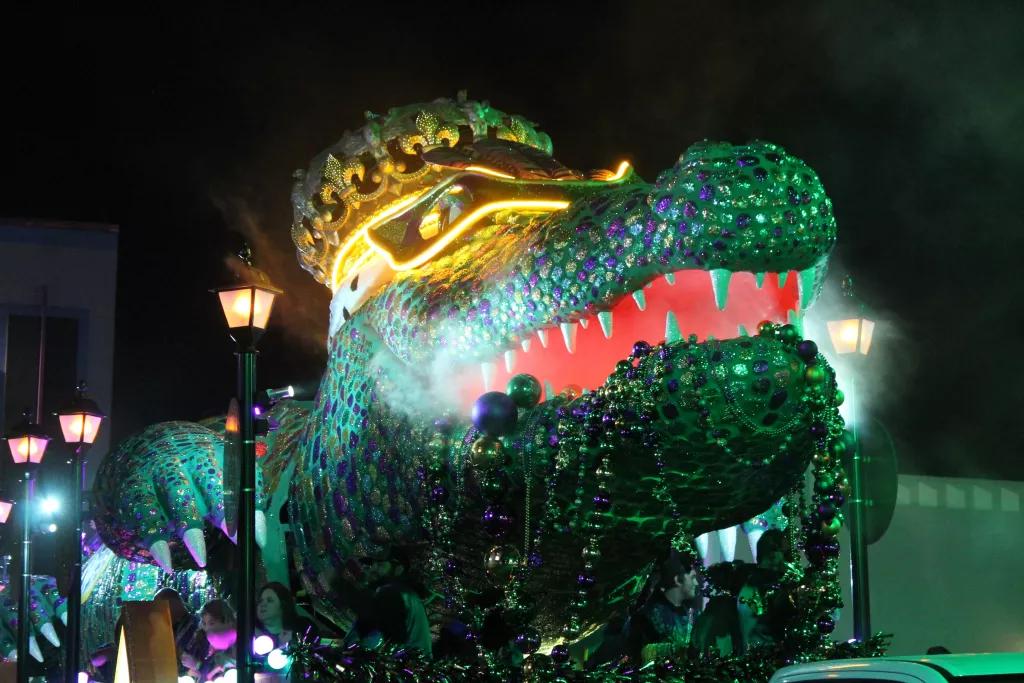 Beignets: Ah, the food of New Orleans. The richness of the city's French-Caribbean roots has given rise to the culinary genres of Cajun and Creole cuisine, which make liberal use of seafood and rich spices, creating gorgeous signature dishes such as gumbo, etouffee, jambalaya – and beignets.
OK, beignets are neither seafood nor richly spiced, but they ARE totally delicious, a decadent French-influenced treat that is a keen rival to the doughnut. Technically, they are a type of fritter or deep-fried pastry made from yeast dough that are then positively buried in powdered sugar. These tasty morsels are offering by the thousand at the park's French Quarter food and beverage kiosks and they should definitely be sought out as a true taste of the daily celebration.
Not a doughnut fan? Then try King Cake. This is another signature taste of the season, and is served up in the traditional Mardi Gras colours. A ring-shaped blend of brioche, coffee cake and cinnamon roll, King Cake goes down well with coffee. Or a bourbon hot toddy!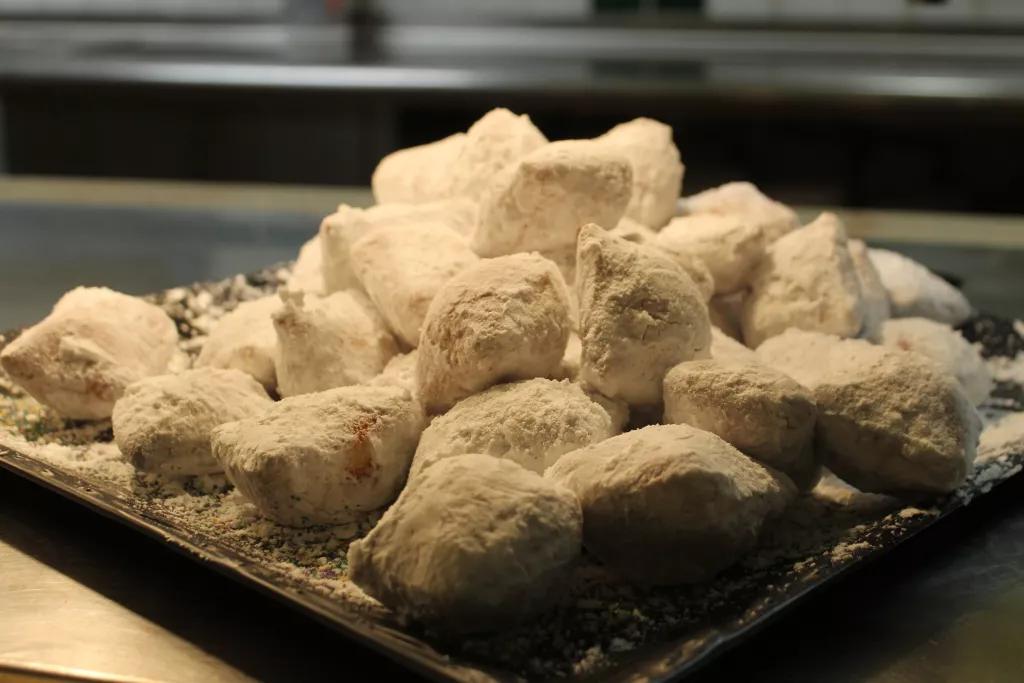 Bands: Live music is at the heart of any true Mardi Gras parade or celebration, and that is absolutely no exception at Universal Studios. As well as a jazz music Mecca, The Big Easy is renowned for the sounds of R&B and the original style of Zydeco, a music genre created by south-west Louisiana's Black Creole community in the early 1800s. Head for the French Quarter section of the Celebration (a converted corner of the park's New York area) and you will be treated to various live music offerings for much of the day, all with that infectious N'awlins vibe.
At each weekend, that musical backdrop is enhanced by the evening's finale concert by headline performers such as Patti LaBelle and the Goo Goo Dolls (did we mention that this is all free with regular park admission?!). In the past, we have enjoyed performances by the legendary Diana Ross, the Steve Miller Band and Barenaked Ladies, and this is a real treat for such a relatively small concert venue. It IS popular, though, so be sure to stake out a place at least 45 minutes early if this is likely to be the highlight of your day.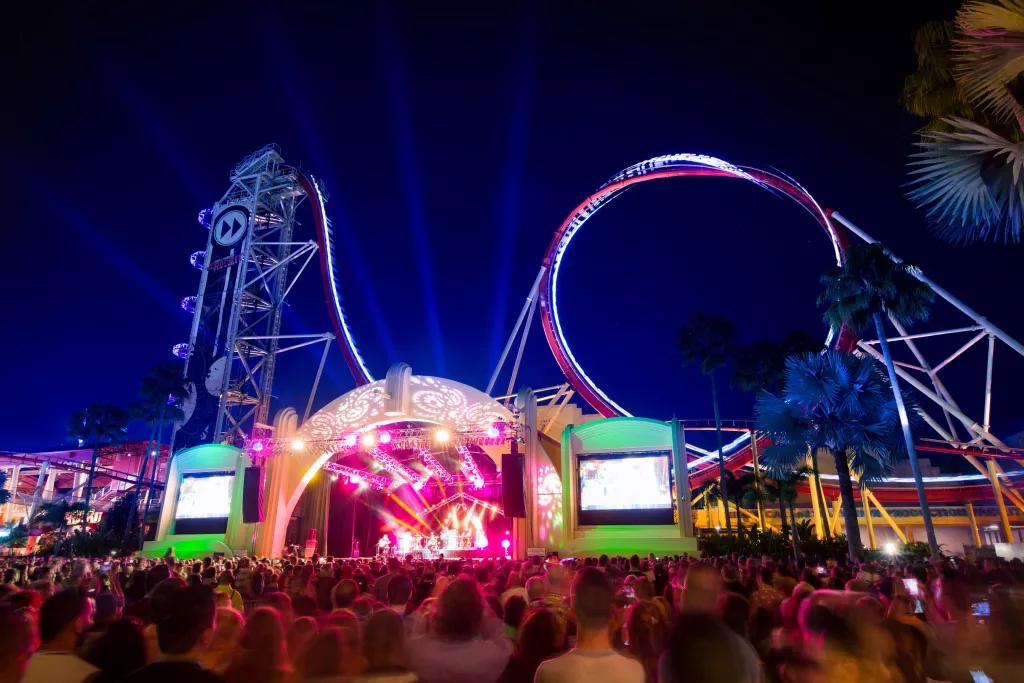 Those are our standout moments from Mardi Gras (especially the food – we LOVE the food!), but there are plenty more, especially with the new Tribute Store, the additional live performers and the fact you can extend your party mood until 1am each night at Pat O'Brien's bar/restaurant at Universal's CityWalk.
And, of course, you can make your own memories. Just grab your Universal Orlando tickets and enjoy the full style of New Orleans from February 4 to April 16.
Have you sampled Universal's Mardi Gras Celebration in the past? Tell us about it on the friendly Attraction Tickets forums, our Community Facebook page, on Twitter or Instagram.