Let's go be heroes!
From thrilling attractions and Avengers patrolling the streets to unbelievable food and drink, here's everything we know about this new land coming to Walt Disney Studios® Park.
The news we have all been waiting for is here! The Avengers will be assembling at Marvel Avengers Campus in Disneyland® Paris from July 20th! 
This much-anticipated land is the first to open as part of the ongoing expansion of the Walt Disney Studios® Park. Created by Tony Stark himself, the campus will train up new recruits to fight alongside the Avengers, with the help of a few familiar faces. 
While it will look similar in design to its counterpart at Disneyland Resort California, Marvel Avengers Campus at Disneyland® Paris will be home to exclusive attractions and restaurants that can't be experienced anywhere else! Here's everything we know about the land…
Attractions at Marvel Avengers Campus 
AVENGERS ASSEMBLE: FLIGHT FORCE 
Avengers Assemble: Flight Force is a ride that thrill-seekers will not want to miss. Here you'll join Iron Man and Captain Marvel as you're blasted into space on a mission to lure an incoming threat away from Earth. Will your training have paid off? 
SPIDER-MAN W.E.B. ADVENTURE 
Can you help Spider-Man stop his Spider-Bots? Peter Parker's robot sidekicks are in danger of causing havoc across Marvel Avengers Campus but with your help they can be captured! Using the latest technology, you'll be able to shoot webs straight from your wrists just like Spidey, and you'll need them if you want to catch all the Spider-Bots as they multiply before your eyes.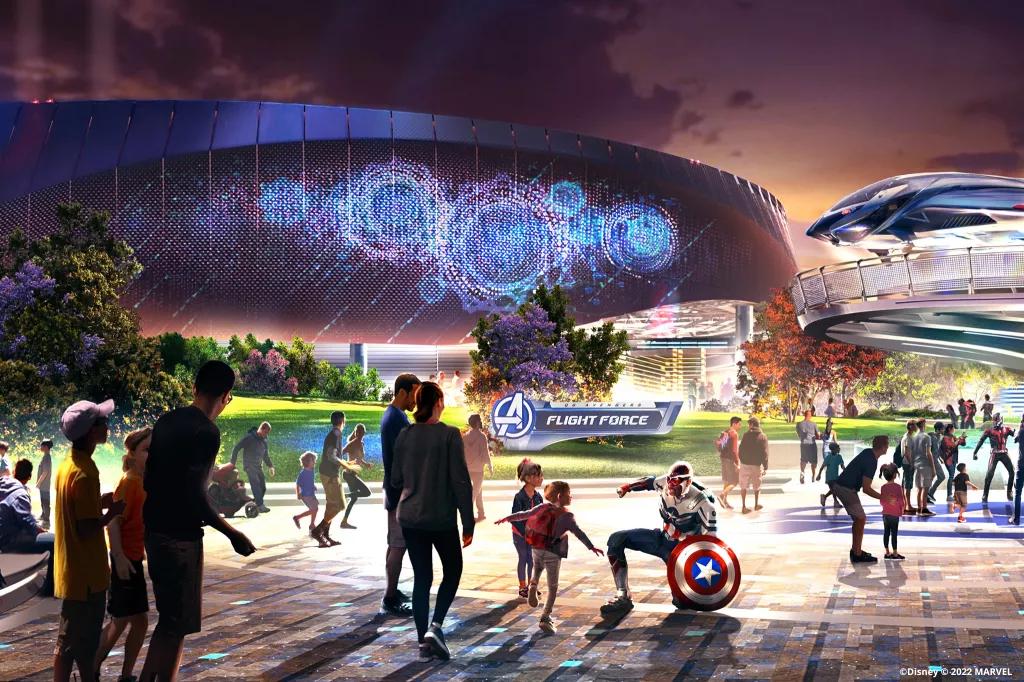 Restaurants and Dining at Marvel Avengers Campus 
PYM Kitchen 
Ever wanted to try a pretzel bigger than your head or the smallest burger you've ever seen? At PYM Kitchen, you can! Using PYM Particles, the technology you might have heard of from Ant-Man, this test lab grows and shrinks foods including hot dogs, salads, seafood and cakes. Whether you want to try as many tiny treats as you can or go all out with a massive entree, it's up to you. Plus there are a few speciality drinks for adult guests to try, including a tiny flight of beers! 
Stark Factory
This assembly line turned quick-service restaurant will be serving up fresh pizza, pasta and salad for you to enjoy while surrounded by S.H.I.E.L.D. relics and Marvel Easter eggs, including the HulkBuster armour that was built by Tony Stark for Bruce Banner. 
Other dining options include: 
WEB - Worldwide Eating Brigade - A food truck serving up Asian noodles and coconut balls 
The FAN-tastic Food Truck - Classic New York snacks on the go, including hot dogs, vegan sausages and cheesecake on a stick
Super Diner - delicious Reuben sandwiches from the diner Peggy Carter's best friend used to work at
Heroic Encounters at Marvel Avengers Campus 
From Black Widow to Black Panther, who knows what Super Heroes you might see during your visit to Marvel Avengers Campus. 
Brand new Disney PhotoPass technology will take your heroic encounters with Iron Man, Spider-Man and Captain Marvel to a whole new level, using 27 cameras to create a dynamic freeze-frame as you pose like the hero you are. Elsewhere, recruits of all ages will have the chance to try out their best moves in a dance-off with Star-Lord and Gamora or train with the Dora Milaje. Will you graduate with an 'A' for Avenger?
Watching over everything will be F.R.I.D.A.Y., Tony Stark's very own A.I., welcoming recruits and Avengers alike from the facade of the Avengers Assemble: Flight Force building.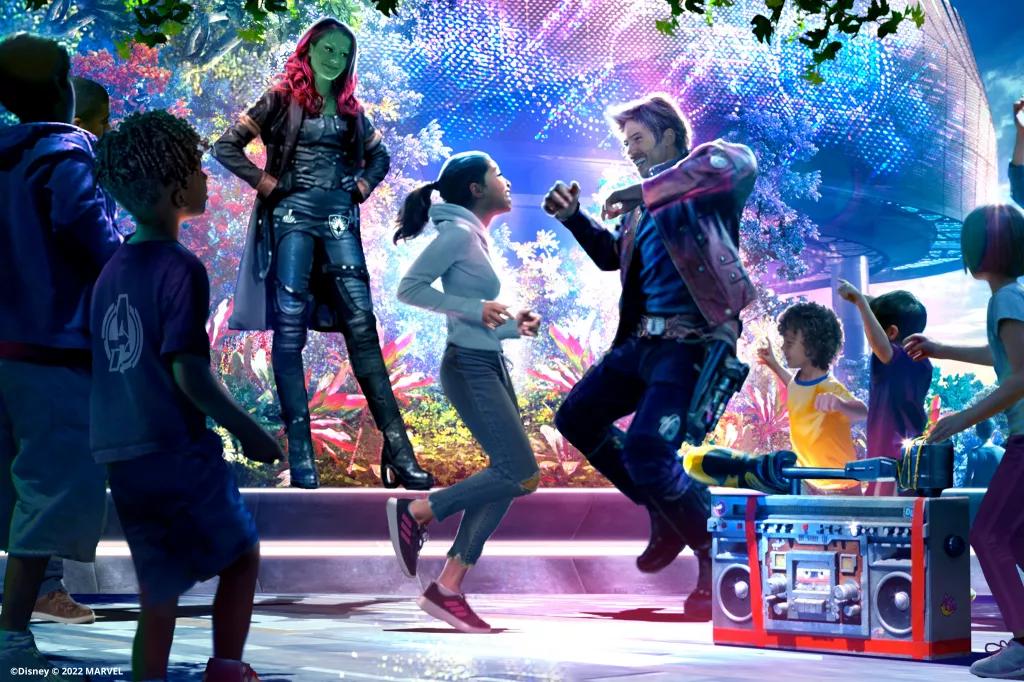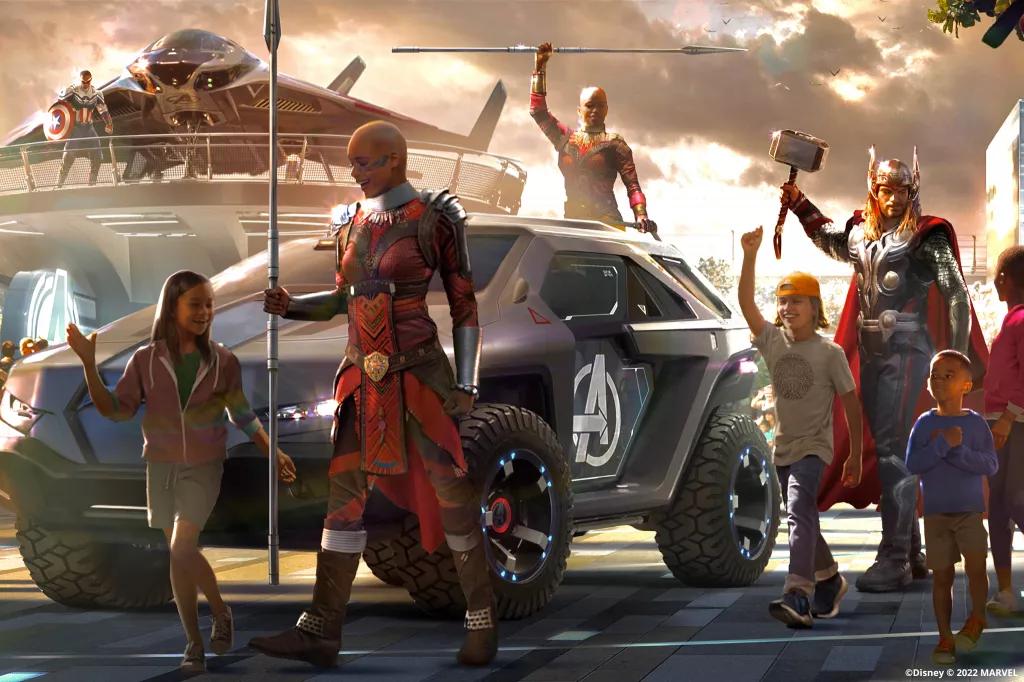 We're so excited to experience everything when Marvel Avengers Campus opens on July 20th. There really will be something for everyone, from the biggest Marvel fans to the newest recruits. 
Why not make your visit to Marvel Avengers Campus at Disneyland® Paris even more special with a stay at Disney's Hotel New York - The Art of Marvel? Disneyland® Paris tickets are selling fast for the summer holidays, with days likely to sell out, so make sure you book soon to avoid disappointment! Give our Disneyland® Paris team a call on 0800 223 0324 for more information.