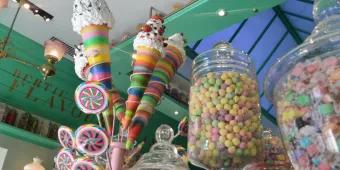 Gaumenfreude pur!
Ein Fest wartet auf Sie! Hier ist unsere Top 6 an Leckereien in der Wizarding World of Harry Potter.
Alles in der Wizarding World of Harry Potter ist magisch, und das gilt auch für Essen und Getränke! Das Thema zieht sich durch den ganzen Bereich, was bedeutet, dass Sie genau wie Ihre Lieblingscharaktere im Three Broomsticks Pub speisen können und das leckere Essen aus den Filmen selbst genießen können. Es gibt eine Vielzahl an herzhaften Gerichten, bei denen Ihnen das Wasser im Munde zusammenlaufen wird, z. B. Traditional Fish & Chips, Fleischpastete aus Cornwall, Shepherd's Pie, aber dieser Blog dreht sich lediglich um unsere Lieblings-Süßigkeiten. Hier sind 6 Dinge, die Sie bei einem Besuch unbedingt probieren.
1. Butterbier
Gehört ohne Zweifel ganz oben auf die Liste! Wenn Sie die Harry Potter Filme gesehen haben, in denen Ihre Lieblingscharaktere ein leckeres Glas Butterbier trinken, haben Sie sich bestimmt gewünscht es auch ausprobieren zu können. In der Wizarding World of Harry Potter bekommen Sie nun die Möglichkeit dazu - ein Besuch ohne Butterbier wäre auch definitiv nicht komplett! Stellen Sie sich ein süßes, cremiges Gebräu aus Butterscotch, Karamell und Vanille-Limonade vor – hört sich gut an, oder? Das Butterbier gibt es sogar in verschiedenen Varianten: gefroren, heiß, als Eiscreme oder sogar Fudge!
2. Florean Fortescue's Ice Cream
Wenn Sie sich von der Hitze Floridas abkühlen wollen, ist ein Eis von Florean Fortescue's genau das Richtige! Es gibt so viele verschiedene Geschmäcker, sowohl traditionelle als auch ausgefallenere (z. B. Lavendel, Earl Grey, Chocolate Chili), welche die Entscheidung schwerfallen lassen dürften, aber wir lieben das Butterbier-Eis! Bei so viel Auswahl ist es auch durchaus gerechtfertigt, sich noch einmal Nachschlag zu holen!
3.  Cauldron Cupcakes
Wenn Sie schon einmal in der Wizarding World of Harry Potter waren, haben Sie diese sicherlich schon probiert. Die Cupcakes haben aber kürzlich nochmals ein Makeover bekommen und sehen jetzt sogar noch einladender aus als vorher! Der reichhaltige Schokoladenkuchen wird jetzt in einem Minikessel mit orangener Buttercreme serviert, welche Flammen darstellen soll. Wir legen Ihnen diesen Kuchen wärmstens ans Herz - und wenn es nur für ein Instagram-Foto ist! Er ist entweder bei Honeydukes oder Sugarplum's Sweet Shop erhältlich.
4. Schokoladenfrösche
Die berühmten Schokoladenfrösche tauchten als erstes in Harry Potter und der Stein der Weisen auf, wo der Frosch aus Harrys Hand und aus dem Fenster des Hogwarts Express springt. Die Süßigkeiten sehen genau wie im Film aus – verpackt in einer lila Box, die mit einer einlösbaren Sammelkarte komplettiert werden kann. Bonuspunkte, wenn Sie Professor Dumbledore erwischen! Sie sind auch ein großartiges Souvenir für Zuhause.
5. Bertie Bott's Every Flavour Beans
Bertie Bott's Every Flavour Beans sind eher ein Spiel als Süßigkeiten. Sie sind ähnlich wie Jelly Beans, aber wenn Sie ein wahrer Harry Potter Fan sind, werden Sie wissen, dass nicht alle Geschmäcker gut sind! Wenn Ihnen nach einem Abenteuer zumute ist, sind diese jedoch genau das Richtige für Sie. Jede Box enthält eine Mischung von tollen und nicht so tollen Geschmacksrichtungen. Sie wissen nie vorher, welche Sie erhalten werden, also wählen Sie einfach irgendeine und machen Sie sich auf eine Überraschung gefasst! Sie können Glück haben mit Marshmallow, Tutti Frutti oder Zuckerwatte, aber ebenso Pech mit Gras, Seife oder Ohrenschmalz – genau wie Dumbledore.
6. Exploding Bon Bons
Wenn Sie Exploding Bon Bons ausprobieren wollen, müssen Sie bei Weasley's Wizard Wheezes vorbeischauen. Der neue Scherzartikel-Shop wird von den berühmten Weasley Zwillingen, Fred und George, geführt. Seien Sie vorgewarnt – immer wenn das schelmische Weasley-Duo involviert ist, sollten Sie sich auf so einige Überraschungen gefasst machen! Die Exploding Bon Bons sind aus cremiger weißer Schokolade mit einem knackigen Kern mit Orangen- und Ananasgeschmack und Kallzucker gemacht. Probieren Sie sie, wenn Sie sich trauen!
Sie möchten die Magie selbst erleben? Klicken Sie hier für unsere Universal Orlando Resort Tickets!