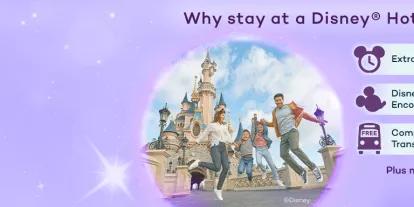 Benefits of staying at a Disneyland Paris Hotel...
Added Happiness! Surely the only thing better than visiting Disneyland Paris is actually staying there! Spend every second immersed in the Disney magic and benefit from a host of exclusive extras when you stay onsite at one of the Disney Hotels.
Turn your Disney story into the happiest of fairy tales with a stay in a Disney® Hotel - where every detail immerses you in Disney magic. Stay in a Disney Hotel and unlock these exclusive benefits:
THE CLOSEST ACCESS - Wake up in the heart of the magic. There are no better places to stay for easy access to the Amend: Disney® Parks.
MORE TIME IN THE DISNEY ® PARKS - Get into the parks before everyone else! Extra Magic Time grants you entry to the Disney Parks before they even open.
AND THE MAGIC DOESN'T END THERE - Only in a Disney Hotel can you meet Disney Characters every morning. What's more, every Disney Hotel envelopes you in an iconic American and Disney theme, each one with its own magical story.
EXCLUSIVE MEAL PLANS - Disneylicious dining awaits when choose a Meal Plan. Sample a range of wonderfully themed restaurants in the Disney Parks and your Disney Hotel.You'll get peace of mind, as you can arrange where to eat in advance (and have the flexibility to change your mind if you like!). You'll also know in advance what's included and how much you've spent - a great way of keeping contol of your budget.
MORE FUN - Swimming pools, fitness rooms, spa, kids' corners and more make sure you're having fun even when you're not in the Disney Parks.
MORE SERVICES - Enjoy free parking at your Disney Hotel and in the Disney Parks' car park or take advantage of the Free Shuttle rides to the Disney Parks. And get your Disney souvenir shopping delivered to your Disney Hotel. 
SKIP THE STANDBY LINE ON SELECTED RIDES & ATTRACTIONS - Receive a Disney Hotel FASTPASS or VIP FASTPASS when you upgrade your room to a Club Room or Suite and enjoy speedy and flexible access to some of the most popular attractions whenever you want during your stay*
AND BEST OF ALL - Your Disney Park Tickets are included for the duration of your Disney Hotel stay!
Terms and Conditions:
Depending on your date of visit, the duration of Extra Magic Time may vary, as may the number of Disney Parks in which it applies.
Disney Hotel FASTPASS only available for Guests staying at Disney's Hotel New York (Empire State Club rooms), Disney's Sequoia Lodge (Golden Forest Club room) and Disney's Newport Bay Club (Compass Club rooms). VIP FASTPASS only available for guests staying at Disneyland Hotel (Castle Club Rooms and Suites), Disney's Newport Bay Club (Compass Club Suites), Disney's Hotel New York (Empire State Club Suites), Disney's Sequoia Lodge (Golden Forest Club Suites).
Once booked and confirmed this ticket is non-changeable and non-refundable. 
People interested in also viewed...
Back to offers