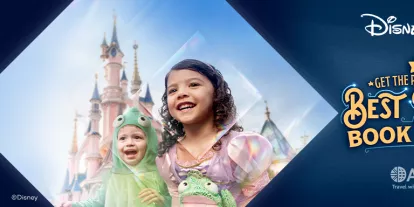 Book Early for the best prices and widest choice of Disney® Hotel rooms
Added Happiness! Whenever you see our 'Best Price Guaranteed' icon be assured you'll never find a lower price.
It's time to live your dream with family & friends! Let us transport you to the fairytale worlds of your favourite Disney stories and immerse yourself in the magic of Disneyland Paris. With your family and friends, capture magical selfies with beloved Characters as you wander between attractions in the magical Disney Parks.
And find even more to dream about with a stay in Disney Hotel. When you stay at a Disney Hotel, you'll enjoy a fully immersive experience and unique benefits. It's the perfect choice for all ages.
And with our 'Best Price Guarantee' you can be sure that you'll never find a lower price for your selected Disney Hotel and Ticket Package than at that moment - whenever you search for it. 
And with Free Amendments and Cancellations up to 7 days before your check-in date, low deposits and flexible payment schedules, there's never been a better time to book a Disneyland Paris holiday.
Terms and Conditions:
People interested in also viewed...
Back to offers