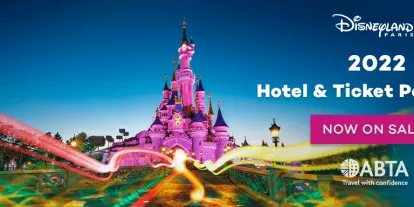 Disneyland Paris Hotels Now on Sale for 2022
Added Happiness! Now is a great time to book your 2022 Disneyland Paris Hotel + Ticket Package. Early bookers get the pick of our best prices and widest choice of Disney® Hotel rooms plus whenever you see our 'Best Price Guaranteed' icon be assured you'll never find a lower price. Secure your dream Disneyland Paris Holiday today with just a £50 deposit!
Surely the only thing better than visiting Disneyland Paris is actually staying there! To live the full Disneyland Paris experience in 2002, it's a MUST to stay at the heart of the Disney magic in one of seven Disney Hotels. And there's a Disney hotel just right for you and your budget, each offering its own one-of-a-kind Disney story to tell. 
Each Disney Hotel immerses you in an iconic American theme with a magical Disney story. There's the fairytale splendour of a Victorian Palace and a swish New York hotel that's a MARVEL masterpiece. How about the great outdoors of America's Northwest? Or the New England coastline? There's Trapper country and the wild frontier. Even the golden desert of Santa Fe! What's more, they're the only places where you can see Disney Characters* every day.
Terms and Conditions:
Disneyland Paris Hotel + Ticket Packages can be amended for free cancelled with a full refund anytime up to 7 days before your check-in date.
100% Cancellation charges apply a booking is cancelled or amended within 7 days of your check-in date. 
People interested in also viewed...
Back to offers