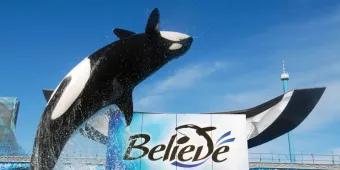 Experience SeaWorld with a Splash of Luxury.
SeaWorld has joined forces with a number of distinguished Orlando Hotels to offer you a theme park adventure and accommodation service that will grant you a park experience similar to a VIP's.
If you're planning to travel to Orlando this year, considering the new SeaWorld hotel programme could be well worth your while, particularly if SeaWorld is on your theme park itinerary, which undoubtedly it is. The SeaWorld group's hotel partnership offers participating guests a privileged park experience at SeaWorld and Aquatica, making these marine park adventures a luxury.
You will be granted early park entry and queue hopping entitlement at both parks and complimentary transport to Discovery Cove and Universal Orlando, in addition to your complimentary transport to SeaWorld and Aquatica. However, the privileges don't stop there; real animal and marine enthusiasts will be thrilled with the chance to embark on an exclusive SeaWorld Rescue Tour. The tour gives an insight into the efforts the SeaWorld company takes to rescue and conserve their animals, this tour is only offered to the park's special guests. If that wasn't sufficient luxury treatment, the package also includes discount dining in a selection of the park's restaurants, including SeaWorld's infamous Shark's Underwater Grill, where guests dine against a marvelling backdrop of swimming sharks.
SeaWorld and Aquatica are both hosts to a number of wonderfully unique experiences, with all the niceties to make them extremely popular - the SeaWorld Hotel Programme will ensure that your marine adventures go nothing but swimmingly well. 
SeaWorld Hotel Package Details
How to be a SeaWorld Official Hotel Guest
To be an official hotel guest all you have to do is book your Orlando accommodation at one of the Official SeaWorld hotels listed below, you will then be entitled to receive a great selection of SeaWorld and Aquatica benefits. You will be required to book in advance at your hotel's Guest Services desk for complimentary Quick Queue Unlimited, complimentary SeaWorld Rescue Tour, early access and transportation to SeaWorld and Aquatica - which will collect you an hour before the park opens, and transportation to Universal. You will be issued a 'Benefits Card' at the desk that will identify you as a privileged guest at the parks.
Complimentary
*Early park access on select days to both SeaWorld Orlando and Aquatica
Free Quick Queue Unlimited at SeaWorld Orlando
*Admission to an exclusive omplementary SeaWorld Rescue Tour
Free transportation to SeaWorld, Orlando, Aquatica, Discovery Cove and Universal Studios Florida
Scheduled dates for early access and SeaWorld Rescue Tours
March: 26th
April: 2nd, 9th, 16th, 19th & 23rd
May: 29th & 31st
June: 4th, 7th, 11th, 14th, 18th, 21st, 25th & 28th
July: 5th, 9th, 12th, 16th, 19th, 23rd, 26th & 30th
August: 2nd, 6th, 9th, 13th, 16th, 20th & 27th
September: 3rd
December: 27th & 31st
Discount
10% discount when purchasing Aquatica's Banana Beach Cookout All Day Dining Pass
10% discount when purchasing SeaWorld's All Day Dining Deal.
10% off your bill at SeaWorld's Sharks Underwater Grill
10% off purchases of $50 or more at souvenir shop Friends of the Wild at SeaWorld and Kiwi Traders at Aquatica.
SeaWorld Official Hotels
Renaissance Orlando at SeaWorld
Doubletree Orlando by Hilton, at SeaWorld
Hilton Grand Vacations at SeaWorld
Hilton Garden Inn Orlando at SeaWorld
Spring Hill Suites Orlando at SeaWorld
Fairfield Inn & Suites Orlando at SeaWorld
Journey to Orlando's most significant underwater parks with ultimate ease. Book your SeaWorld theme park and hotel experience here.