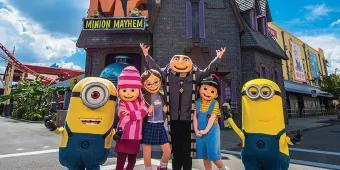 By AttractionTickets.com's Florida Experts, Susan and Simon Veness
The Universal Studios park is set for a new themed land next year
What could be better than a Minions attraction at Universal Orlando? How about a whole Minions LAND for summer 2023?
That was the hot-off-the-press news this week that burst into our consciousness like a banana-flavoured time bomb dropped by arch villain Gru himself.
To be fair, we had known for some time that Universal was preparing the ground for a new attraction to take the place of the former Shrek 4-D show that closed earlier this year. The little yellow Minion-shaped clues had been all over the former Shrek building, which has been surrounded by construction walls almost from the moment the last visitors went for a ride with Shrek, Fiona and Donkey on January 10, 2022.
It didn't take a Sherlock Holmes to figure out that this year's summer film blockbuster, Minions: The Rise of Gru, was likely to figure in the process of replacing Shrek and Co, but we definitely weren't prepared for the scale of this new development.
Seeing as we sit here in the heart of Theme Park Central with our ears firmly to the ground for much of the time, we had definitely picked up on all the rumours and other local scuttlebutt that insisted we were in for a Minion treat as a straight replacement for the dynamic 4-D film show.
We also had plenty of reason to believe the new elements wouldn't stop there. On May 13 this year, the neighbouring Monsters Café was officially shuttered, ending a 24-year run as one of Universal's most popular restaurants. (PS: We expect something similar to rise again when the Epic Universe theme park opens in 2025, as Universal has promised us a whole Monsters-themed land in their new 750-acre project)
With the construction boards extended to include the former Café, it seemed only logical that the Minion magic would extend into this area as well, especially as Universal Studios Hollywood opened the Minion Café there in March 2021, featuring some classic family-friendly food options like a unicorn cupcake, banana hazelnut pudding, loaded chicken nachos and a delicious chicken bacon ranch mac and cheese.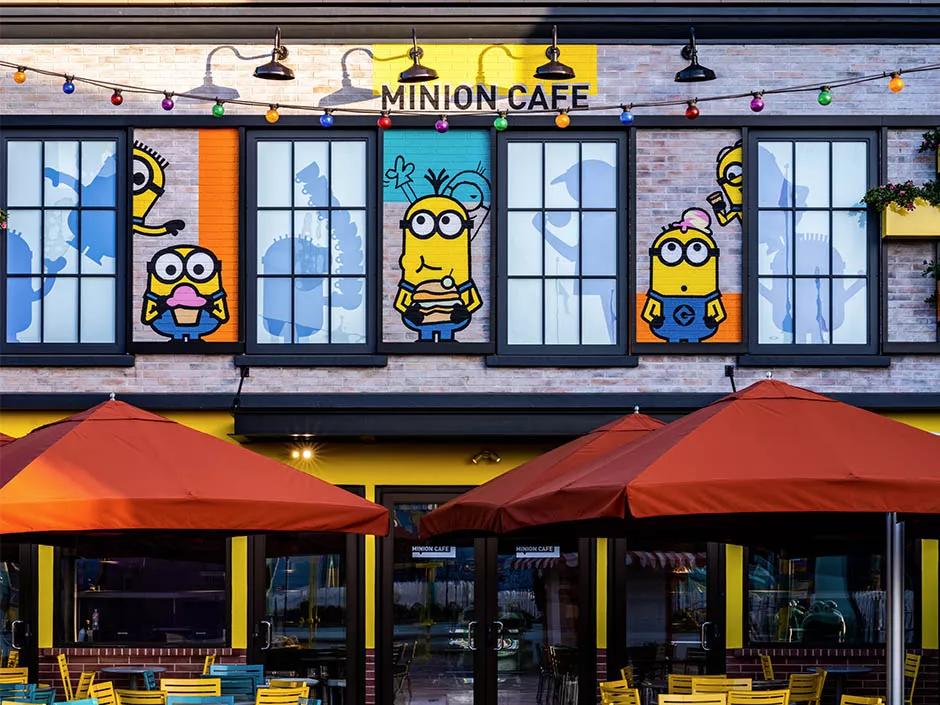 So we weren't going too far out on a limb in the newly-published version of the Brit Guide to Orlando 2023, when we predicted something of a Minion makeover for this little corner of the park. But, as it turns out, we were still thinking too small.
Yes, we had read the Screamscape report that the new attraction would be an ambitious and first-of-its-kind new interactive show with a moving walkway element, and it all made perfect sense when we saw the extent of the construction going on around the old Shrek building (which was recently pictured on Twitter by our favourite theme park photographer Bioreconstruct).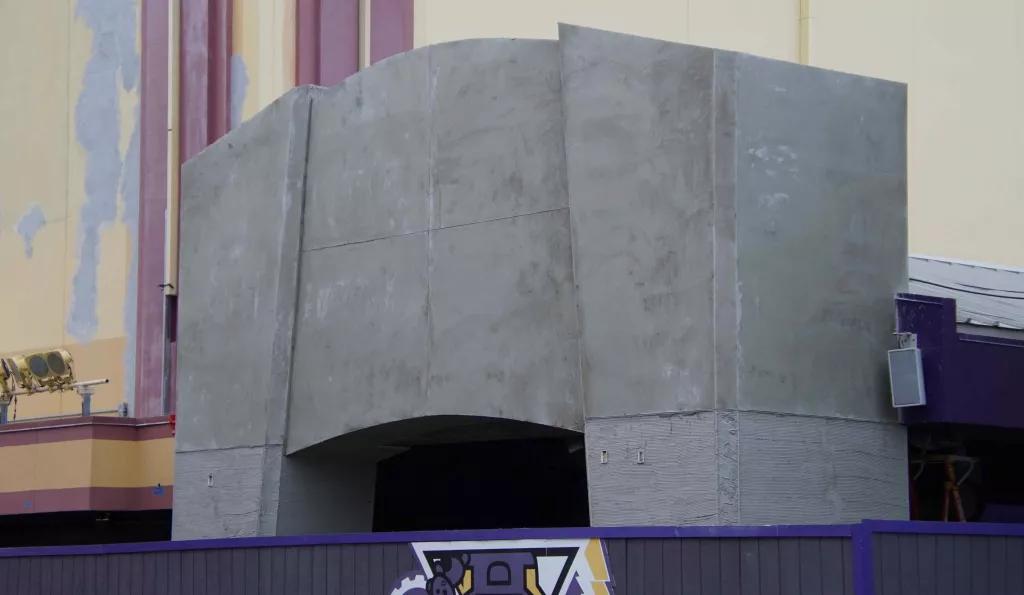 Image Credit: @bioreconstruct on Twitter
We were definitely prepared to believe it would also be themed to a Villain Con (or International Villains Convention) in keeping with Gru's nefarious exploits.
But we were still thinking too small.
No, the answer that hit our Inbox this week was pretty explicit – get ready for a whole new land that incorporates the existing Despicable Me Minion Mayhem simulator ride on the other side of the street, which opened all of 10 years ago. It's a master-stroke from Universal. Not only will they be able to offer a fantastic new-look attraction, which will be called Villain-Con Minion Blast, for summer 2023, but it will be part of a comprehensive and immersive re-theming of this entire area, which will be called Illumination Avenue, including multiple environments dedicated to these irrepressible characters.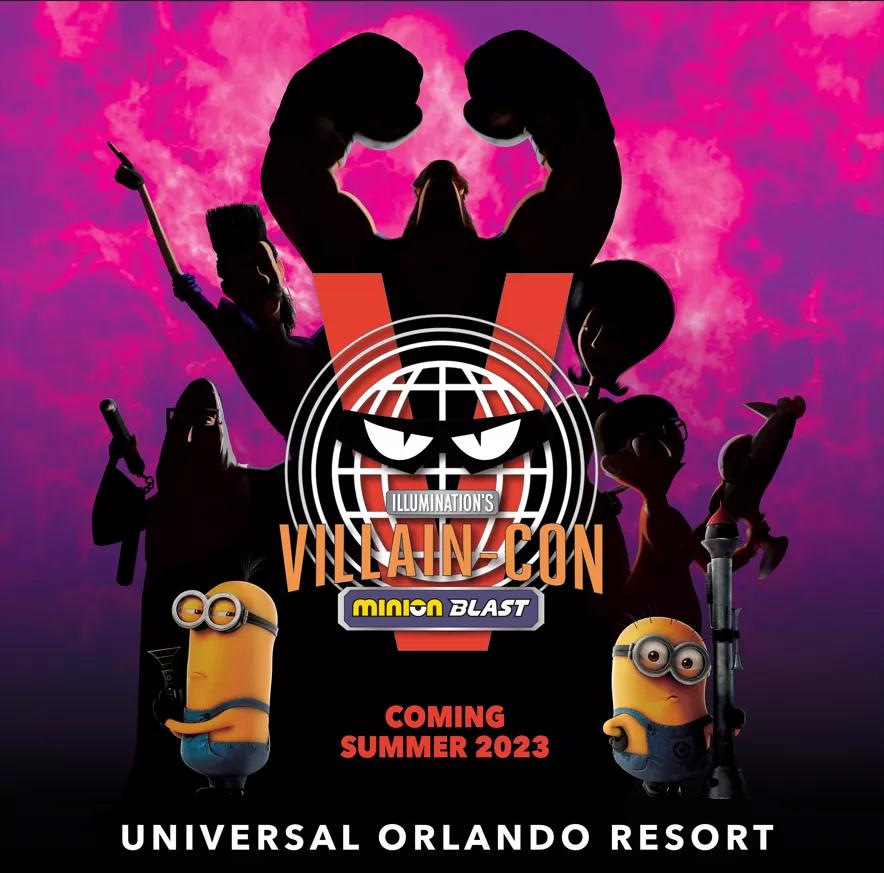 (Illumination Productions is the film company that first brought Gru and his yellow companions to life in Despicable Me in 2010, and which has gone on to produce another 12 hit movies, with their version of the Super Mario Bros Movie coming out in April 2023).
It promises to be an exciting – and hilarious – addition to the Universal Studios scene, and it will be right up front and centre as visitors enter the park.
That's not all the detail Universal handed out this week, either. Remember that "moving walkway" idea first reported by Screamscape? That was right on the money, too. The basis for Villain-Con Minion Blast is therefore as follows:
Taking its cue from the first Minions film (released by Illumination in 2015), guests arrive at the Orlando-based Villain-Con to be given blaster guns and invited to put their villainous skills to the test in a series of challenges that offer a place among the infamous Vicious 6 for the winner.
Sound like fun? You bet! This is where the moving walkway element comes in, whisking visitors through the scenes that are a mix of interactive gaming sets, screen technology and actual physical sets for an all-encompassing game-based adventure. Just like with Universal's Men In Black: Alien Attack, there will be a series of targets that earn points, and in the new attraction they will offer the chance of a really big score to join the Vicious 6. Because Florida law states that all attractions must end in the Gift Shop, you can bet there will also be an attractive new Minions Store to tempt you to part with some more money before you leave.
Combined with the new Minion Café, the Illumination Avenue theming and the existing Despicable Me ride, this should all add up to a thrilling new experience at Universal Orlando, and guarantee that the 2 and 3-Park Explorer Tickets will be outstanding value next summer.
With the recent openings of The Bourne Stuntacular, the fabulous VelociCoaster, and Universal's Great Movie Escape, there is more excitement than ever at this ever-growing resort. Hopefully, we'll see you there!
Are you going to Universal Orlando Resort next year to experience this brand new attraction? Let us know on the friendly AttractionTickets.com forums, our Community Facebook page, on Twitter or Instagram.