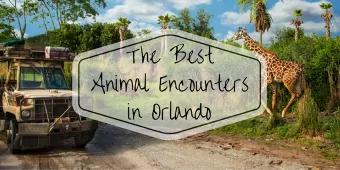 Check out the incredible animals you can find in Orlando.
Love animals? From Disney's Animal Kingdom, Discovery Cove, to Gatorland, we asked bloggers about the best animal encounters in Orlando.
If you love animals, you've come to the right place. In Orlando, there are so many places that give you the chance to have close encounters with adorable, exotic and rare animals. From once-in-a-lifetime swimming sessions alongside dolphins to unforgettable safaris, Orlando has it all. We spoke to several bloggers about the best animal experiences in Orlando where you can meet some of your favourite animals and have the most unforgettable encounters along the way.
Disney's Animal Kingdom
If you have Disney World tickets, you can't miss the Kilimanjaro Safari at Disney's Animal Kingdom. This unforgettable experience takes you on an exciting open-air safari, where you'll have the chance to see exotic animals roaming the savanna. Board your safari bus and get ready for an 18-minute adventure into the wild. Admire 34 different species of beautiful wildlife, including elephants, lions, giraffes, cheetahs, crocodiles and zebras – just to name a few!
Animal lovers can now enjoy this incredible experience at night too, with an all-new night-time expedition that allows you to see the animals when they are most active. You'll also be able to get up close to animals like gorillas, rhinos and tigers at various locations throughout the park.
Rochelle and Melanie, blogging duo at Polka Dots & Pixie Dust told us what makes Disney's Animal Kingdom such a unique park at Walt Disney World Resort.
"Disney's Animal Kingdom is about experiencing the natural world in all its beauty and grandeur; from wild rapids to snowy mountaintops to the wildlife that walks our planet. Just being in this park gives you the sense you are connected to all animals, cultures and landscapes. We love that the focus on conservation of wildlife and the planet is so evident here. When the cast members share stories about the animals in their care, it helps us feel great about supporting Animal Kingdom and everything the Disney Conservation Fund is doing."
Rochelle and Melanie also told us about their favourite area within the park.
"With the recent addition of Pandora: World of Avatar, we're loving this different appreciation of the exotic! Before, we could only experience it through the cultures of Asia and Africa, but Pandora brings us a whole new planet (not terribly unlike ours) to fall in love with. Whether that's through the amazing food at Satu'li Canteen, the concept of bioluminescence and how that works in nature or even the amazing Flight of Passage ride. We simply cannot get enough of this new land and just love the feeling of being there!"
We also spoke to Karen from The Mom Trotter about Disney's Animal Kingdom and why it is worth visiting.
"Disney's Animal Kingdom is very unique because of all the animals that are on the property. As well as being in the park, they are even at the hotel! It's amazing being able to sit down for lunch or dinner at the restaurants and view all the animals.
"When our family was trying to figure out what Disney Park to visit, Animal Kingdom was at the top of our list. My kids love animals, and to combine animals and Disney together makes it even better. We enjoyed taking the Safari at Animal Kingdom - we were able to see zebras and rhinos and the kids squealed with joy every time we saw the animals. Overall it was an amazing family experience and I highly recommend it for people who want wildlife encounters in Orlando."
Discovery Cove
Most people associate Discovery Cove with dolphins, and it's easy to see why. At Discovery Cove, you can enjoy a truly once-in-a-lifetime experience, where you'll actually get the chance to get into the water and interact with the beautiful bottlenose creatures yourself! There's plenty of time to take photos and play with the dolphins, and these friendly animals will even give you a dorsal fin tow ride back to shore.
It's not just about the dolphins though; there's so much else to see that you won't want to miss. Put on your dive helmet and explore the Grand Reef in a fantastic underwater SeaVenture tour that brings you face to face with sharks, or if that sounds too scary, head to the aviary and make some colourful feathered friends or visit the baby otters at the Freshwater Oasis.
Busch Gardens Tampa
A visit to the largest zoo in Tampa guarantees plenty of animal sightings, but there's so much more to do at Busch Gardens Tampa with a whole range of amazing behind-the-scenes tours and animal experiences. With over 12,000 animals (representing 250 different species including 30 endangered species) calling this place home, guests have the opportunity to see penguins, rhinos, hippos, lions, kangaroos, giraffes and elephants, as well as rarer animals like the white tiger. If you want to get close to the animals, you can visit various stations throughout the park where you can actually feed them!
Theme park enthusiast Nikida from Theme Park Hipster told us why Busch Gardens Tampa is one of her all-time favourite parks.
"Busch Gardens is one of the few theme parks in America that combine an amusement park element along with a zoological experience. This Tampa theme park is unique in how it invites you to immerse yourself inside all the gorgeous gardens and lush landscaping that leads you on a path through the mysterious lands of Africa. Who wouldn't want to hear the mighty roar of the rollercoaster Kumba at 60mph and also be able to discover the over 200 species of animals in the park?
"The overall cost for a trip to Busch Gardens is much lower than the major theme parks in Orlando. Plus, you get to enjoy world-class thrill rides, incredible shows, amazing attractions that show off the stunning details of the park and have the opportunity to get close to animals you probably wouldn't be able to see in your lifetime."
SeaWorld
Get up close to the beautiful marine life at SeaWorld Orlando, with special opportunities to interact with the animals. Capture the magical moment you stroked a dolphin, experience an exciting ride that finishes with meeting a colony of penguins and help feed sea lions their lunch. Some of these exclusive experiences are separately ticketed, but there are plenty of chances to see the animals included with your theme park entry.
Watch in awe as sting rays swim over your head in the underwater viewing tunnel, see the playful dolphins splashing around Dolphin Cove and witness the laugh-out-loud 'Pets Ahoy' show featuring cats, dogs, ducks and pigs.
SeaWorld also has an incredible rescue team that is on call 24/7 ready to help animals in need. Their rescue missions have now spanned over 50 years, benefiting more than 35,000 animals, and you can learn all about this fantastic team during your visit.
Gatorland
If you hadn't already guessed by the name, Gatorland is home to thousands of alligators. What makes this park even more unique is that you can get up close to four white alligators during your visit - one of the rarest types of alligator in the world! These mesmerising creatures are over 11-foot long and weigh up to 500 pounds, so you really won't want to miss the chance to see them!
There's also a free-flight aviary with hundreds of tropical birds and a petting zoo that lets you stroke adorable animals. Make sure you experience the action-packed live shows too. In 'Up Close Encounters' you can get hands-on with some of the most dangerous snakes on the planet and the 'Gator Jumparoo Show' sees enormous gators leap out of the water to snap up their food.
We asked blogger Meredith from The Mom of the Year what makes Gatorland so different to other animal parks in Orlando.
"Gatorland is unique because it encourages you to enjoy and interact with ecology while also being a thrill-ride-based park. It was such a pleasant break from the amusement park circuit that filled the rest of our trip!"
Meredith told us what the highlight of her visit was: "Hands-down the authenticity and hospitality of the staff! They all genuinely enjoy their job at Gatorland and their enthusiasm is transferred into a welcoming, fun experience we will long remember! So much of the Florida amusement industry is shiny and sparkly - it was a treat to visit an attraction that's focused on genuine, real experiences, coupled with all the fun a park can bring!"
Gina from East Coast Mommy also told us why a visit to Gatorland is a must: "We really enjoyed our trip to Gatorland. The staff is amazing, the wildlife is incredible, and the shows are a lot of fun. In addition to the attractions included within the price of admission, there are opportunities for fantastic (and reasonably priced!) add-on activities that enhance the experience.
"My boys loved feeding the Alligators with fish on a rod. It gave them a wonderful opportunity to appreciate the strength and power of the alligators. They also enjoyed having the chance to get up close and personal with giant turtles as they fed them slices of apples."
Have we inspired the zoologist in you? If you want to get one step closer to some of the most incredible animals in the world, click here to view our great value theme park tickets.
Liked this post? You may also like…