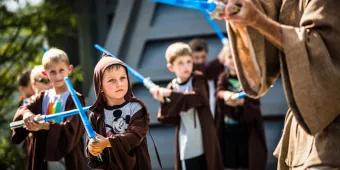 Fun things to do at Disney for FREE!
Disney is full to the brim with the worlds best attractions, but in this article we uncover the best of the free attractions that are just as fun...
Being able to plan a trip to Walt Disney World Orlando is a once in a lifetime opportunity and one that you will want to embrace fully. As well as all the go-to activities like heading to the Magic Kingdom and Disney's Hollywood Studios, there is an abundance of free activities you can get stuck into that still allow for maximum fun.
If you want to find out more about the magic of Walt Disney World and the great range of free things you can get up to whilst you're there, then keep on reading.
Become a Jedi
This Ole Mum, blogger and ultimate Disney fan recommend picking up a lightsabre and becoming a Jedi: "I highly recommend the free Jedi Training at Hollywood Studios for kids ages 4 to 12 years. Parents can sign their kids up for the Jedi Training: Trails of the Temple at Hollywood Studios. It's free but kids must have a valid theme park admission and they need to be present when parents register them for this incredible experience. Each young Jedi gets a robe and lightsabre to use during a 30-minute show to battle one of the villains. And, at the end of the show, each child gets a cool memento to keep."
If your little ones want to assemble forces and test their Jedi skills, then this is the activity for them. Hollywood Studios offer kids between the ages of 4 and 12 a chance to try their hand at becoming a real Jedi, taught alongside fellow padawans they'll learn all the basics they'll need to know to enter the galaxy and protect themselves from the evils of the dark side.
Chip 'n' Dale singalong
"I think the best free hidden gem for kids is the Chip 'n' Dale Campfire Sing-along at Fort Wilderness Lodge. Usually, character experiences outside of the parks are meals and have a hefty cost. This one is completely free. Families can meet Chip 'n' Dale, make s'mores and check out a Disney movie." Says Keri from Flip Flop Weekend.
If you love the Chip 'n' Dale chipmunks in some of Disney's most famous movies then you're not going to want to miss the opportunity to sing the night away in the company of these furry friends and a whole load of marshmallows. Join them on their nightly campfire celebration that consists of roasting marshmallows, having a sing-song and even enjoy a hug or two from the friendly pair, followed by a classic Disney film under the light of the Orlando night sky.
We spoke to Mike Belobradic, a luxury Disney travel expert: "A couple of my favourite free activities are Chip 'n' Dale's Campfire Sing-along at Disney's Fort Wilderness Resort and the Princess Promenade at Disney's Grand Floridian Resort. The campfire sing-along is a great way to meet Chip 'n' Dale away from the crowds of the parks and to enjoy a live music sing-along, followed by a Disney feature film. It's a very relaxed environment and it's all at no charge (you even have the option to purchase a s'mores kit or bring your own)."
Walk along Disney's BoardWalk
A location infamous for its stunning waterside walkway, delicious dining options, unique, independent stores and a bustling nightlife, Disney's BoardWalk is a haven of activity and should be visited on your Orlando holiday.
During the day, take a meander along the quarter-mile-long promenade and bask in the heat whilst strolling along the water's edge. Get stuck into midway games or enjoy the array of evening street performers as the night draws in, there is something for anyone in this famous spot. 
Visit Animal Kingdom Lodge
Whether you're staying in the Animal Kingdom Hotel or not, you can still enter into a world of exotic inhabitants and witness the animals of the Savanna. Head to the concierge and ask for an 'Animal Viewing Guide' that tells you all about the animals that inhabit the horseshoe-curved design that encapsulates four lush savannas, 200 hooved animals and too many birds to count.
Heading in through the hotel entrance restricts your access but still allows you to walk along the curved terrace whilst gazing down at the wild animals that roam below. 
Kim from Luxury Travel Mum recommends a day at Animal Kingdom Lodge: "I think guests tend to overlook all of the free activities at the Disney Hotels in Orlando. Our favourite thing to do is to visit the Animal Kingdom Lodge whether we are staying there or not. There are always safari specialists near the viewing area, all of them are from African countries and can tell you a lot about what you are seeing. There are a variety of kids activities, face painting, cookie making and more that are completely free and open to the public. Unless you are going to Africa, there's no easier way to see amazing animals like giraffes and elephants."
Watch the Firework Spectacular
With the backdrop of Cinderella's castle, watch as the night sky fills with claps and bangs of the Happily Ever After fireworks display. Enjoy the collaboration of colour, light and song as the story of Disney is told on the front of the castle.
Lasting 18 minutes and hosted every night in Magic Kingdom, this activity encapsulates the real beauty of Walt Disney World. Sit back, relax and enjoy the humour and heroism of many of your favourite Disney animations. You will have to purchase a ticket to enter Walt Disney World, but you can also see the iconic display for free rom nearby resorts like Disney's Polynesian Village. Sit on the beach and watch as the fireworks light the night sky.
Enjoy a scenic boat ride
Walt Disney World and the surrounding areas have plenty of opportunities for a scenic boat ride. The Friendship Boats travel between Hollywood Studios and Epcot and can be a peaceful break from the excitement of the park. The Boardwalk, The Yacht and Beachclub and The Swan and Dolphin also offer relaxing boat rides and you can even cruise between Disney Springs and Port Orleans or hop on the Ferry Boat at Magic Kingdom.
Explore the resorts
Lia and Jeremy Garcia are travel bloggers from Practical Wanderlust and have visited Walt Disney on many occasions and have shared some of their tips for free things to see and do whilst on your holiday:
"One of our favourite ways to stretch our budget at Disney World is to spend a few days outside of the parks exploring the resorts. Disney World resorts are chock full of magical and free activities, from hunting for Hidden Mickeys to meeting characters. You don't need to be a resort guest to visit the resorts, but parking at the resorts isn't free. That said, there is a secret workaround: just park at surface parking at Disney Springs and then head to the Town Centre area, where you'll find the bus terminal. You can take the free Disney buses from resort to resort to spend a whole day exploring!
If you've got a group of grown-ups who are down for a budget-friendly day of Disney fun, the Disney World Resort Bar Crawl is the most fun you can have at Disney World without a park ticket. Your day of Disney fun will end at the perfect place to watch the Magic Kingdom Fireworks - for free!"
Charlotte from LottyEarns has similar ideas: "I LOVE exploring hotels, especially the Disney ones. I always put a day or two away to resort hop. Where else can you see wild animals one minute, listen to a live band while trying out fancy soaps the next and then see Cinderella and her prince dance – all for free!"
Meet a real princess
If your little one has always wanted to meet their idol princess, then this is the perfect free activity for them. Head to Disney's Grand Floridian Resort every day from 3:30 pm and meet the magical Aurora, a real Disney princess.
"For the little princess (or prince) in the family, there is a magical moment that takes place at Disney's Grand Floridian Resort usually every day (except Tuesdays) at 3:30 p.m. in the main lobby. Little princesses and princes can meet a Disney Princess (usually Aurora) and join her on a parade around the lobby of this majestic resort. It's ideal for ages 3-12 and because it's a Magical Moment, it's not widely advertised, it's best to call ahead to the resort to check that it will be happening on the day you wish." Says Mike
Now you're all prepped and ready for a holiday of free exploration, all that's left to do is to grab your Walt Disney World tickets and start packing.  
For more blog posts like this try…
Find out all the latest news from Orlando on our BLOG