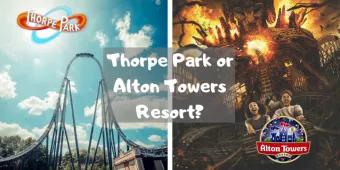 It's a tough question…
Can't decide which major UK theme park to visit? Let us help!
Alton Towers and Thorpe Park are unarguably two of the best and biggest theme parks in the UK, in terms of size and popularity. But which one is better? Is one more suitable for families, the other great for adult groups? What one should YOU visit?
It's a tricky question, and ultimately both attractions are incredibly fun-filled and action-packed. In this blog post, we'll attempt to differentiate between the two and help you decide which one is best for your theme park outing.
Roller Coasters
Thorpe Park has a total of seven rollercoasters, most of them being high-energy thrill rides. Saw - The Ride, is the world's first horror movie themed coaster, and combines terrifying horror aspects with fast-paced thrills. Stealth - another guest favourite - goes from 0-80mph in under two seconds, and you'll get fired from 205 ft high. Visitors often flock to Thorpe Park because of the massive, intense roller-coasters, which have only been increasing in size and number in recent years. It seems that the park wants to harness this idea of being an extreme destination for ambitious thrill-seekers, as shown by the popularity of their newest rides. Because of this, Thorpe Park is therefore a fantastic option if riding fast coasters is your thing. 
Alton Towers has 10 roller coaster rides, and a somewhat more varied options to pick from in terms of thrill level. One of the oldest rides - Nemesis - is still a firm fan favourite, and was Europe's first inverted roller coaster when it opened. Their newest roller coaster came in the form of a horror-esque attraction, Wicker Man, and was the first wooden roller coaster to open in the UK since 1996. While Thorpe Park is rather consistent with the intensity and scale of its rides, Alton Towers is actually the better option for those looking for a more varied coaster option. There are some fantastic thrill roller-coasters that rival even Thorpe Parks biggest attraction (Rita, Oblivion, The Smiler to name a few), however the few extra coasters that Alton Towers boast means that it's a good choice for those who are slightly sheepish (guilty!) when it comes to larger rides. 
Water Rides
Thorpe Park has four water rides, the most popular being Tidal Wave, which was the tallest water ride in Europe when it opened in 2000. This huge attraction still attracts a large crowd, and guests are in for an extreme soaking if they stand in the ride's 'splash zone' too. It's also home to Storm Surge, Depth Charge, and Rumba Rapids, the last of which is one of the park's earliest attractions. These three remaining rides are suitable for all family members, with Storm Surge and Rumba Rapids in particular being great ways to cool off with younger guests. 
In terms of quantity, Alton Towers does lose out in the water ride aspect, as it has two attractions compared to Thorpe Park's four. The park offers guests the chance to ride on the Congo River Rapids and Battle Galleons. Congo River Rapids is a traditional rapids ride that is suitable for all the family, while the Battle Galleons (also family friendly) sees rider battle with other guests by shooting water at them with built in water guns. They are unarguably more tame that the likes of Tidal Wave at Thorpe Park, but are perfect for smaller riders and those colder days in the theme park. 
Other Rides/ Attractions
Aside from the big hitters, Thorpe Park does also have a wide variety of family attractions and other rides for guests to enjoy. Vortex, Rush and Samurai are all great options for brave riders to take a spin on - Rush is a giant swing ride that reaches speeds of 40mph. In terms of family fun,  the Rocky Express (a dizzy train ride), Storm in a Teacup (classic teacup ride), and Mr. Monkey's Banana Ride are great for younger guests. When the weather is nicer, Amity Beach is a relaxing place to unwind, family or otherwise. Wet Wet Wet boasts a good range of water slides that are suitable for all ages too. 
Many consider Alton Towers the more family friendly park out of the two, due in part to the large amount of children's rides that it boasts. The park has around 20 family-centred rides/attractions, so your littles ones will certainly never be bored. The Cuckoo Cars Driving School is always a popular attraction, where kids can 'drive' their very own miniature car. The opening of CBeebies Land in 2014 did put Alton Towers ahead of its sister park in terms of suitability for younger guests, as with it came a host of smaller attractions like Postman Pat's Parcel Post, Charlie & Lola's Moonsquirters & Greendrops, and In the Night Garden Magical Boat Ride. 
Extras
Alton Towers has long marketed itself as an overnight, mini-holiday destination, offering two onsite hotels and a restaurant, which are all set within the grand gardens which are often overlooked by visitors. With the addition of a crazy golf course, Alton Towers Resort is exactly that - a resort - making it a two-day visit. However, the new addition of the quirky Thorpe Shark Hotel means that Thorpe Park is gradually catching up in this respect too. Customers can now enjoy the park at a more leisurely pace, splitting the rides over two days and making a short break out of it. Both parks therefore offer the option to stay overnight, and it will be interesting to see whether or not Thorpe Park add anymore 'resort-like' features in the future, too. 
Verdict
Both parks are constantly evolving, opening new attractions and updating old ones, to make sure that they remain top contenders for the country's best theme park. Alton Towers Resort and Thorpe Park are both fantastic options for a day or two out, exploring the best rides that the UK has to offer in fantastic settings to match. We'd recommend Thorpe Park to groups of adults and older children who are no stranger to thrill-rides, while Alton Towers is great for younger families and those looking for an all-encompassing experience. However, both parks are suited to a range of guests' interests and ages - whichever park you pick, you'll have an amazing time, that's for sure. 
Ready to book your tickets to Thorpe Park or Alton Towers Resort? Click here to browse UK theme park tickets now. 
Like this post? You may also like…