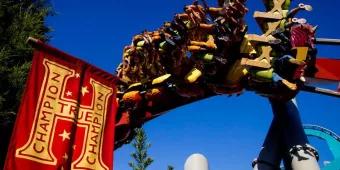 Aufregende Neuigkeiten aus dem Universal Orlando Resort!
BREAKING NEWS! Universal Orlando hat gestern eine spannende neue Achterbahn in der Wizarding World of Harry Potter angekündigt. Diese brandneue Attraktion wird im Hogsmeade-Bereich in Universal's Islands of Adventure zu finden sein und gilt jetzt schon als die "neue Generation der Thrill Rides".
Universal hat bisher nur einige wenige Details durchblicken lassen, aber diese klingen bereits fantastisch! Der Rollercoaster nimmt Sie mit auf eine Reise in J K Rowlings magische Zaubererwelt, in der alles möglich ist. Auf dem Weg werden Sie einigen Ihrer Lieblingscharaktere sowie mysteriösen Kreaturen begegnen,
Der neue Ride soll den Gästen das Thema besonders nahe bringen – hierfür arbeiten Warner Bros. und das Produktionsteam, welches hinter den Harry Potter Filmen steckt, eng mit dem preisgekrönten Kreativteam von Universal zusammen, um die Attraktion zum Leben zu erwecken. Ein völlig neues Niveau der Geschichtenerzählung soll mit actiongeladenem Abenteuer verknüpft werden, und wir können es kaum erwarten!
Der Thrill Ride wird für Groß und Klein geeignet sein, was wohl heißt, dass er nicht allzu schreckenerregend sein wird, obwohl Universal die Fans bereits vorgewarnt hat, dass sie mit vielen Überraschungen rechnen sollen. Derzeit gibt es weder einen Namen noch ein Thema für die neue Attraktion, aber wir haben bereits einige Vermutungen angestellt. Wir denken, dass der Ride vom Film "Fantastic Beasts and Where To Find Them" (Phantastische Tierwesen und wo sie zu finden sind) inspiriert wurde. Der Hinweis von Universal, dass man auf dem Ride magische Kreaturen antreffen wird, hat uns auf diese Idee gebracht. Wie wäre es mit einem Rennen durch das New York der 20er Jahre, in dem nach magischen Kreaturen gesucht wird? Wir werden sehen!
Die neue Attraktion soll 2019 eröffnet werden und den Dragon Challenge Rollercoaster ersetzen. Wir sind traurig, dass wir dem beliebten Ride "Goodbye" sagen müssen, aber können es natürlich auch nicht erwarten, die neue Attraktion auszuprobieren. Dragon Challenge wird am 5. September dieses Jahres schließen – sollten Sie bis dahin in Orlando sein, fahren Sie ihn unbedingt noch ein letztes Mal!
Sie wollen die Magie von Harry Potter erleben? Klicken Sie hier für unsere Universal Orlando Resort Tickets.
Ihnen hat dieser Blog gefallen? Diese könnten Ihnen auch gefallen: