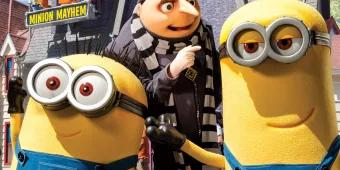 So holen Sie das Meiste aus Ihrem Tag in den Universal Studios Hollywood heraus!
Sie fahren spontan in die Universal Studios Hollywood? Werfen Sie doch mal einen Blick in unseren Guide – Ihrem perfekten Besuch steht damit nichts mehr im Weg…
Von aufregenden Achterbahnen, faszinierenden Shows und spannenden "Behind-The-Scenes"- Touren – in den Universal Studios Hollywood ist wirklich für jeden etwas dabei! Wir verstehen, dass man da schnell mal den Überblick verliert, und wollen mit unserem Guide Licht ins Dunkel bringen. Generell empfehlen wir Erstbesuchern zwei Tage einzuplanen, damit man alles wirklich stressfrei sehen kann. Sollten Sie jedoch nur einen Tag haben, folgen Sie einfach unserem Guide und starten Sie als wahrer Experte in Ihr Abenteuer.
Unser erster Top-Tipp für Ihr Abenteuer ist: Buchen Sie Ihre Tickets im Voraus. Sie sparen dadurch Zeit, da Sie nicht mehr an der langen Ticketschlange anstehen müssen, und auch bares Geld!
Natürlich wird auch an die Spontanen unter Ihnen gedacht - die Tickets kommen als E-Tickets, also sind kurzfristige Buchungen gar kein Problem!
Hier kommt der Schlüssel zu Ihrem perfekten Tag in den Universal Studios Hollywood…
Der frühe Vogel fängt den Wurm! Starten Sie am besten direkt morgens in Ihren Tag, um kein Highlight zu verpassen:
Wenn Sie ein Harry Potter Fan sind (und seien wir ehrlich, wer ist das nicht?!) müssen Sie auf jeden Fall mit der Harry Potter Welt starten. Dieser Teil der Universal Studios ist jedoch ziemlich beliebt und Sie werden dort sehr viele Muggel finden, weshalb Sie am besten früh in den Park gehen und sich direkt auf den Weg zu diesem Bereich machen. Einer der Stars im Park ist Harry Potter and the Forbidden Journey - diese Attraktion ist ein wahres Highlight für alle Besucher und sollte auf keinen Fall auf Ihrer To-Do-Liste fehlen! Er ist vor allem perfekt für die Adrenalinjunkies unter Ihnen und befördert Sie hoch hinauf über die Hogwarts School of Witchcraft and Wizardry.
Sollten Sie den Park mit kleinen Zauberern besuchen, versuchen Sie lieber Flight of the Hippogriff – eine Bahn, die die ganze Familie verzaubern wird.
Nach den aufregendsten Rides ist es Zeit für das perfekte Selfie! Machen Sie sich auf zum Hogwarts Castle und nutzen Sie die Chance auf Ihr mit Sicherheit magischstes Urlaubsbild!
Für einen Morgen ist das schon relativ viel Aufregung - um sich kurz zu entspannen, schnappen Sie sich am besten ein erfrischendes Butterbier (alkoholfrei natürlich) und schauen sich die witzige Show des Frog Choir an. In der Regel tritt der Chor gegen 10:30 Uhr zum ersten Mal auf, Sie müssen also nicht lange auf die Vorstellung warten.
Am Vormittag geht es dann von Hogwarts nach Springfield:
Nach dem Mix aus Shows und Fahrten am Morgen geht es am Vormittag dann mit voller Freizeitparkaction weiter! Machen Sie sich auf den Weg nach Springfield und schauen Sie bei den Simpsons vorbei. Der Simpsons Ride verbindet die witzigsten Animationen mit der besten Digital-Technologie - Sie werden sich mitten in der Welt von Homer, Marge, Krusty & Co. wiederfinden.

Top-Tipp: Halten Sie Ihre Kamera stets bereit, denn es warten viele Überraschungen auf Sie! Doch was wäre ein Besuch in Springfield ohne einen ordentlichen Doughnut? Die besten gibt es bei Lard Lad Doughnuts, und orientieren sich ganz an Homers Leibspeise – pink und riiiieeeeesig!
Und wenn wir schon in Hollywood sind, darf natürlich eins nicht fehlen: Filme, Filme, Filme!
Das wirklich einmalige an den Universal Studios Hollywood ist, dass diese auch als echtes Filmstudio im Betrieb sind. Lassen Sie sich also nicht die Möglichkeit entgehen, mal hinter die Kulissen zu sehen und mit der Studio Tour einen Einblick in den Alltag am Filmset zu erhalten. Die Filmbegeisterten unter Ihnen werden diese Tour LIEBEN!
Sie werden sich in Ihren liebsten Filmen und Serien, z. B. Desperate Housewives oder Psycho, wiederfinden!

In der Tour inbegriffen ist King Kong 360 - 3D, eine Attraktion, die für Ihre Einmaligkeit und reale Darstellung schon ausgezeichnet wurde. Sie entführt Sie in einen Kampf zwischen Kong und einem 11 Meter großem T-Rex. Doch das ist nicht alles - am Ende der Tour wird es einen krönenden Abschluss ganz im Fast & Furious Style geben.

Wir empfehlen Ihnen, die Tour am Vormittag zu machen, wenn es noch nicht ganz so voll im Park ist. Insgesamt wird die Tour 40 - 60 Minuten dauern und lässt sich perfekt nach Ihrem Besuch in Springfield und vor Ihrem wohlverdientem Mittagessen einbauen.
Mittags geht es los zum Kraft tanken!
Verhungern werden Sie in den Universal Studios Hollywood auf keinen Fall! Wenn Sie nur nach einem schnellen Snack zwischendurch suchen, schauen Sie nochmals in Springfield vorbei. Homer & Co. erwarten Sie bei Krusty Burger, Suds McDuff's Hot Dog House oder am Bumblebee Man's Taco Truck.

Es sollte schon etwas mehr sein? Dann gehen Sie zur Harry Potter World zurück und machen sich auf ins Three Broomsticks. Hier werden Sie gute britische Hausmannskost, wie Shepherds Pie, Fish & Chips und Bangers & Mash genießen können.

Für einen lustigen Mittag mit der ganzen Familie sollten Sie auch bei Gru's Lab Café vorbeischauen. Sie treffen dort auf die Minions und ein von "Ich – einfach unverbesserlich" inspiriertes Menü, das von "Minion Meatball Sandwiches" über "Dr. Nefario's Salat" bis zu "Vector's Grilled Cheese with Pulled Pork Sandwich" reicht.

Und an diejenigen unter Ihnen, die sich bei dem tollen Wetter einfach nur nach einem kühlen Drink sehnen, ist auch gedacht! In Mulligan's Pub & Spirits können Sie, ganz im "Irish Pub" Stil, einen kühlen Drink genießen und sich eine kleine Pause von der Action gönnen.
Am frühen Nachmittag wird es dann schaurig…
Seit Juli 2016 gibt es eine offizielle Walking Dead Attraktion in den Universal Studios Hollywood! Kämpfen Sie sich durch eine Zombiewelt und fliehen Sie vor den zahlreichen lebenden Toten, die hinter Ihnen her sind. Am besten gefällt uns, dass Sie mitten im Geschehen sind und sich auf eigene Faust durch die Zombiewelt kämpfen. Die etwas Ängstlicheren unter Ihnen lassen diese Attraktion besser aus, und an die Horrorfans: Auf geht's! Verlieren Sie keine Zeit und besiegen Sie die Untoten – natürlich nur wenn Sie ihnen entkommen.
An alle Adrenalinjunkies unter Ihnen:
Sie können die Universal Studios Hollywood auf keinen Fall verlassen, ohne die folgenden 3 Fahrten getestet zu haben:
Revenge of the Mummy - Dieser Ride bietet Ihnen wirklich alles, von Special Effects in der Dunkelheit bis hin zu unerwarteten Wendungen und rasanten Geschwindigkeiten.
Jurassic Park - Diese Wasserbahn schießt Sie erst los zu einem 16 Meter großen T-Rex, bis dann plötzlich etwas anderes auftaucht… Sicher ist: trocken bleiben Sie hierbei nicht!
Transformers 3D Ride - Zum krönenden Abschluss müssen Sie den Transformers 3D Ride testen. Sie werden ganz auf sich allein gestellt gegen Optimus Prime kämpfen, um die gesamte Menschheit zu retten. Also strengen Sie sich an und verlassen den Park als Heldin oder Held! 
Der Nachmittag wird etwas ruhiger – auf zu den zahlreichen Shows!
Diejenigen unter Ihnen, die es lieber etwas ruhiger angehen, werden sich nun freuen. Nach der ganzen Action von Harry Potter über die Simpsons bis zu The Walking Dead, geht es jetzt zum etwas entspannteren Teil über. Nach einem lustigen Foto mit den Minions aus "Ich – einfach unverbesserlich", schwingen Sie sich auf den Minion Mayhem Ride und tauchen in eine 3D-Welt ein, in der Sie das Labor von Gru und seinem Assistenten erkunden können. Nach dieser Tour können Sie sich dann wieder den Minions anschließen und auf der Dance Party gemeinsam das Tanzbein schwingen.

Wenn Sie dann ausgepowert vom Tanzen sind, setzen Sie sich Ihre Oger Brille auf und entdecken Sie die Fantasiewelt von Shrek und seinen Freunden.
Auch viele Ihrer liebsten Filmcharaktere warten in den Universal Studios Hollywood auf Sie und freuen sich darauf ein Selfie mit Ihnen zu machen oder einfach nur etwas zu plaudern. Natürlich werden Sie viele Ihrer Filmhelden auf dem Weg durch den Park sehen, jedoch empfehlen wir Ihnen Folgendes: Legen Sie die Fotosession auf den Nachmittag, da die Schlangen an den Fahrgeschäften zu dieser Zeit am längsten sind.

Hier ein kleiner Einblick, welche Filmcharaktere auf Sie warten: Machen Sie sich bereit für Spongebob Schwammkopf, Scooby-Doo und Shaggy, die Transformers, die Simpsons, Shrek, Marilyn Monroe und viele mehr.

Unser Top-Tipp: Schnappen Sie sich am Eingang eine Karte, um nicht den Überblick zu verlieren und ungefähr zu wissen, wo Sie Ihre Helden und Heldinnen am ehesten finden.
Und nun, wo der Tag sich schon fast dem Ende zuneigt, ist es an der Zeit für Mitbringsel und Andenken aus den Universal Studios Hollywood! Machen Sie sich auf den Weg in die Welt von Harry Potter und ergattern Sie einen der berühmten Zauberstäbe von Ollivanders. Das Highlight hier? Sie suchen nicht den Zauberstab aus, der Zauberstab sucht Sie aus – ein wahrhaftig magisches Erlebnis, das Sie nicht verpassen dürfen!

Natürlich gibt es noch viele andere Souvenirshops, in denen Sie sich austoben können. Um diese Zeit wird es relativ voll an den Attraktionen sein, weshalb der späte Nachmittag eine perfekte Zeit für das Souvenirshopping ist – gleichzeitig sparen Sie sich so den Stress vom "ewigen Anstehen" an den Fahrgeschäften.
Und am Abend lassen Sie den Tag magisch ausklingen:
Ein wirklich unvergesslicher Tag in den Universal Studios Hollywood neigt sich nun dem Ende zu und es gibt nur eine Art einen solchen Tag zu beenden: Mit einer magischen Show!

An ausgewählten Tagen verzaubern die Universal Studios Hollywood ihre Besucherinnen und Besucher mit der Show The Nighttime Lights at Hogwarts Castle (Lichternacht am Hogwarts Schloss).
Dabei wird Ihnen eine Lichtershow geboten, die alles bisher Erlebte in den Schatten stellt! Untermalt von Live-Musik, erstrahlt das Hogwarts Castle in den Farben der vier Häuser und bietet Ihnen so das perfekte Ende für einen wundervollen Tag.
Und noch ein letzter Top-Tipp, bevor Sie in Ihr Abenteuer starten: Die Universal Studios Hollywood bieten Ihnen eine große Auswahl an Restaurants und Bars. Wenn der Tag also mit der Lichtershow endet – kann der Abend damit beginnen!
Den perfekten Guide haben Sie! Jetzt fehlen nur noch die richtigen Tickets!
Dieser Blog hat Ihnen gefallen? Dann schauen Sie gerne hier vorbei...