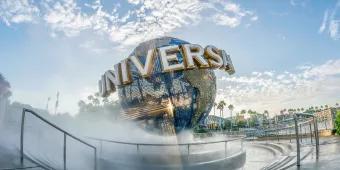 Orlando Fans aufgepasst! Spannende Neuigkeiten aus dem Universal Orlando Resort
Im Gegensatz zu Disney macht es Universal meist sehr spannend und hält Informationen über neue Attraktionen lange unter Verschluss. Wer wäre da nicht neugierig? Hier sind alle geheimen Projekte, die derzeit in Orlando im Gange sind!
1. Noch unbekanntes Live Action Erlebnis!
Leider schloss letztes Jahr die Attraktion Terminator 2: 3D, doch Universal kündigte zu diesem Zeitpunkt schon an, dass das Theater nicht lange leer stehen wird und eine brandneue Live Action Vorstellung für das Jahr 2019 geplant ist. Obwohl diese neue Attraktion nun nicht mehr lange auf sich warten lässt, gibt es weder offizielle Neuigkeiten noch Gerüchte über die Inhalte der Show! Es ist nur bekannt, dass die Live Action Show auf einer energiegeladenen Filmreihe der Universal Studios beruht, was viel Raum für viele Spekulationen lässt.
2. The Wizarding World of Harry Potter- Neue Geisterbahn in Hogsmeade
Die Gerüchteküche brodelt! Wahrscheinlich können sich Harry Potter Fans auf eine nagelneue Attraktion in der Wizarding World of Harry Potter freuen, welche 2020 zum ersten Mal ihre Pforten öffnet. Nachdem letztes Jahr die Achterbahn "The Dragon Challenge" schloss, bestätigte Universal, dass diese Attraktion durch eine noch unbetitelte Geisterbahn ersetzt wird, welche Besucher noch tiefer in J.K. Rowlings zauberhafte Welt führt und Gäste den wundervollsten und außergewöhnlichsten Kreaturen begegnen lässt. Auch diese Aussage führt zu Spekulationen. Die beliebteste Theorie ist, dass die neue Bahn auf der Film-Serie "Phantastischen Tierwesen und wo sie zu finden sind" basiert. Selbstverständlich gibt es noch kein genaues Datum für die Eröffnung dieser Attraktion, allerdings feiert die Wizarding World of Harry Potter 2020 ihr 10-jähriges Jubiläum, was durchaus ein optimaler Anlass für eine neue Attraktion wäre…
Image: Warner Bros
3. Dritter Themenpark/ Nintendo Land
Image: Nintendo
Schon drei Jahre ist es nun her, dass das Nintendo Land für die Universal Studios in Japan angekündigt wurde und während das Projekt dort in vollem Gange ist, steht der Bau des Nintendo Land in den Universal Studios in Orlando vorerst auf Eis. Seit Jahren besteht das Gerücht, dass Universal plant, die KidZone durch ein riesiges Nintendo-Land zu ersetzen, welche drei neue Achterbahnen wie einen Mario Kart Coaster, eine Donkey Kong Bahn und eine Kinder Yoshi Bahn beinhaltet.
Trotzdem hat sich bis jetzt noch nichts verändert und Universal behält seine Pläne natürlich für sich. Auch wenn es noch keine offiziellen Informationen gibt, kam das Gerücht auf, dass Universal nun einen Gang zulegt bei der Fertigstellung des neuen Orlando Nintendo Projektes.
Obwohl es auch dazu keine offizielle Ankündigung gibt, hat Universal seit 2015 sein Gebiet vergrößert, um das Universal Resort um mehrere neue Hotels und Parks zu erweitern. Und hier kommt das Nintendo-Land in's Spiel. Natürlich weiß noch niemand genau, ob das Nintendo Land im neuen Bereich sein wird oder im bereits existierenden Park. Es bleibt also spannend… Falls Sie die Universal Studios in Orlando und dessen neue Attraktionen hautnah erleben wollen, finden Sie bei uns das perfekte Angebot für einen unvergesslichen Aufenthalt!
Ihnen hat dieser Blog gefallen? Diese Blogs könnten ebenfalls für Sie interessant sein: