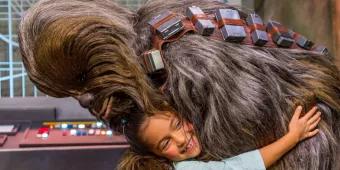 Ein intergalaktisches Event
Geben Sie sich dem epischen Soundtrack von Star Wars hin und schnappen Sie sich Ihre Lichtschwerter: Die "Legends of the Force – A Celebration of Star Wars" wird ab jetzt bis einschließlich dem 17. März 2019 Einzug ins Disneyland Paris erhalten!
Mit außergewöhnlichen Sound- und Lichtshows und einer beeindruckenden Auswahl ikonischer Charaktere, ist diese zeitlich begrenzte Veranstaltung ein Muss für jeden Star Wars-Fan, der das Resort besucht.
 

Erleben Sie die größten Momente der Star Wars-Saga mit eine brandneuen Darstellung derLegenden einer weit, weit entfernte Galaxis mehrmals am Tag im Production Courtyard. Halten Sie Ausschau nach Auftritten von Rey, Kylo Ren, Darth Maul und - zum ersten Mal im Disneyland Paris - dem furchterregenden Kopfgeldjäger Boba Fett.
 
Egal, ob Sie Teil des Widerstands sind oder den Ruf der Dunklen Seite spüren: Seien Sie auf jeden Fall gespannt auf den Marsch des Ersten Ordens, der von Kapitän Phasma geleitet wird. Im Walt Disney Studios Park können Sie sich darüber hinaus auf seltene Begegnungen mit Chewbacca und R2-D2 freuen.
 

Getreu dem Motto "Die Macht sei mit Dir" treten Sie dann Darth Vader inStarort gegenüber (ganz in der Nähe der Star Tours: The Adventure Continue). Begeben Sie sich anschließend mit dem StarSpeeder 1000 auf eine Reise durch die bekanntesten Planeten der Galaxie und erleben Sie eine epische Schlacht im Star Wars Hyperspace Mountain, bei der Sie einen X-Wing steuern und auf einer unvergesslichen Expedition mit dem Widerstand zusammenarbeiten.

Worauf warten Sie also noch? Zu unseren Disneyland Paris Tickets geht es hier
Ihnen hat dieser Blog gefallen? Das könnte Sie auch interessieren: