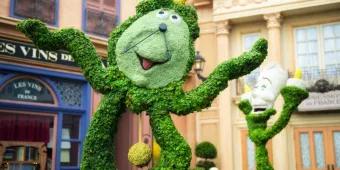 Machen Sie sich startklar für das schönste Ereignis der Saison.
Mit der Ankunft des Frühlings kehrt das Epcot International Flower & Garden Festival zurück, ein magisches Ereignis, bei dem die Pracht hinter jeder Ecke auf Sie wartet.
Beginnen Sie mit der Planung Ihres Frühlingsurlaubs zum Walt Disney World Resort in Florida. Die Termine für das Epcot International Flower & Garden 2020 wurden kürzlich bekannt gegeben. Die beliebte jährliche Veranstaltung kehrt vom 4. März bis zum 1. Juni nach Epcot zurück und präsentiert eine wunderschöne Blüten-Vielfalt, beeindruckende Formschnitt und schmackhafte Leckereien. Dies wird das 27. Fest sein und ist immer ein freudiger und wunderbarer Anlass. Während der 90 Tage wird eine Frühlingsfrische Epcot übernehmen, komplett mit saisonalen Sehenswürdigkeiten, Klängen und Geschmacksrichtungen, die allesamt darauf ausgerichtet sind, jeden in der Familie zu erfreuen.
Outdoor-Küchen
Hier erwartet Sie eine kreative Küche mit den frischesten Geschmacksrichtungen der Saison an insgesamt 17 Ständen. Genießen Sie Floridas typische Spezialitäten in drei Küchen: Honigschnecken im The Honey Bee-stro, auf Zitrusfrüchten basierende Gerichte im The Citrus Blossom und süße/ pikante Köstlichkeiten im Florida Fresh.
Die Gerichte werden gesund und lecker sein, mit Spezialitäten-Menüs und interessanten Getränken, die Ihren Gaumen verwöhnen werden. Sie werden auch erfahren, wie Sie Ihre eigenen gesunden Lebensmittel anbauen können, während Sie von den Kräuter- und Gemüsegärten im Hochbeet oder im Boden umgeben sind. Sie können über das Festival schlendern, während Sie ihren großen und kleinen Appetit stillen.
Garden Rocks Konzertserie
Kommen Sie in den Groove und bewege Sie Ihre Füße zu einigen der heißesten Throwback-Beats. Die Konzerte finden im America Gardens Theatre im American Adventure Pavilion statt. Hier sind die Details zu den Künstlern:
March 4-5 - Peabo Bryson
March 13-16 - Simple Plan
March 17-19 - STARSHIP featuring Mickey Thomas
March 20-23 - Mark Wills
March 24-26 - The Spinners
March 27-28 - Sister Hazel
March 29-30 - The Pointer Sisters
March 31-April 2 - Former Journey Lead Vocalist Steve Augeri
April 3-4 - Blood, Sweat & Tears
April 5-6 - Expose
April 7-9 - Berlin
April 19-20 - Rick Springfield
April 24-27 - Plain White T's
April 28-30 - Don Felder, formerly of The Eagles
May 1-2 - Don McLean
May 5-7 - Ambrosia with Peter Beckett
May 8-9 - Thelma Houston
May 10-11 - The Allman Betts Band
May 12-14 - Air Supply
May 15-18 - Herman's Hermits starring Peter Noone
May 19-21 - Mike DelGuidice & Big Shot
May 24-25 - Daughtry
May 26-28 - Marshall Tucker Band
May 31-June 1- Survivor
Sie können diese Konzerte auch mit leckeren Menüs kombinieren, wenn Sie eines der Garden Rocks Dining Packages buchen. Genießen Sie ein Essen in einem der folgenden Epcot-Restaurants und sichern Sie sich einen Platz bei einem der Konzertauftritte: 
Biergarten Restaurant
Chefs de France
Coral Reef Restaurant
Garden Grill Restaurant
La Hacienda de San Angel
Nine Dragons Restaurant
Restaurant Marrakesh
Rose & Crown Dining Room
San Angel Inn Restaurante
Spice Road Table
Teppan Edo
Tokyo Dining
Tutto Italia Ristorante
Via Napoli Ristorante e Pizzeria
Topiaries, Gardens and Exhibits
Die Hauptattraktionen des Festivals sind natürlich die atemberaubenden Blumenausstellungen, die üppigen Gärten und die spektakulären Formschnitte, die in Epcot während der Veranstaltung dargestellt werden.
Sie können neben den künstlerischen Sträucher einzigartige Fotos schießen. Talentierte Disney-Gärtner haben sorgfältig die Formen geschnitten. Vielleicht entdecken Sie sogar Ihren Lieblings-Disney-Charakter, wie Schneewittchen, Elsa und Anna, Belle und Beast, Micky Maus, Minnie Maus, Miss Piggy und Kermit.
Durchqueren Sie die Gärten und tauchen Sie in das Blütenparadies ein. Sie werden von der Natur umgeben sein, während Sie sich durch Blumenbeete, verzierte Töpfe voller Pflanzen und verschiedene Lebensräume der Tierwelt bewegen. Es besteht auch die Möglichkeit, einen Rundgang zu machen, sodass Sie mehr über diesen faszinierenden Aspekt der Natur erfahren können. Für Liebhaber von Touren hinter die Kulissen gibt es eine "Gardens of the World"-Tour, eine "English Tea Garden"-Tour im Pavillon von Großbritannien oder einen geführten Spaziergang durch die Fischzucht und die vier Gewächshäuser des Land-Pavillons.
Tausende von Pflanzen in allen Farben des Regenbogens werden die Landschaft rund um die Future World und das World Showcase schmücken, und dutzende von Disney-gefertigten 'Blumentürmen' werden farbenfrohe Kulissen für ikonische Frühlingsselfies bieten. Bestaunen Sie die festlichen Minigärten an den Ost- und Westseen der Future World, die wie wunderschöne Blumenpontons schwimmen.
Für Familien und Kinder gibt es auch familienfreundliche Spielplätze, Gärten und Ausstellungen, die speziell auf Kinder ausgerichtet sind. Erkunden Sie den Spielgarten und die Familienspielzone des Festivals und besuchen Sie das Schmetterlingshaus The Goodness Garden, präsentiert von GoGoSqueeZ. Auch der beliebte How To"-Garten kehrt zurück und bietet viele clevere Tipps für Hausgärtner.
Ratatouille Garden
Dieses Jahr hat das Gartenbauteam von Epcot zur Feier der Eröffnung der kommenden Ratatouille-Attraktion bereits mit den Plänen begonnen, eine brandneue Remy-Formschnittgärtnerei einzuführen, die das Herzstück eines neuen Ratatouille-Gartens am Frankreich-Pavillon sein wird. Der Garten wird mit all dem Gemüse bepflanzt, das für ein Ratatouille-Rezept verwendet wird - klingt köstlich!
Epcot Festivals
Das Epcot International Flower and Garden Festival ist das am längsten laufende Epcot-Festival, das 1994 als 38-tägiges Fest begann. Heute können die Gäste 90 Tage lang die Feierlichkeiten und ein blühendes Frühlingsfest genießen.
Die Festivals in Epcot sind immer beliebte Veranstaltungen, und es gibt noch viel mehr, worauf man sich im Laufe dieses und des nächsten Jahres freuen kann:
Epcot International Food & Wine Festival: Jetzt bis zum 23. November 2019
Epcot Internationales Fest der Feiertage: 29. November - 30. Dezember 2019
Epcot Internationales Festival der Künste: 17. Januar - 24. Februar 2020
Internationales Blumen- und Gartenfestival Epcot: 4. März - 1. Juni 2020
Sind Sie bereit, Ihre Reise zum Walt Disney World Resort in Florida zu planen? Hier finden Sie die Tickets…
Hier geht es zu weiteren Blogs: