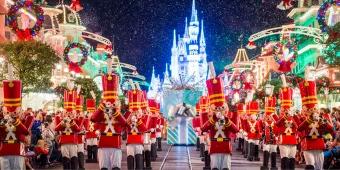 Erleben Sie die wunderschönste Zeit des ganzen Jahres in Disney World Orlando
Walt Disney World gibt wirklich alles um Ihnen ein einzigartiges Weihnachtsfest zu bereiten und weiß auch ganz genau, wie es gefeiert wird! Werfen Sie einen Blick in unseren Weihnachtsguide für Disney World Orlando.
Disney World ist zu jeder Jahreszeit magisch und bezaubernd und Sie denken, es kann nicht besser werden, dann müssen Sie die Parks zur Weihnachtszeit besuchen. Während der festlichen Jahreszeit, sind die Parks magischer als Sie sich jemals vorstellen könnten. Wir haben für Sie einen kleinen Guide zusammengestellt, in dem Sie die besten Plätze und Events während der Weihnachtszeit finden können.
Magic Kingdom
Es gibt so viele Dinge die Sie zur Weihnachtszeit im Magic Kingdom unternehmen können und Sie sollten wirklich kein einzelnes Event verpassen. Mickey ist natürlich wieder Gastgeber seines jährlichen Events "Mickey's Very Merry Christmas Party". Die Party des Jahres hat am 7. November gestartet und läuft noch bis zum 22. Dezember. Das separat erhältliche Ticket für diese Veranstaltung ist so beliebt, dass wir Ihnen empfehlen, dieses auf jeden Fall so schnell wie möglich zu buchen, um diesen Spaß keinen Falls zu verpassen. Weihnachtsmusik ist an jeder Ecke zu hören, die Main Street USA ist Schnee bedeckt und der gesamte Park weihnachtlich um dekoriert. Schon allein Cinderellas legendäres Schloss wird in tausenden von glitzernden Lichtern gehüllt – ein wirklich atemberaubender Anblick zu dieser Jahreszeit!
Eines der Party Highlight ist "Mickey's Most Merriest Celebration", eine fantastische Bühnenshow mit Mickey und seiner Gang, die Sie dazu einladen einige der bekanntesten Weihnachtslieder mitzusingen. Ein weiteres Highlight ist natürlich die abendliche "Mickey's Once Upon a Christmastime Parade" bei der Sie Ihre Lieblingscharaktere in einem weihnachtlich, schillernden Umzug bestaunen könne. Die Festlichkeiten beginnen um 19 Uhr, jedoch können die Gäste mit Ihrem Ticket den Bereich schon ab 16 Uhr betreten und so die zusätzliche Zeit in diesem Bereich perfekt nutzen.
Für die Frozen Fans unter Ihnen: "Frozen Holiday Wish" präsentiert ein eisiges Spektakel, in dem Elsa ihre Superkräfte nutzt und das Schloss in einen glänzenden Eispalast verwandelt. Natürlich bekommen Sie auch Anna, Kristoff und den liebeswerten Olaf zu sehen. Sie suchen nach dem perfekten Weg einen Tag ausklingen zu lassen? Dies gelingt Ihnen wohl am besten, mit der zauberhaften Weihnachtsvariante der Feuerwerkshow "Wishes".
Disney's Hollywood Studios
Disney's Hollywood Studios haben uns ein riesiges Spektakel versprochen, welches Sie mit "Jingle Bell Jingel BAM!" dieses Jahr das erste Mal zeigen werden. Weihnachten rückt immer näher, aber Santa Claus ist verschwunden? Unterstützen Sie die Elfen Wayne und Lanny (die Stars von ABC's Prep & Landing) bei Ihrer Mission Santa zu finden und ihn pünktlich zum Nordpol zurück zu bringen, um das Weihnachtsfest zu retten.
Dieses unglaubliche Abenteuer wird im "Chinese Theater" zum Leben erweckt und ist vollgepackt mit Spezialeffekten, modernsten Projektionen, einem hypnotisierenden Feuerwerk, fantastischer Weihnachtsmusik und selbstverständlich besonders viel Schnee. Halten Sie Ausschau nach Ihren Lieblingsfiguren, da sich Ihr Umfeld auf der Bühne immer wieder in berühmte Szenen aus Disneyfilmen wie z.B. Bambi, Cinderella, Die Schöne und das Biest und Mickey's Christmas Carol verwandelt. Sollten Sie ein großer "Nightmare Before Christmas"-Fan sein, werden Sie das Finale mit dem aufregenden Showdown im Halloween Town lieben.
Um diese Erfahrung weiter zu steigern und noch besser zu machen, bietet die "Jingle Bell, Jingle BAM! Holiday Dessert Party" 3D Brillen an, mit denen Sie während der Show außergewöhnlichste holografische Illusionen sehen können. Dazu können Sie sich einen köstlichen weihnachtlichen Cupcake gönnen.
Epcot
Die überwältigende "Candlelight Processional" in Epcot dürfen Sie nicht verpassen! Das Amercian Gardens Theatre wird sowohl von einem 50-köpfigen Orchester als auch von verschiedenen Chören mit wundervoll festlicher Musik gefüllt. Das wird Ihnen den Atem rauben. Ein berühmter Gast wird durch die Show führen und die biblische Weihnachtsgeschichte mit dem Publikum teilen. Dieses Jahr sind unter anderem Whoopi Goldberg, Neil Patrick Harris (von How I Met Your Mother) und Jodi Benson (die Stimme von Ariel der Meerjungfrau) mit dabei, um nur einige Namen zu nennen.
Jeder hat seine eigenen Weihnachtstraditionen, im Epcot Park entdecken Sie jedoch Traditionen aus der ganzen Welt, da Sie hier 11 unterschiedliche Nationen besuchen können.  "Holidays Around the World at Epcot" gibt Ihnen die Möglichkeit, einen Einblick in verschiedene Kulturen und deren Weihnachtfest zu bekommen. Von live Musik, über traditionelle Kostüme und köstliche Speisen rund um den Globus finden Sie hier alles.
Das berühmte "IllumiNations" Feuerwerk wird natürlich auch einen weihnachtlichen Schliff bekommen und es werden rote und grüne Fontänen in den Himmel geschossen. Die Melodie des wundervollen Liedes "Let There be Peace on Earth" wird durch den Park klingen und Sie werden Weihnachtsgrüße auf unterschiedlichen Sprachen hören.
Disney's Animal Kingdom
Während es keine speziellen Weihnachtsevents im Animal Kingdom gibt, hat Disney nun verraten, dass dafür einiges mehr an Dekorationen den Park aufleuchten lassen wird. Da kann man sich erst recht auf die längeren Öffnungszeiten freuen. Es wird einen riesigen Weihnachtsbaum geben, der mit toller und aufwendiger Tier-Dekoration geschmückt wird und so eine tolle Möglichkeit für Fotos bietet. Eine besonderes Meet and Greet können Sie mit Mickey und Minnie in Ihren schönsten Weihnachtsoutfits erleben und vielleicht können Sie sogar Goofy als Santa verkleidet entdecken!
Disney Springs
Der Disney Springs Marketplace wird 15 überragende Weihnachtbäume willkommen heißen. Am Weg durch den "Christmas Tree Trail" werden Sie das perfekte Winter Wonderland inklusive Schnee erleben. Jeder einzelne Baumschmuck wird von einer anderen Disney Figur oder Geschichte inspiriert. Es erwarten Sie funkelnden Bäume die thematisch an Michey & Minnie Mouse, Frozen, Cinderella, Die Schöne und das Biest, Die kleine Meerjungfrau, Küss den Frosch, Das Dschungelbuch, Mulan, 101 Dalmatiner, Rapunzel, Mary Poppins, Alice im Wunderland, die Muppets und Disney's neuster Erscheinung Moana angepasst wurden. Ein Weihnachtsbaum wird sogar voll und ganz Disneys Schurken gewidmet, die wir alle lieben zu hassen. All diese Bäume gibt es schon seit dem 11. November und noch bis zum 8. Januar zu sehen.
Zudem wird es jeden Abend eine Zeremonie geben, bei der die Weihnachtsbaumbeleuchtung in Begleitung von live Musik und Entertainment angeschaltet wird. Kleine Spielzeugsoldaten marschieren, Schneeflocken laufen auf Stelzen und der DJ schmeißt eine weihnachtliche "dance party", um richtig in Weihnachtsstimmung zu kommen. Ein neues Erlebnis das auf der Idee von "wishing upon a star" basiert. Disney hat noch nicht viele Details preisgegeben, also schauen Sie sich das auf jeden Fall an.
Und wo bleiben die Weihnachtseinkäufe? Auch die sollen natürlich nicht zu kurz kommen! Mit über 100 verschiedenen Geschäften, ist Disney Springs der perfekte Ort um alle Geschenke zu besorgen und gleichzeitig immer wieder für einen kleinen Snack zu stoppen.
Und das Beste daran? Sie können Santa persönlich treffen. Gehen Sie direkt zu Santa's chalet, erzählen ihm was auf Ihrer Wunschliste steht und bekommen Ihr persönliches Erinnerungsfoto.
Denken Sie daran, dass Sie für ein Paar von Disneys Weihnachtsevents extra Tickets benötigen und buchen Sie schon im Voraus. Machen Sie sich jedoch keine Sorgen, selbstverständlich gibt es auch eine Vielzahl von Weihnachtsspecials umsonst.
Wenn Sie nun diesen magischen Ort einmal selber erleben möchten, klick Sie hier um einen Überblick über die Disney Tickets zu bekommen und direkt Ihren nächsten Urlaub zu planen. 
Ihnen hat dieser Blog gefallen? Dieser könnte Ihnen auch gefallen: