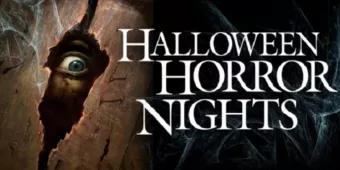 Die Gerüchteküche rund um die diesjährige Halloween Horror Nights ist schon jetzt am brodeln – hier können Sie mehr über die neuesten Gerüchte erfahren.
Die Halloween Horror Nights finden in diesem Jahr zum 28. Mal statt. Gerüchten zufolge (jedoch noch nicht offiziell bestätigt) wird es in diesem Jahr 9 Labyrinth geben – darunter werden 7 auf bekannten Horror-Klassikern basieren und zwei weitere werden nach original Universal Konzepten gestaltet.
Trotz des anhaltenden Schweigens von Universal bezüglich der Pläne für das diesjährige Event, kursieren schon jetzt zahlreiche Gerüchte.
Gerücht #1: Stranger Things Halloween Horror Nights
Das wohl weitverbreitetste Gerücht zu den Plänen für die diesjährige Horror Night beinhaltet die Kult TV-Serie Stranger Things, von welcher es derzeit zwei Staffeln auf Netflix gibt und eine weitere geplant ist. Dieses Gerücht wurde sogar von Universal Orlando geschürt, mit raffinierten Hinweisen wie dieser Kommentar vom letzten November!
Christopher Ripley, der für die Halloween Horror Nights zuständig ist, erklärte INOFFIZIELL im letzten November, dass es wohl nur eine Frage der Zeit ist, bis Stranger Things zu der Halloween Horror Night zurückkehrt. Das gruselige Thema passt nicht nur gut zu diesem Event, es zählt auch zu den Favoriten der Fans und würde dem Geschehen eine neue Sci-fin Atmosphäre geben, welche eine neue Fangemeinde schaffen könnte.
Wie würde ein Stranger Things Labyrinth aussehen?
Wir sind der Ansicht, dass ein Labyrinth in einem von zwei Plätzen spielen könnte – entweder werden sich die Gäste im Haus des Hauptcharakters -Will - wiederfinden, in dem seine Mutter eine Lichterkette aufhängt, um es Ihrem Sohn zu ermöglichen, kopfüber mit ihr zu kommunizieren, oder es wird in "The Upside Down" stattfinden – einer dunkleren und gruseligeren Welt der Dämonen. Charaktere aus den zwei Staffeln würden großartige Gruseldarsteller abgeben – ganz besonders die Demogorgon's – aber wir würden uns auch freuen, die Nachbarkinder und die psychokinetischen Elfen zu sehen.
Gerücht #2: The Thing at Halloween Horror Nights
Ein weiteres Gerücht dreht sich um ein The Thing thematisiertes Labyrinth, basierend auf dem John Carpenter Film von 1982, welcher zum dritten Mal zur Universal Halloween Horror Night gehören würde. Die Gerüchte haben angefangen, als die offizielle Facebookseite des Universal Orlando Resorts die Seite des John Carpenter Films "geliked" hat. Da Universal dafür bekannt ist, ähnliche Hinweise in der Vergangenheit gegeben zu haben, haben Fans diesen Hinweis schnell als Zeichen für die Rückkehr der Franchise angesehen.
Gerücht #3: Universal Monster als Konzept für das ursprüngliche Labyrinth.
Dies ist nur eines von mehreren Gerüchten, darüber wie die zwei einzigartigen Konzepte für die Labyrinth in diesem Jahr aussehen könnten. Das zweite ist ein Weltall-thematisiertes Labyrinth, kreiert nach der Legende von o' the wisp. Eine alte Geschichte, basierend auf Anekdoten die bis ins 1300 Jahrhundert zurückreichen.  Hunderte von gruselig leuchtenden Lichtern, die auf verlassenem Sumpfland aufleuchten, haben die heutige Kultur beeinflusst und der Gedanke and diese Lichter lockt unwissende Reisende in ihren Tod in den tiefen Sümpfen. 
Gerücht #4: Weitere rückkehrende Horror Franchise
The Thing ist nur eines von sechs weiteren Franchise, welches Gerüchten zufolge zur diesjährigen Halloween Horror Night zurückkehren soll. Die weiteren fünf Franchise sind Trick 'r ? Treat, basierend auf dem 2007 Kultklassiker, American Horror Story, Asylum, der Vorjahres Hit Blumhouse Films sowie IT. Da IT 2 gerade in Arbeit ist, wäre dies ein genialer Weg für Universal, die Fortsetzung zu vermarkten.
Wir müssen jedoch deutlich machen, dass es sich hierbei lediglich um Gerüchte handelt. Bisher hat Universal noch keine offizielle Bestätigung abgegeben, daher können wir nur hoffen, dass dies in den kommenden ein bis zwei Monaten passieren wird. Also halten Sie die Augen offen, wenn Sie unsere Website oder unsere Social Media Kanäle besuchen, dann sind Sie die ersten, die die Details zu diesem fabelhaften Event erfahren.
Ihnen hat dieser Blog gefallen? Das könnte Sie auch interessieren: