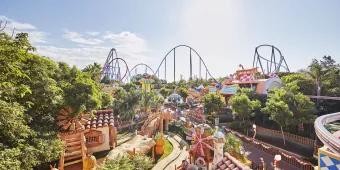 A handy how to guide
If you're visiting Barcelona and fancy some theme park fun, PortAventura is just a short journey away. Here's how you can get there…
PortAventura is not only the most popular theme park in Spain, but one of the most popular theme parks in Europe, attracting more than 4 million visitors each year! Located in Salou (in the south of Catalonia) this exciting theme park provides a fun day out for the entire family, with a combination of exhilarating attractions for thrill seekers, and family friendly rides that the little ones will love.
Did you know, PortAventura is just a short journey from Barcelona? So, if you're staying in Barcelona and are looking for an action-packed day out, we've put together this handy guide for how to get there... and make sure you book your PortAventura tickets in advance to save money on the gate price. 
Train:
Did you know that PortAventura has its own train station? That makes travelling to the theme park by train a cheap and easy option. There are 4 direct trains from Barcelona Sants station every day, which take about 1.5 hours, and 9 indirect trains with a change at Tarragona, which take between 1.5 and 2 hours. The first departure starts at around 6am and the last is at 8:30pm, giving you plenty of options when planning your day out. When returning to Barcelona, there are 10 trains throughout the day with the last service at just gone 10pm, so you can enjoy a full day of fun in the park. 
Travelling to PortAventura by train is a great value option, with a single ticket starting at just €7.70. Check out the departure times in advance to make sure you're ready for your journey. 
Bus:
If you want to take the bus for a day at PortAventura from Barcelona, you can book your round-trip transport with your park tickets. Departing from Barcelona Nord station at 9am, you'll arrive at PortAventura at 10:30am. The coach will then leave to return to Barcelona at 6:30pm, or 7:30pm in July and August. 
If you'd like more flexibility or are staying close to Barcelona Airport, there are nine buses per day from Terminal 2 that can take you to the PortAventura hotels and it's then just a short walk to the park gates. This is a slightly longer journey at around 2 hours, but can be a great option for guests staying for multiple days who are happy to arrive later in the day, and don't need same-day return transport. 
Taxi:
While a taxi might seem like the most hassle-free option, the cost of travelling an hour outside of the city is of course very expensive. If you were to book a taxi to take you from Barcelona to PortAventura, you'd be looking at a fare of around €150! If you don't feel too confident having to make changes on public transport, a cheaper option could be to use a taxi for part of your journey. If you take the train to Tarragona, you won't have to change and you can easily get a taxi to take you to PortAventura park for around €20. If you're splitting the fare between a group, then you'll pay even less and be taken right to the gates.
Car:
If you're planning on doing some serious sightseeing during your holiday, you might choose to hire a car. This gives you the freedom to explore at your own pace and the opportunity to venture further than you might've done if you were relying on public transport. If you're visiting with the whole family, PortAventura is the perfect day out and travelling by car means you can fit everyone in and travel in comfort. You'll also have room to pack everything you need, like sun cream and snacks. 
The journey time will of course depend on the traffic, but typically takes around 1 hour 25 minutes from Barcelona city centre. You'll travel along the AP-7 highway to get to the park and there's even a specific exit for PortAventura, so you won't miss it! It's a good idea to check your route beforehand as some have toll fees.
Ready to start planning your visit? View our great value PortAventura World tickets for access to PortAventura, Ferrari Land and Caribe Aquatic Park.
Liked this post? You may also like…