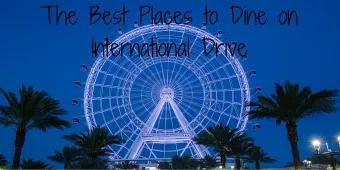 Feeling hungry?
International drive is filled with restaurants serving incredible food. Check out our pick of the 7 best restaurants you should try...
International Drive boasts over a hundred different restaurants, and is the place to go for incredible flavoursome cuisine from across the globe. Just a short distance from all of your favourite theme parks, head to I-Drive to discover the best dining options Orlando has to offer. We've put together a list of the best places to eat on International Drive to help you choose...
For an all-you-can-eat buffet-
Golden Corral:
Golden Corral offers a huge buffet that is open for breakfast, lunch and dinner. There's so much to choose from, that you'll definitely be making the most of the all-you-can-eat option by returning for a second (or third) plate! This is an ideal place to stop for breakfast, before a long day out exploring the theme parks. Load your plate with bacon, eggs and sausages, or go for something sweeter like waffles or fluffy pancakes. A great place for those on a budget, and for fussy eaters as there really is something for everyone.
For something mysterious-
Sleuths Mystery Dinner Shows:
Image credit: Sleuths
If you're looking for something out of the ordinary, Sleuths offers much more than just dinner. Experience something you've never seen before, with an evening of comedy and murder mystery combined! You'll be greeted by eccentric characters and shown to your seats, where all the action begins. Enjoy a tasty dinner and get to know the other guests at your table as you work together to unravel the crime, and discover the culprit. This makes for a quirky night out, that will have you laughing the whole way through!
For something with soul-
B.B. King's Blues Club:
Image credit: B.B. King's Blues Club
Come here for amazing comfort food and fantastic live music! Each night of the week you can listen to a different live band performing rock and roll, classic soul and if you didn't already guess by the name, plenty of blues music. The Southern style hearty food includes 'lip smacking ribs', juicy rib eye steak, fresh grilled salmon, and BBQ pork platters. The dessert menu has all of your favourites, think crumbly pecan pie and hot chocolate fudge brownies. Add some fun to your dining experience with a talented live band providing the music while you eat.
For a piece of paradise-
Bahama Breeze:
Image credit: Bahama Breeze
The beach style décor and exotic cocktails at this Caribbean themed restaurant are enough to transport you to a tropical paradise. As well as serving up traditional American dishes, you can also sample the flavours of the Caribbean with Jamaican chicken wings, coconut shrimp or a jerk chicken sandwich. Cool down from the heat with an ice cold cocktail, with some fruity concoctions coming in at just $3 during happy hour!
For a quick bite-
Millers Ale House:
Image credit: Millers Ale House
An ideal place for a quick family lunch, offering great tasting food with great value prices to match! Choose from the menu of specials at lunch or dinner, or opt for one of the house favourites; our top pick is the succulent baby back ribs smothered in BBQ sauce. With build your own burgers, seafood, chicken strips, quesadilla's and steak, you won't be short of choice. The restaurant also offers kids eat free deals on select nights, so make sure you keep an eye out for those, or use your Kids Eat Free Card! 
For a meat feast-
Texas de Brazil Steakhouse:
Image credit: Texas de Brazil Steakhouse
If you love steak, you'll love this all-you-can-eat Brazilian steakhouse even more! For a set price, you can choose between a variety of tender meats including steak, beef, lamb, pork, chicken and Brazilian sausage, until you can't eat anymore. Once you're seated, you'll be given a card and as soon as you're ready for more food, simply turn your card over and the staff will bring you a selection of different meats to choose from. There's also a fresh salad bar that consists of over 50 different items and a range of sides, with the most popular being the Brazilian cheesy bread. This restaurant is slightly more on the pricey side, but is definitely worth a try as it offers superb quality food that is guaranteed to fill you up.
For something sweet-
Sugar Factory American Brasserie:
Image credit: Sugar Factory
If you've got a serious sweet tooth this is the place to go! Suitable for both children and adults, there's an amazing confectionary creation that's perfect for everyone. Grown-ups should try one of the huge refreshing cocktail goblets, while children will love the ice cream sandwiches, slabs of cake and mouth-watering chocolate fondue.  If you're in a group and up for a challenge, try the enormous 'World Famous Sugar Factory King Kong Sundae' made up of a staggering 24 scoops of ice cream!
Click here, to find out about some of the amazing attractions you can visit on International Drive.  
For more blog posts like this try…